Welcome to Do Some Good! We're so glad you're here and can't wait to help share the good you do and boost your brand and reputation as a company that cares.
Learning a new platform can feel daunting, but don't worry - we've worked hard to make the platform quick and easy to use. Here's a roadmap for all new admins. Just start from the top and work through each step. If you ever have any questions, reach out to us at info@dosomegood.ca. Have fun!

Quick Links:

First two weeks:

Personal Profile vs. Company Profile
Similar to social media platforms, when you created an account on Do Some Good, you created a personal profile. This is where you can share all the good you do as an individual, find volunteer opportunities, and more. Read this article to learn all about your personal profile and how to use Do Some Good as an individual.

After creating a personal profile, you registered your company and were then linked as an admin to the company profile. Here's an example of a personal profile. In the top right-hand corner, you'll see your name, and under that, you'll see the name of your company. Click on your company's name and a list will drop down. Click "Management" to access your Management Area.

Note: For the remainder of this article, the word "profile" will refer to your company profile.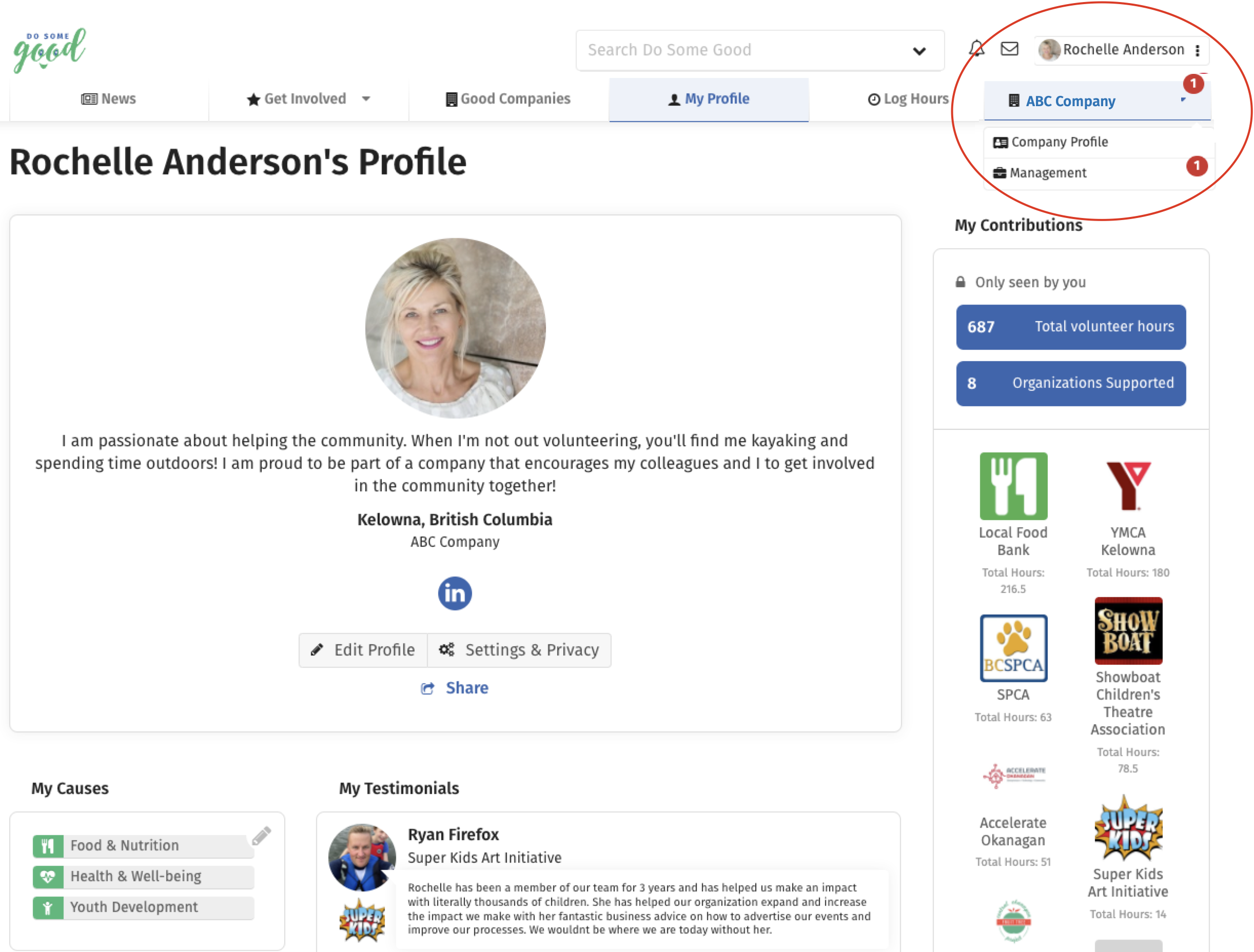 Get to Know Your Management Area
Your Management Area is where you'll live as an admin. When you enter your Management Area, you'll always land on your Home page. The row of buttons on the left-hand side are your main navigation to the powerful features and tools you'll use to share the good you do.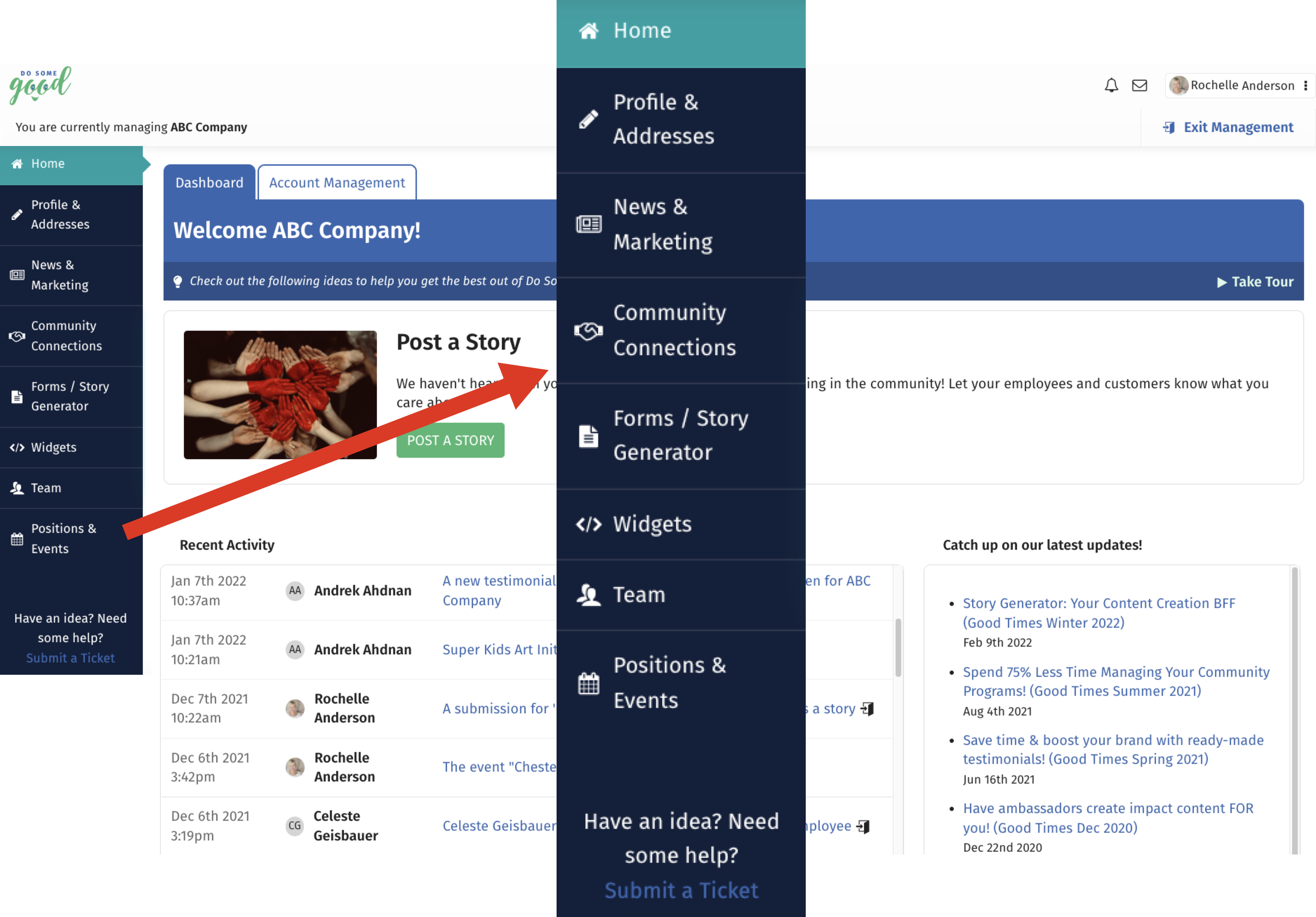 For a great overview of your Management Area, click the "Take Tour" button in the blue header on the Home page.

On the bottom left of the Home page, you'll see a running list of all Recent Activity to do with your company - any action taken will be recorded here which is especially helpful if you have multiple admins so you know who's doing what.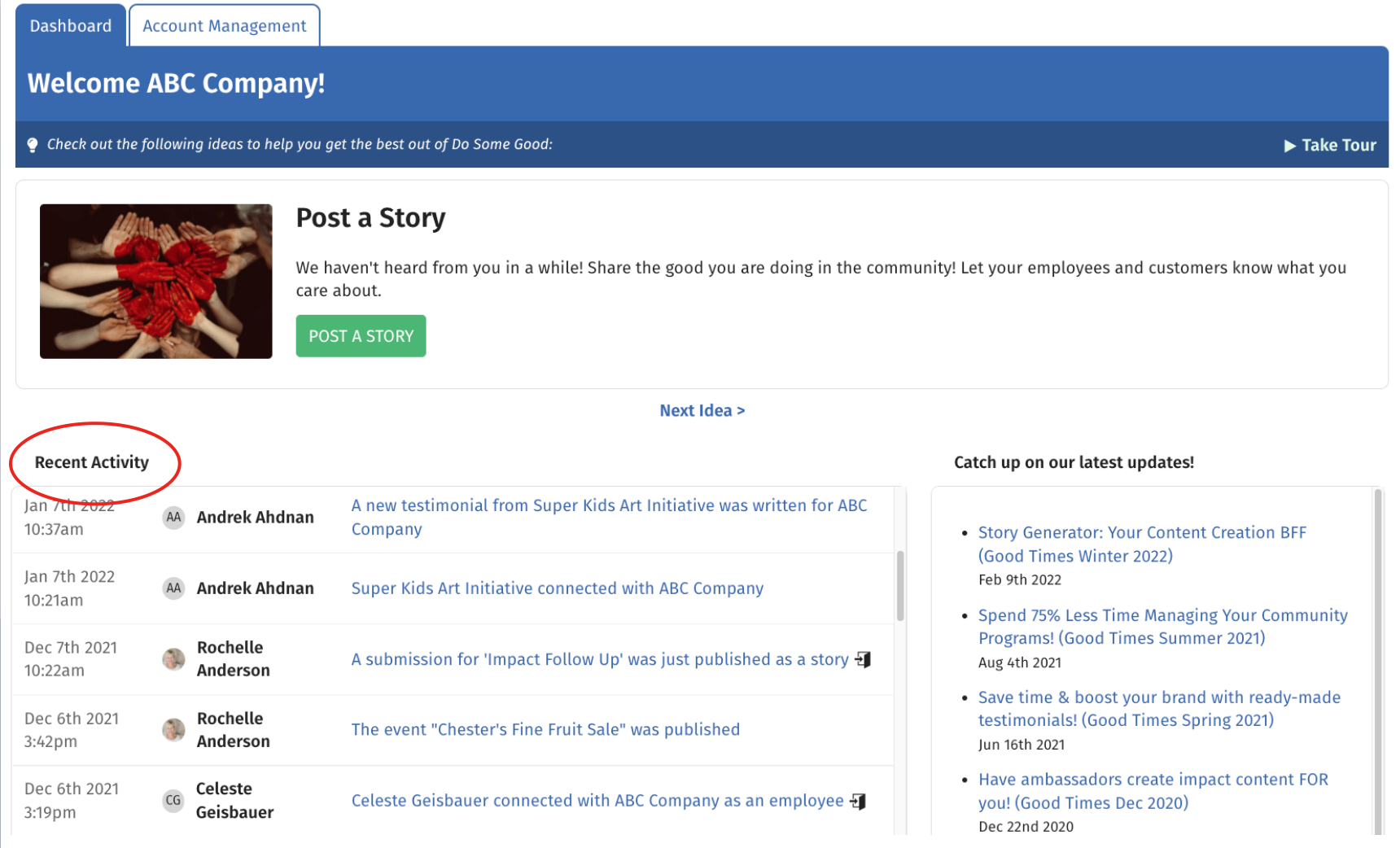 And on the bottom right of the Home page, you'll see a list of the latest updates that contain tons of great ideas, best practices, and customer success stories. Definitely worth a browse through!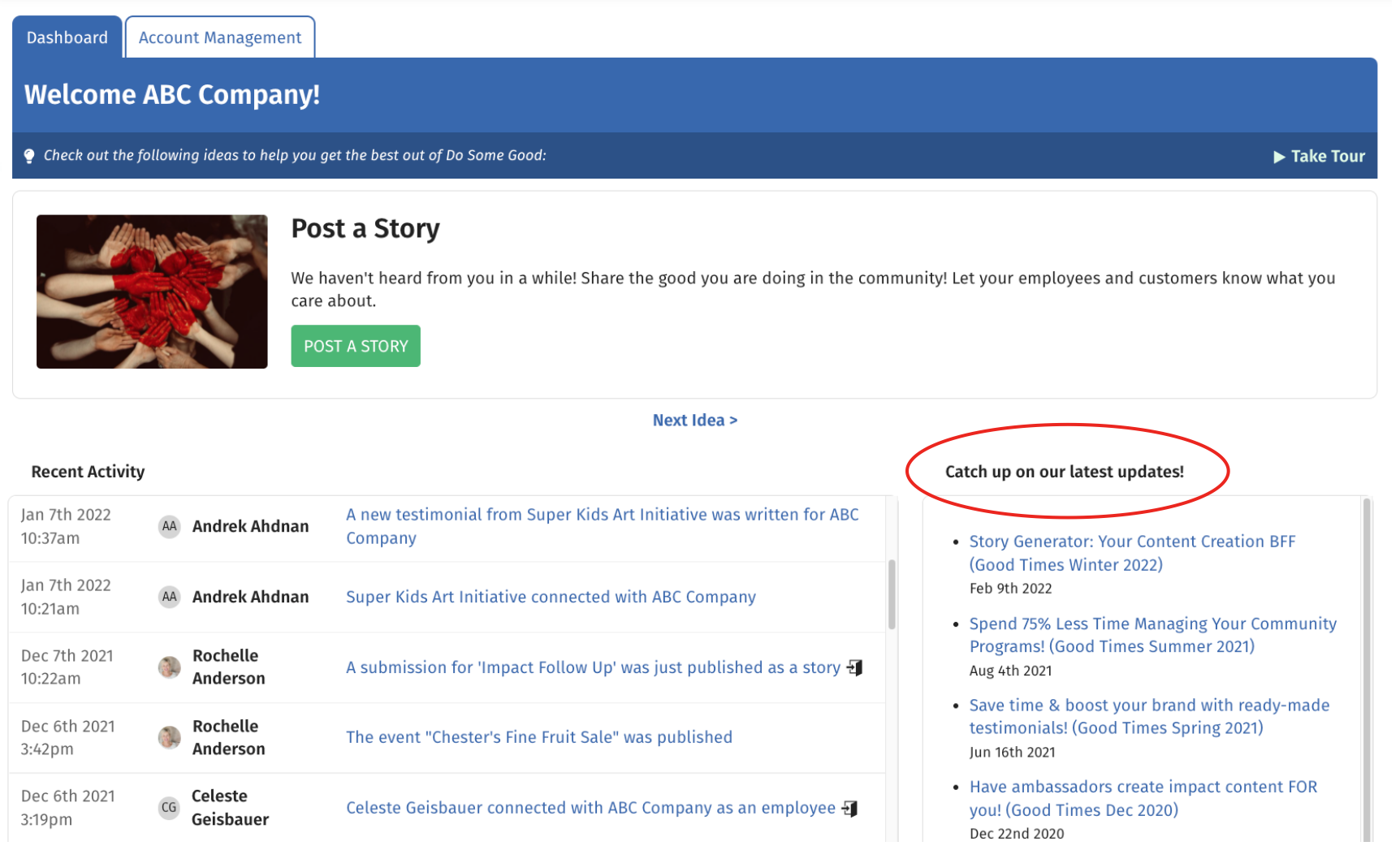 To get all the latest updates sent right to your inbox, ensure you're subscribed to our newsletter. Just click on your name in the top right corner of your screen, click on "Settings & Privacy", and make sure the newsletter box is checked. Take a moment to look through the other settings and make sure they are set up the way you like them.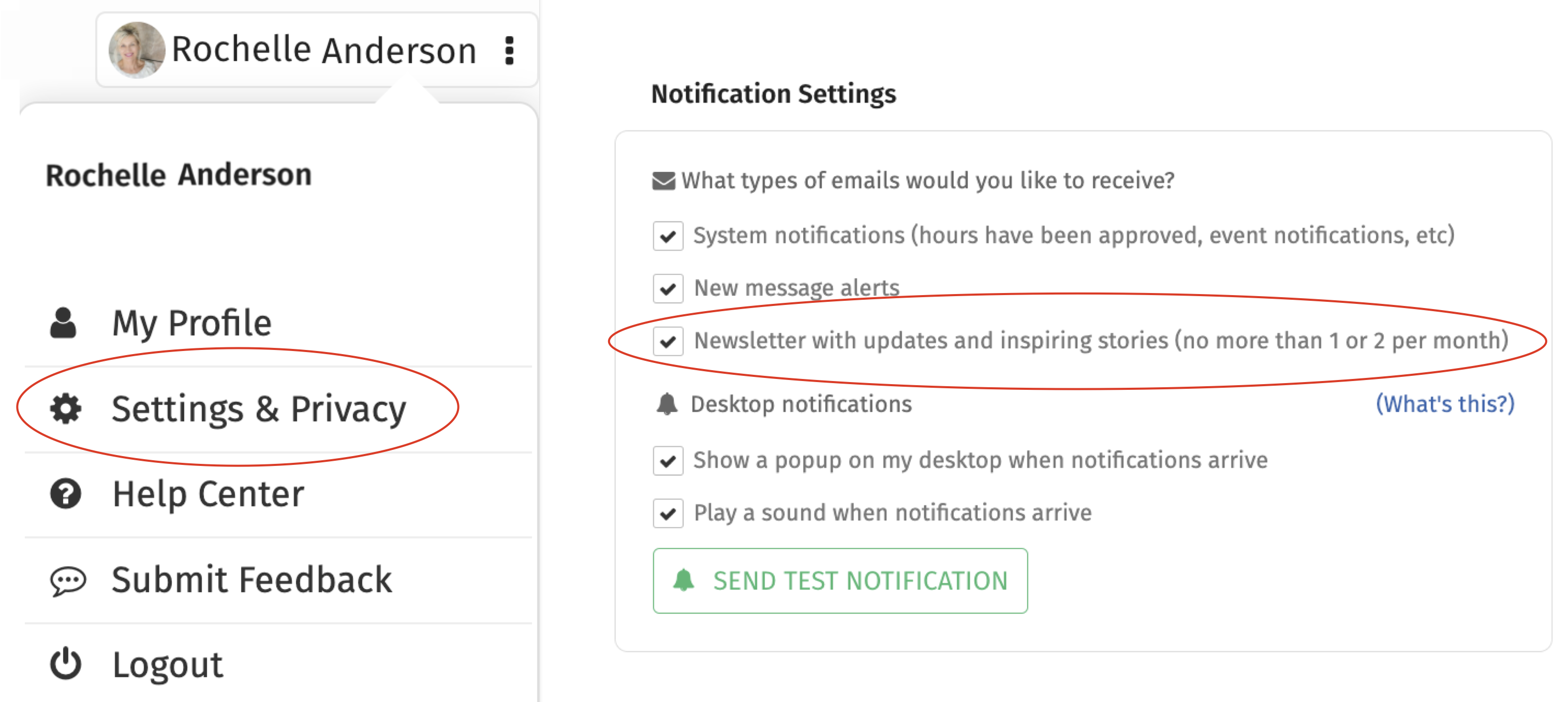 Get Help When You Need It
Here at Do Some Good, we pride ourselves on providing excellent customer service. We're here for you! There are a few ways you can get the help you need.
If you ever get stuck or have a question, we always recommend that you visit this Help Centre as a FIRST step. We have a ton of useful step-by-step articles that likely will answer your question.
Every page in your left-hand navigation has either a Help article, Best Practices article, Take Tour option or a mix of the three. These are contextual by page so for example, for the page below, the Help and Best Practices are focused on posting stories.

If you visit the Help Centre and still don't find the answers you need, you can submit a ticket by clicking the link at the bottom of your left-hand navigation. Our Customer Service Team will respond back to you and provide the info you need. You can also submit a ticket if you have an idea on how we can improve our platform. Most of our platform updates come from customers, so please don't hold back...you have a big say here!



Complete Your Profil

e
Think of your Do Some Good profile as a mini-CSR report. It's a one-stop-shop for all of the good your company does in the community.
Your profile includes your community connections, testimonials, statistics about your community giving, all of your good news stories, and more. Your profile is your community impact showpiece that current and potential customers and employees will see, so you want it to be as complete as possible.
To complete and edit your profile, head to the "Profile & Addresses" page in your left-hand navigation.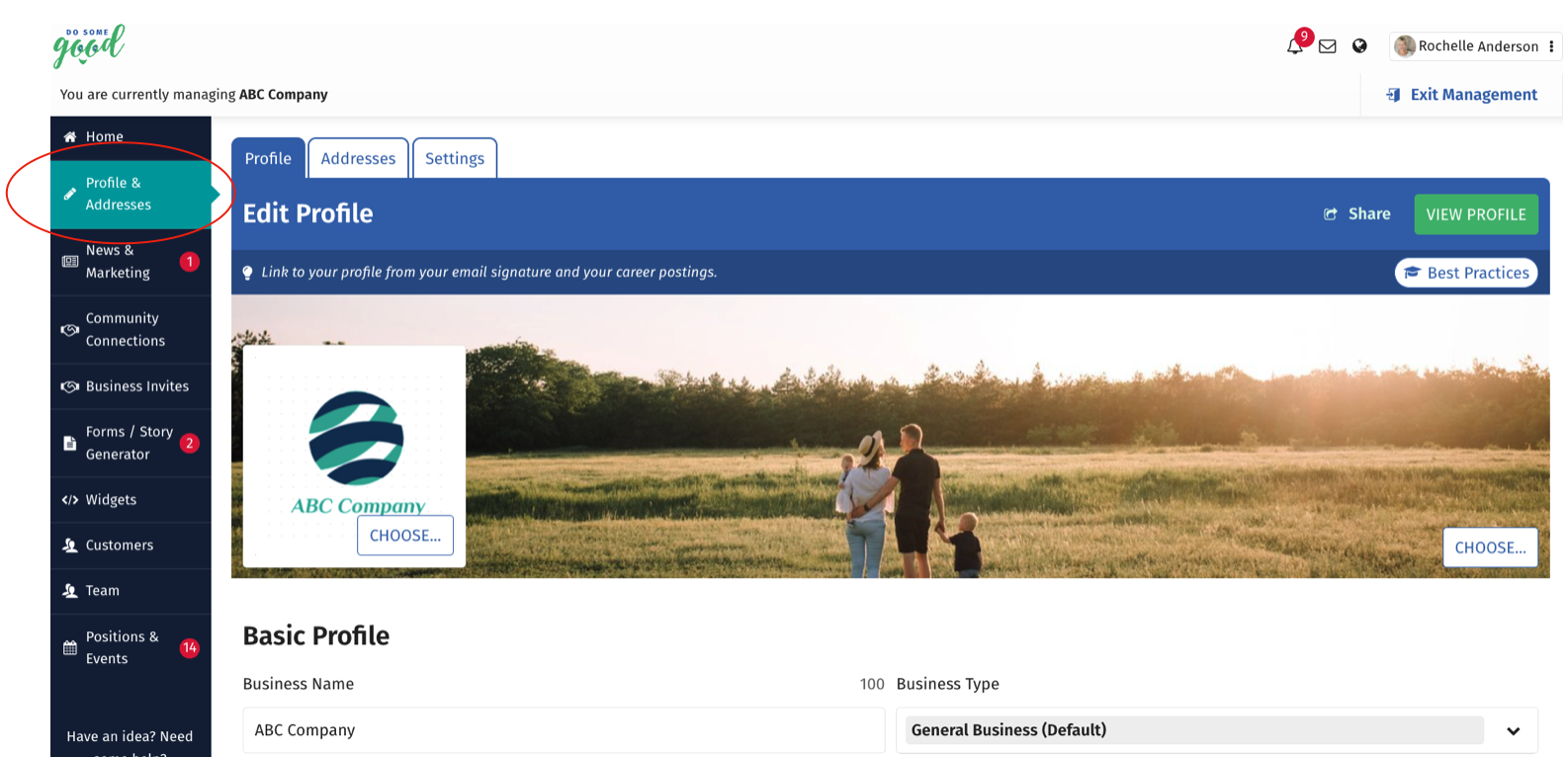 The profile fields are all pretty straightforward and self-explanatory, but here's some extra info:
Banner Size
When uploading a banner image, ensure the size is 1440 pixels wide x 480 pixels high for the best results. The amount of the image displayed on your profile will change depending on browser and screen sizes, so we recommend keeping the image free of text and avoid key imagery on the left-hand side as it will be covered by your logo. The simpler the banner, the better, such as this example:

Average Annual Contributions
Further down on the Profile tab, you can capture your average annual contributions (monetary or in-kind donations and volunteer hours by employees) and choose whether or not to display this information on your public profile.
We recommend that you DO fill in these fields as we roll up this data from all businesses on the platform to show the collective impact of Do Some Good (which we display in various places on the platform).
We also recommend that you DO share this information publicly, as these are powerful data points that boosts your brand and reputation as a company that cares.

If you choose to display your average annual contributions, here's how the data will appear on your profile. If you enter data for the number of volunteer hours by employees, our system auto-calculates the monetary equivalent of those hours at $25 / volunteer hour. You can also choose to display this information on your public website or staff intranet by embedding our "Impact Ticker" widget on your sites.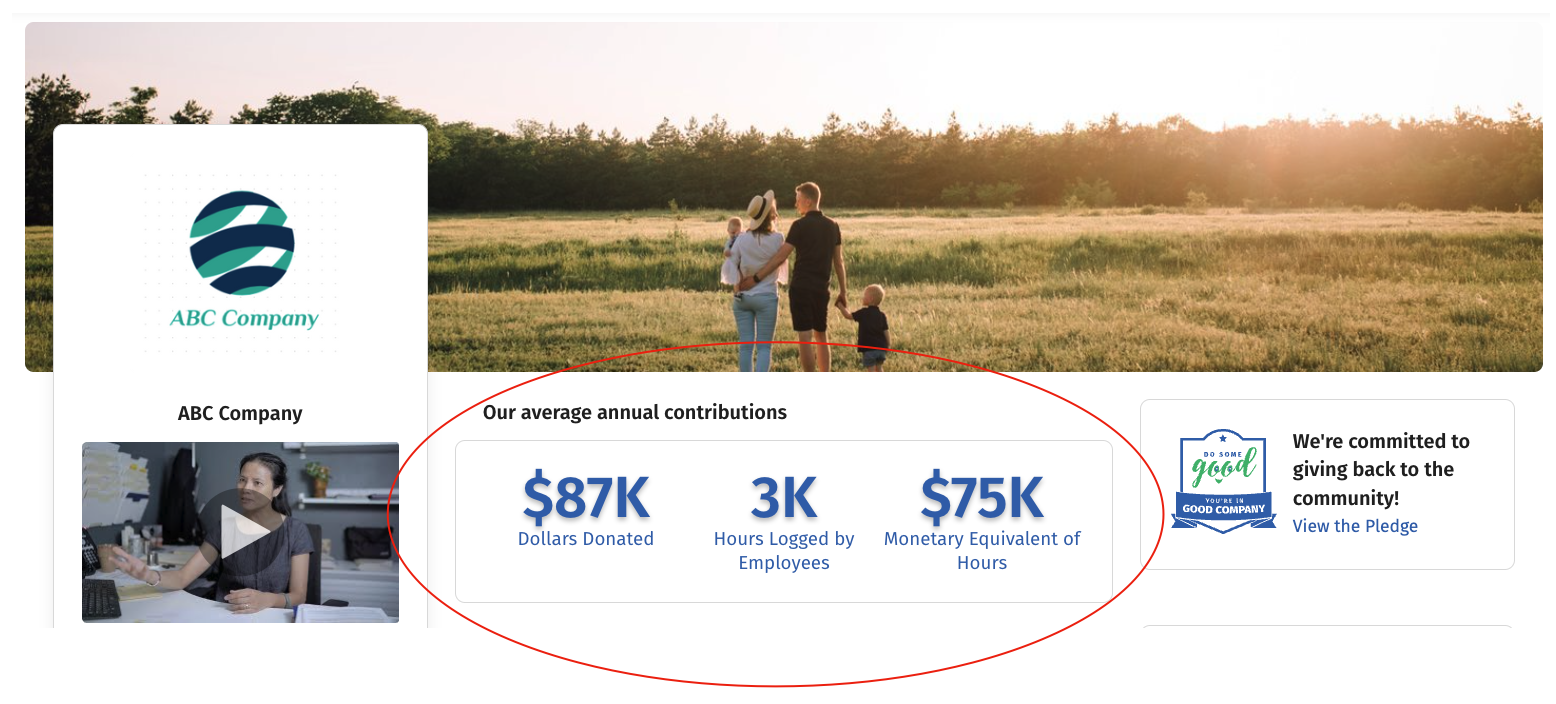 Attract Talent
You can choose to add a link to your Careers or Job Postings webpage, and can choose to have this link displayed on your profile.




We display this link as a "We're Hiring" button on your profile page. More and more, employees want to work for companies who share their values. If top talent seeks you out on the Do Some Good platform, it's a great idea to be ready to direct them to available positions.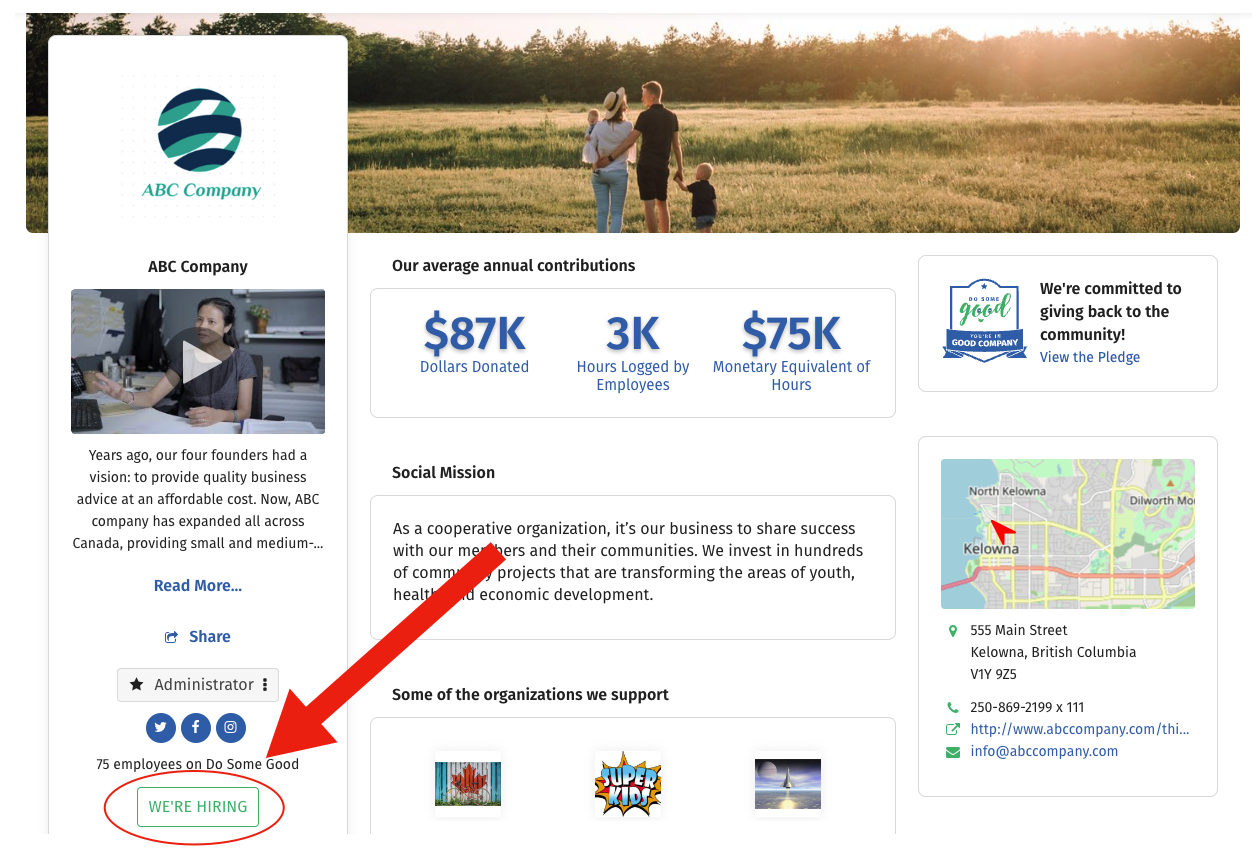 Set Up Your Address Book & Customize Your Business Settings
An important thing to do in your first few weeks of joining Do Some Good is to set up your address book and business settings.
Listing all of your business locations will increase the reach and exposure of your stories in the local communities you support, and customizing your business settings will save you time in the long run.
Add Connections & Get Testimonials
Another important step to take when you first join Do Some Good is to add connections with the organizations you've supported. When you add a connection, the organization's logo appears on your profile, so this is a great way to demonstrate your social mission and how you've had an impact on your community.
PLUS>> Each time you add a connection, Do Some Good nudges that organization to leave you a testimonial and post stories about your impact. What a great way to elevate your brand as a company that cares!
Here's a great video that talks about how adding and inviting community connections benefits your business and the whole community.
Post Stories
Regularly posting stories strengthens your brand and reputation as a company that cares. The more you post, the more you connect with customers, employees and the community.
If your company is in media locations, your stories will receive even more reach and exposure! To learn more about Do Some Good's media reach/exposure feature, see this article.
We recommend you post a story at minimum once a month to keep your profile fresh.
Promote Your Profile
You've put so much work into making your profile look fantastic - now let's show it off! Promote your profile whenever and wherever you can. It's a great collection of social proof that showcases how much you care about communities!


Build trust with your customers and the community, and attract new customers!
90% of consumers are more likely to trust a company that shows itself to be socially responsible.
Social media - Use the "Share" button on your profile (just under your business logo) to share on social media. Add a link to your profile to all of your community-focused social media posts.
Website - Link to your profile from your Community page or section of your website. If you don't have a Community page, consider adding one.
Email signatures - Link to your profile from your employees' email signatures.

Build trust with your employees, and attract top talent!
60% of millennials say a sense of purpose is why they chose to work for their current employer.
86% believe it's important that their employer is socially responsible.
Employee newsletter - Link to your profile in your employee newsletter and encourage them to get involved. Having employees feel they are part of collective community impact increases engagement and retention.
Career/job postings - Link to your profile from your career/job postings on your website, or on external services like LinkedIn.

Prepare for Embedding Widgets
Widgets are glorious little things! When you embed Do Some Good widgets on your website or intranet, any content you post on Do Some Good will auto-populate your sites, saving you significant time and keeping your sites always fresh and up-to-date.
If you want to jump ahead and learn more about widgets, you can check out this article. Otherwise, there's a just a bit of prep you need to do before you embed them on your sites:
Choose which widgets to embed (there are 7 to pick from!)
Prepare content for those widgets (so they don't appear empty on your sites) by:

Adding 5 or more connections
Posting a minimum of 4 stories
Check out the Quick-Start Guide for Widgets to learn more.
Streamline Your Donation & Sponsorship Requests

When you're ready, you can use the Do Some Good Forms & Story Generator system to fully streamline your donation and sponsorship requests, eliminating any manual work your team does to manage your charitable giving, saving you significant time and effort!
Your first step will be to create a form for your community program - grants, sponsorships, scholarships, bursaries - using our intuitive Form Builder tool.
Head to this article to learn how easy it is to create and manage your forms.


Have Authentic Impact Stories Created FOR You
With our one-of-a-kind Story Generator tool, you can have authentic impact stories auto-created FOR you from community organizations you support, employees, customers, and even your stores/branches/locations, all speaking to your company's community impact.
This not only saves you significant time in creating content, but sharing these powerful stories boosts your brand and reputation as a company that cares.
For a quick overview of how Story Generator works, check out this short videos:
To get started using Story Generator, check out this article.