Welcome to Do Some Good! We're so glad you're here and can't wait to help share the good you do and boost your brand and reputation as a company that cares.
Learning a new platform can feel daunting, but don't worry - we've worked hard to make the platform quick and easy to use. Here's a roadmap for all new admins. Just start from the top and work through each step. Have fun!

Quick Links:

First two weeks:

Personal Profile vs. Company Profile
Similar to social media platforms, when you created an account on Do Some Good, you created a personal profile. This is where you can share all the good you do as an individual, find volunteer opportunities, and more. Read this article to learn all about your personal profile and how to use Do Some Good as an individual.

After creating a personal profile, you registered your company and were then linked as an admin to the company profile. Here's an example of a personal profile. In the top right-hand corner, you'll see your name, and under that, you'll see the name of your company. Just click on the company name to access the Management Area.

Note: For the remainder of this article, the word "profile" will refer to your company profile.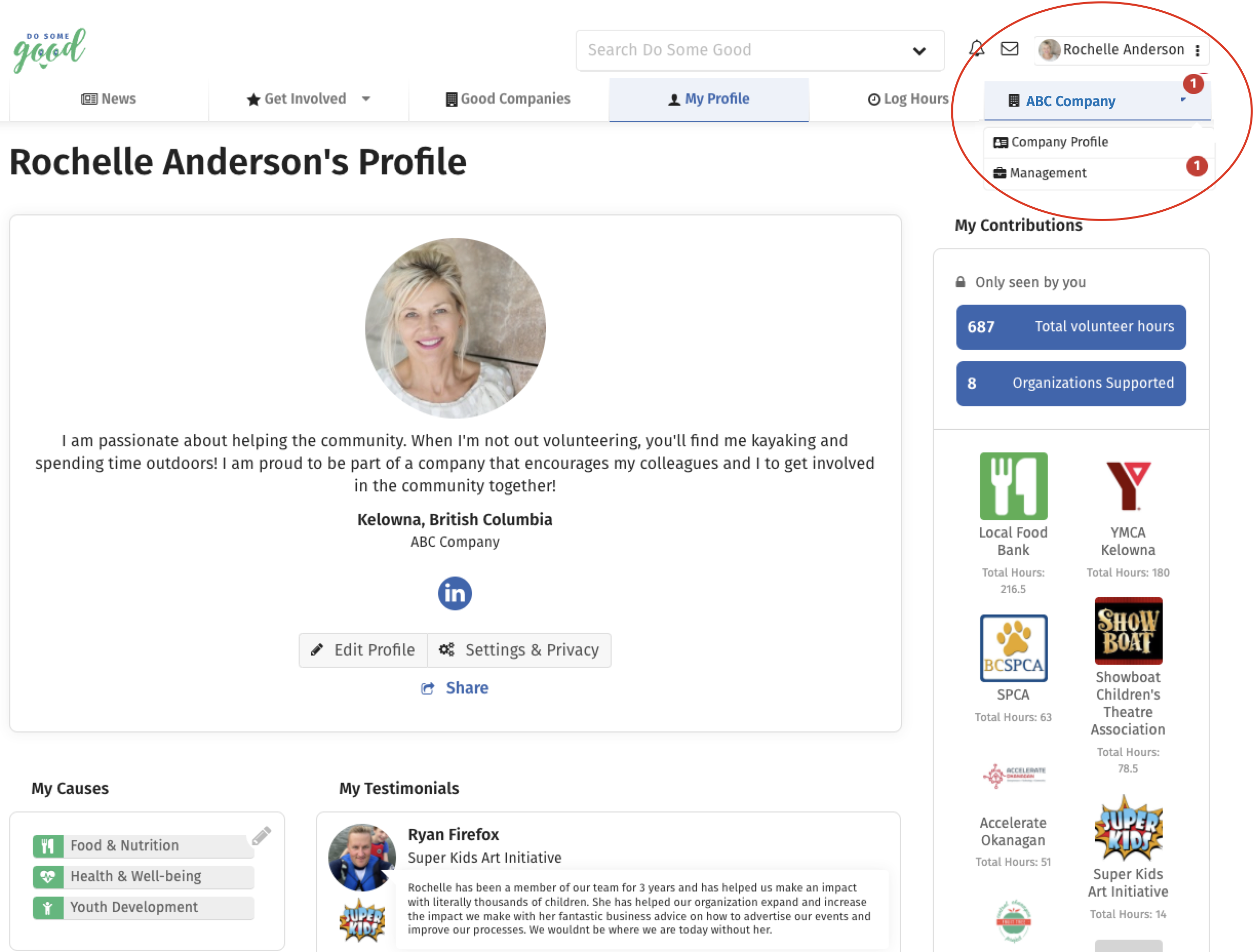 Get to Know Your Management Area
Your Management Area is where you'll live as an admin. When you enter your Management Area, you'll always land on your Home page. The row of buttons on the left-hand side are your main navigation to the powerful features and tools you'll use to share the good you do.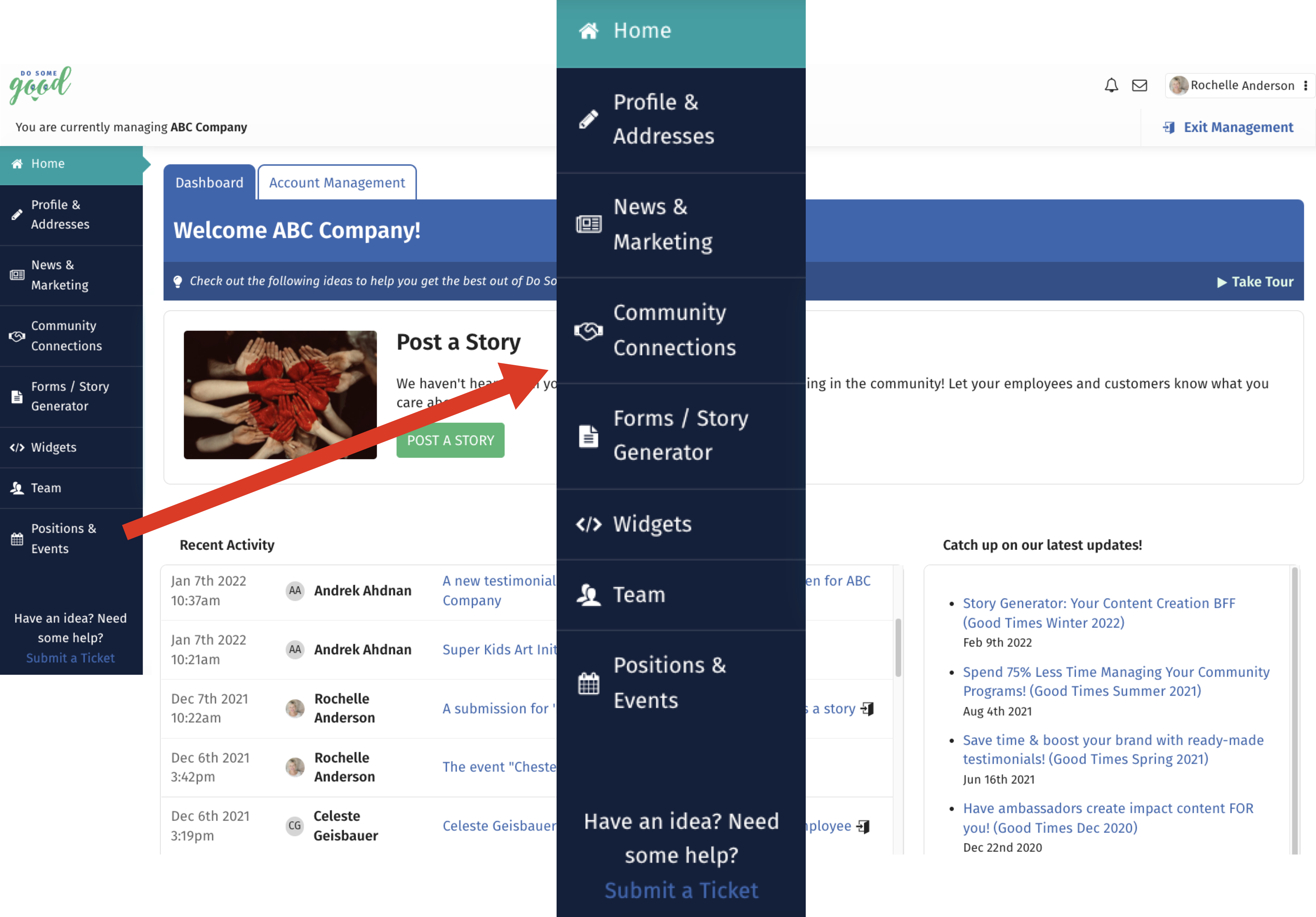 On the bottom left of the Home page, you'll see a running list of all recent activity to do with your company - any action taken will be recorded here, which is especially helpful if you have multiple admins so you know who's doing what.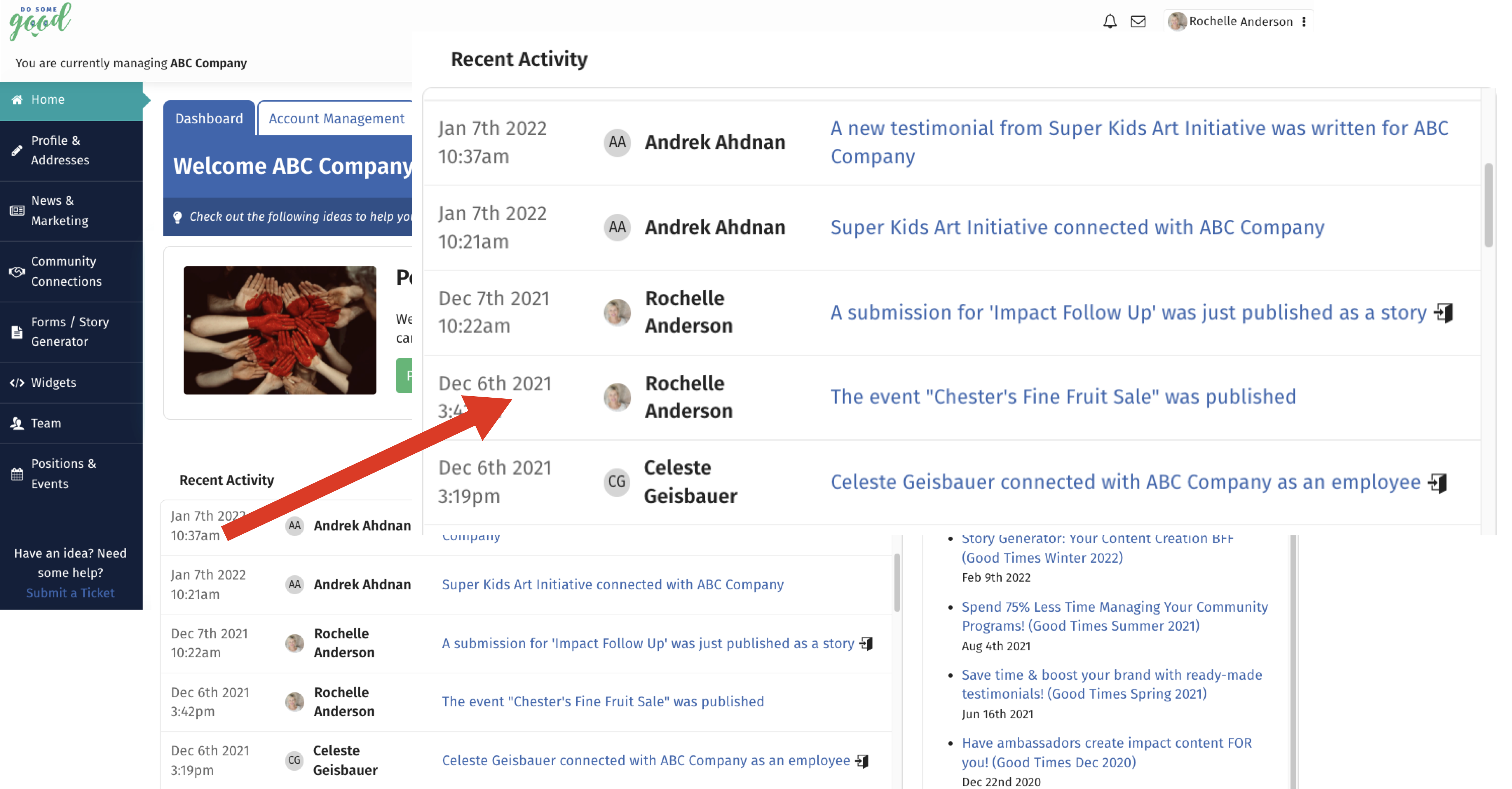 And on the bottom right of the Home page, you'll see a list of past and current newsletters that contain tons of great ideas, best practices, and customer success stories.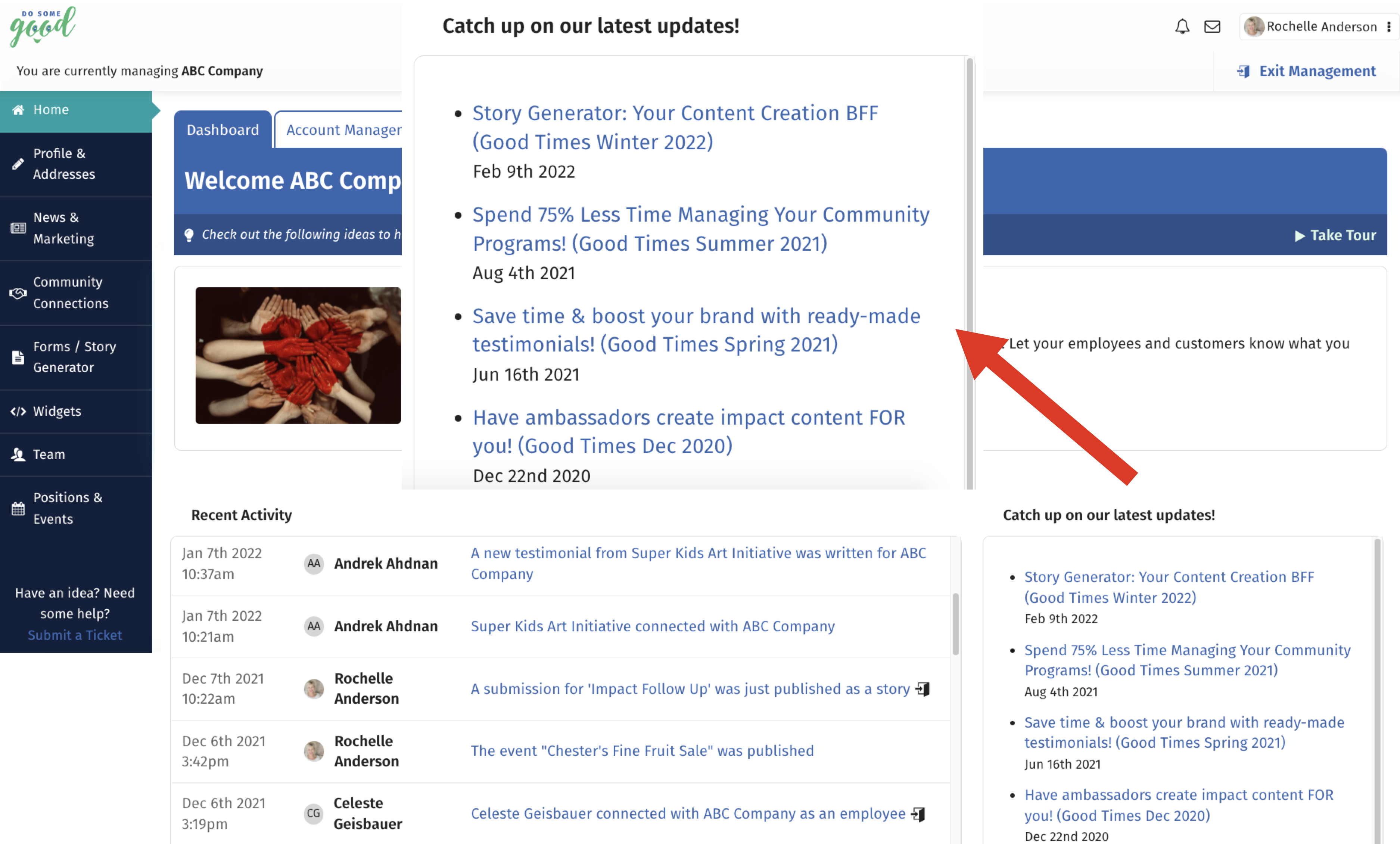 Make sure you're subscribed to our newsletter! Just click on your name in the top right, go to "Privacy and Settings", and make sure the newsletter box is checked. Take a moment to look through the other settings and make sure they are set up the way you like them.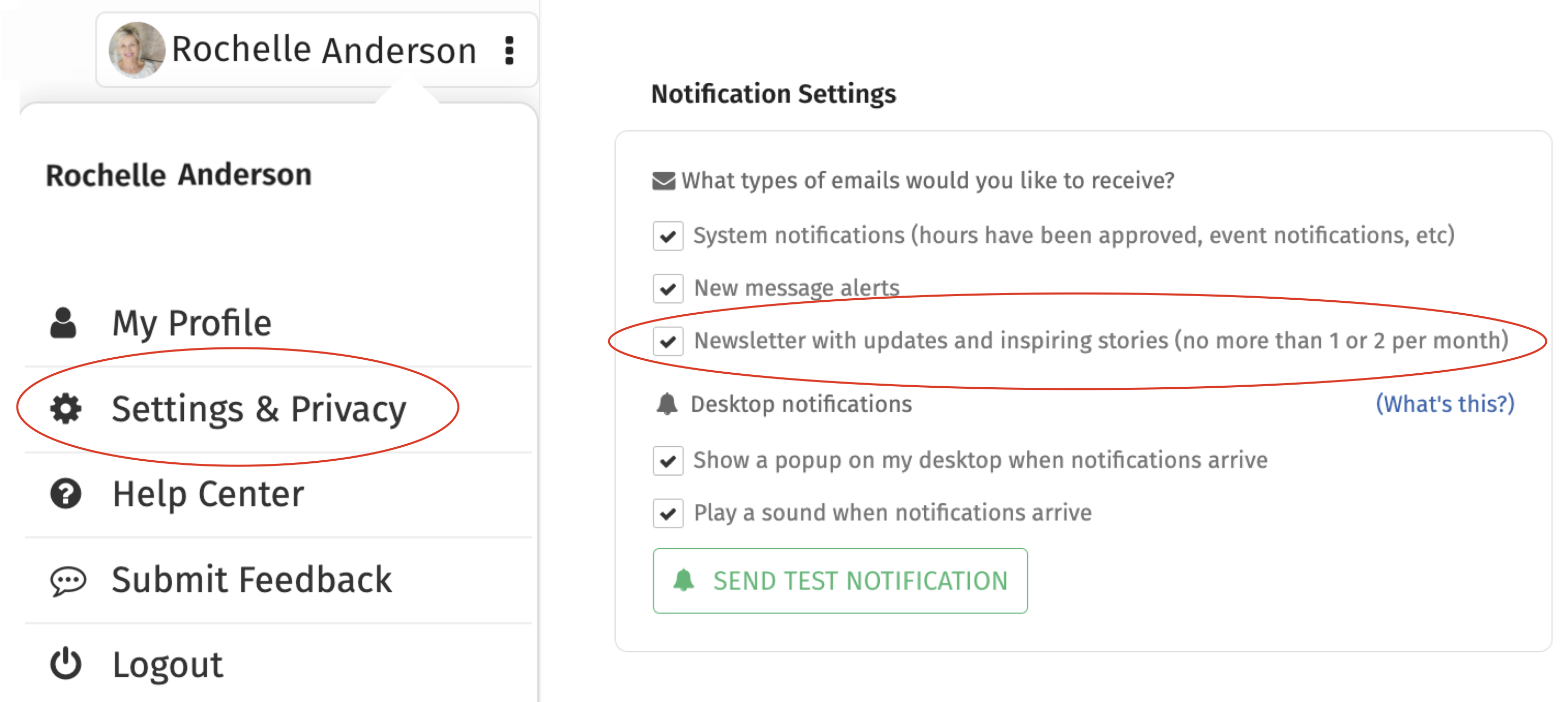 Complete Your Profil

e
This section is under construction - coming soon


Think of your Do Some Good profile as a mini-CSR report. It's a one-stop-shop for all of the good your company does in the community. Rather than having bits and pieces on your website, social pages, and newsletters, it's all here in ONE place.
Your profile includes your community connections, testimonials (what we call 3rd party social proof), statistics about your community giving, all of your good news stories, and more.

During onboarding, you started work on your profile by adding a logo, selecting the causes you support, and so on. Now it's time to complete that profile. Your profile is your community impact showpiece that current and potential customers and employees will see, so you want it to be as complete as possible.
Example: Envision Financial Profile on Do Some Good
Here are the last pieces of your profile puzzle that we recommend you complete!
Add a profile banner image (1440 pixels wide x 480 in height for best results). The amount of the image displayed will change depending on browser and screen sizes so we recommend keeping the image free of text.

Add contact information

Add links to your social accounts

Add a YouTube video

Add an environmental stewardship message

Add your company's average annual contributions (donations and volunteer hours)

List addresses for all of your business locations (go to "Profile" in your Management area, click on the "Addresses" tab and select "Add address")

When you're all done, check out our Best Practices to take your profile and brand to the next level!


To update your profile, simply go to your Management area and click "Profile".


Set Up Your Address Book & Business Settings
This section is under construction - coming soon
Add Connections & Get Testimonials
Add connections with non-profit and charitable organizations you support or have supported in the past to demonstrate your social mission and how you've had an impact on your community!
Once you've added connections, get testimonials from each organization. Testimonials are a great way to elevate your brand as a company that cares!


Post Stories
Regularly post stories to strengthen your brand and reputation as a company that cares.
The more stories you post, the more you connect with customers, employees and the community. They will become your brand ambassadors and spread the word about the good you do!
Promote Your Profile
You've put so much work into making your profile look fantastic - now let's show it off! Promote your profile whenever and wherever you can. It's a great collection of social proof that showcases how much you care about communities!


Build trust with your customers and the community, and attract new customers!
90% of consumers are more likely to trust a company that shows itself to be socially responsible.
Social media - Use the "Share" button on your profile (just under your business logo) to share on social media. Add a link to your profile to all of your community-focused social media posts.

Website - Link to your profile from your Community page or section of your website. If you don't have a Community page, consider adding one.
Local media - Post on Do Some Good and link to your profile. All of your posts will appear on local media sites (where available)!
Email signatures - Link to your profile from your employees' email signatures.

Build trust with your employees, and attract top talent!
60% of millennials say a sense of purpose is why they chose to work for their current employer.
86% believe it's important that their employer is socially responsible.
Employee newsletter - Link to your profile in your employee newsletter and encourage them to get involved. Having employees feel they are part of collective community impact increases engagement and retention.
Career/job postings - Link to your profile from your career/job postings on your website, or on external services like LinkedIn.



Prepare For and Embed Widgets
Easily share the good you do without having to update your website! Use our customizable widgets to auto-populate your website with community content from you and your ambassadors. Choose from 7 different types of widgets - be up and running in minutes!
Note: If you are a Credit Union using Forge, please refer to this more specific help article.

Streamline Your Donation & Sponsorship Requests

Seamlessly manage the entire lifecycle of your charitable giving! Use our powerful system to collect, track and process requests in ONE place - no more managing multiple spreadsheets or sifting through emails!
Having a simple application process makes things so much easier for non-profit and charitable organizations!


Have Authentic Impact Stories Created FOR You
Custom build forms for any purpose!
Use one of our handy templated forms, or custom build your own forms using our intuitive drag-and-drop tool. Perfect for all of your business needs, including customer spotlights, employee surveys, follow-ups with charities on your impact, and more!
Have ambassadors create content for you about your impact...a marketing game changer!
Add a "story" flag to any questions in your form. Responses to those questions auto-create a story that you can share on your website, social media, and even local media sites (where available) with one click! That's third party social proof of the impact you're making in communities!