Inviting organizations you've supported to join Do Some Good helps save organizations time and money, while helping to boost your brand in the community as a company that cares.
Quick Links:
Why Invite Community Organizations to Join Do Some Good
Inviting organizations to join the Do Some Good platform has benefits both for the organizations and your business.
For the organizations, they get access to FREE, powerful features and tools that help them:
Easily recruit and schedule volunteers
​​Simplify their volunteer application process
Automate the collection of volunteer spotlight stories
Have their stories automatically shared on their website, social media and even on local media sites (where available)
Organizations typically pay thousands of dollars for such tools, funds that can be reinvested into the community, thanks to YOU inviting them. They will know this value is because of you which helps strengthen those relationships and enhance your brand in the community as a company that cares.
When organizations you support join the platform, you can add them as community connections and we'll automatically nudge them to leave you testimonials and share stories about your community impact. They become your brand ambassadors!
How to Invite Organizations
There are a few different ways you can invite community organizations you've supported to join Do Some Good. All methods are easy!
If you have just a few organizations to invite, you can invite them one by one by heading to your 'Community Connections' page in your Management Area and clicking on the green "Add Connection or Invite Organization button'.



On the next screen, you'll type in the organization's name and click the "Would you like to add...?" link and fill out the fields that pop up.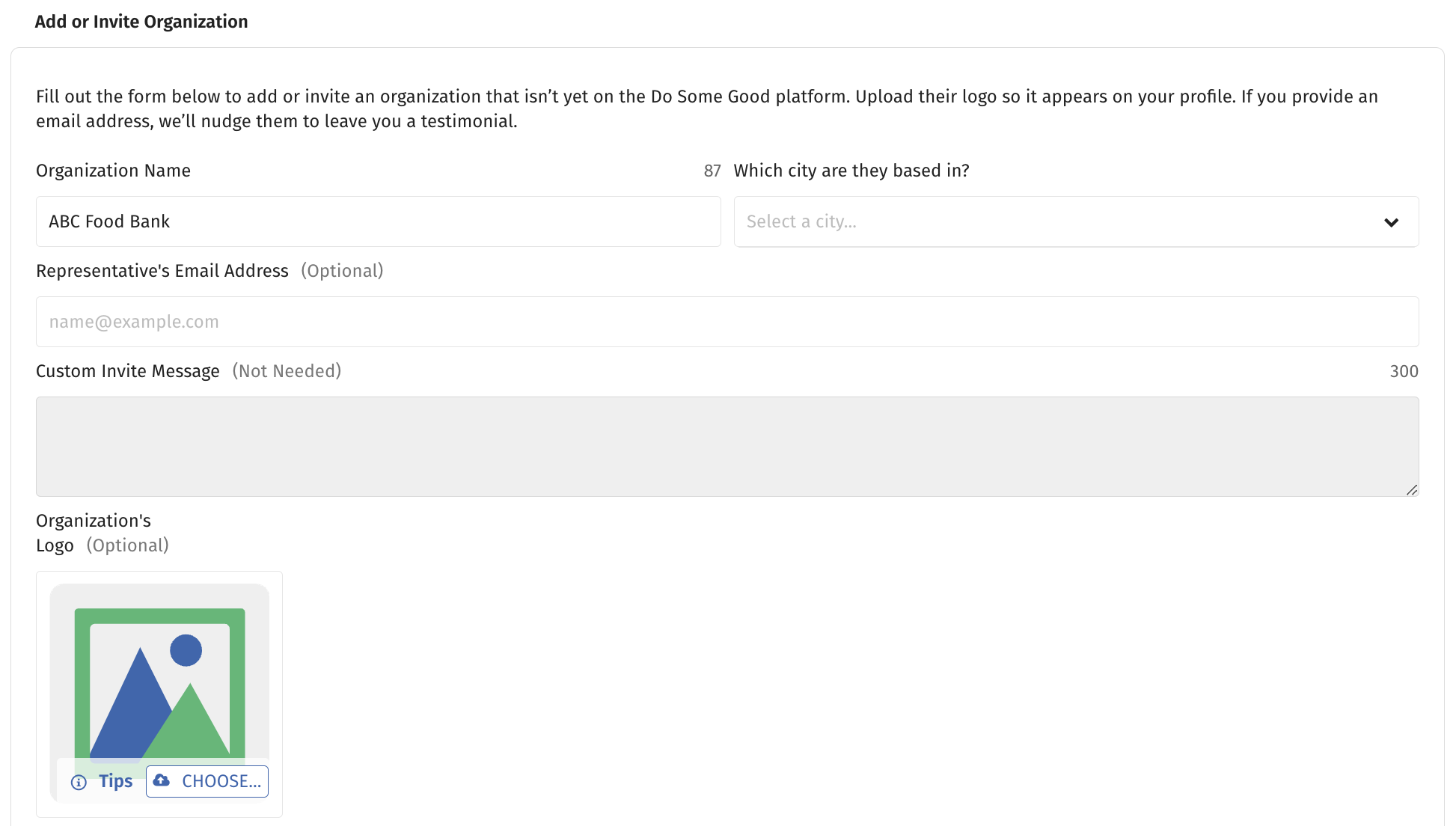 The organization will receive our templated email that outlines the benefits of joining Do Some Good.
If you have a large number of organizations to invite, we recommend a different method. While still on the 'Community Connections' page, go to the 'Invite Organizations' tab.

Here you can bulk invite organizations and add a custom message if you like. Or you can copy the invite link and paste it to an email you draft on your own. If you need some inspiration on what to say, check out this email template.