Welcome to Do Some Good!
Do Some Good connects people like you, charitable organizations, and good companies to make a meaningful impact in the communities they serve. You can use the Do Some Good platform (and the 'Do Some Good' app) to make an impact for the causes you care about!
Here are some of the awesome things you can do:
find ways to get involved in your community & connect with local organizations that share your interests
track your involvement to measure collective impact, develop skills and build your impact resume
contribute to the collective storytelling that celebrates acts of kindness and overall goodness
get special offers from good companies to drive donations to causes you care about
easily communicate with community organizations, volunteers and co-workers
Below is a brief overview of the key pages you can access via Do Some Good and the cool things you can do using this community platform. The key to stronger communities is in your hands!
NAVIGATING Do Some Good
You will typically use five key areas as you explore:

------------------------------------------------
NEWS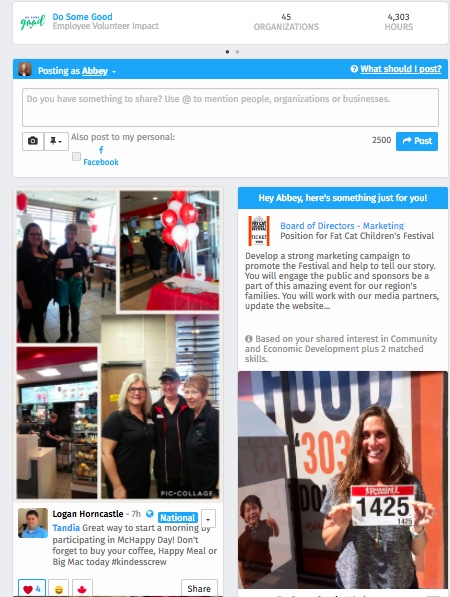 Good news feels great. Discover what awesome things are happening in your community and across the country. Share your own stories and photos to promote the causes you care about. Inspiration is contagious so spread it around and easily share stories to your social networks.
*Learn more about 'How to post a story' or about 'What to post'.
GET INVOLVED
Pursue your passion: Got a cause that's close to your heart? Do Some Good connects you to relevant charities with interesting volunteer opportunities in need of your special talents and skills. Volunteer and network with other like-minded change makers in your community. Fuel your passion with a purpose.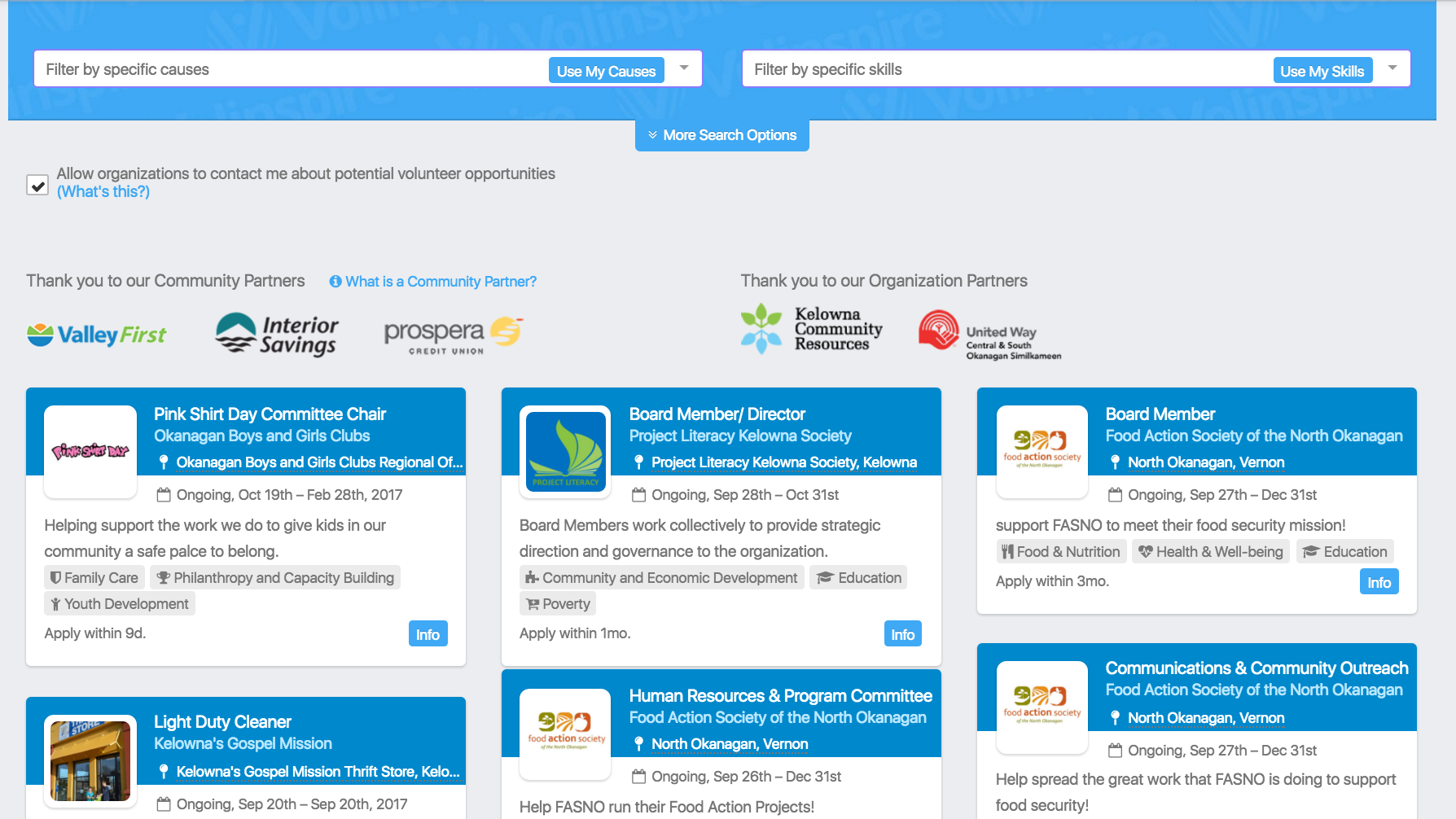 *For more on 'Finding new volunteer positions', click HERE.
GOOD COMPANIES
Access a list of local Good Companies that contribute to our community through donations, volunteerism and more! Companies must complete specific criteria in order to be part of the Good Company Club. This includes things like agreeing to the Good Company pledge, committing to giving a certain percentage of their time or money back to the community, sharing the causes they support, adding the contributions they've made to the community, etc..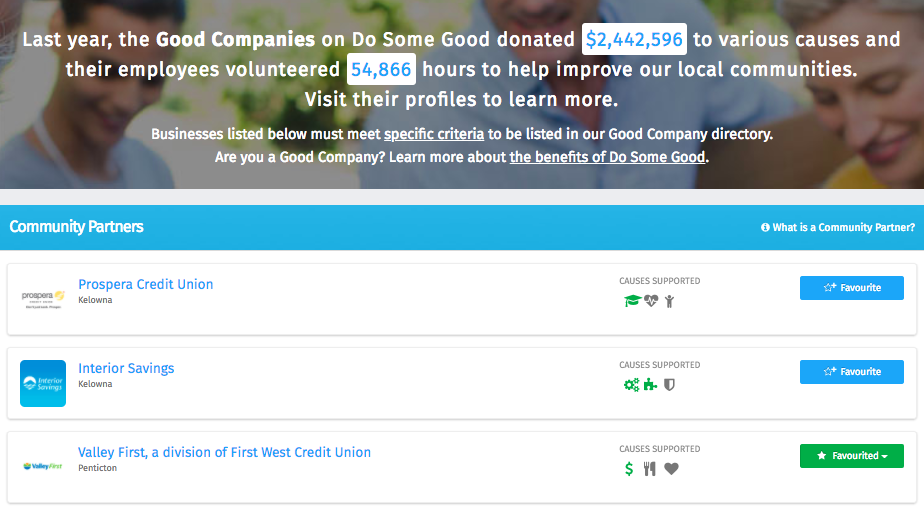 View the collective impact of all Good Companies on Do Some Good and visit their profile to learn more!
See which companies share your same interests and 'Favourite' them to stay up to date with their most recent news stories of corporate goodness
MY PROFILE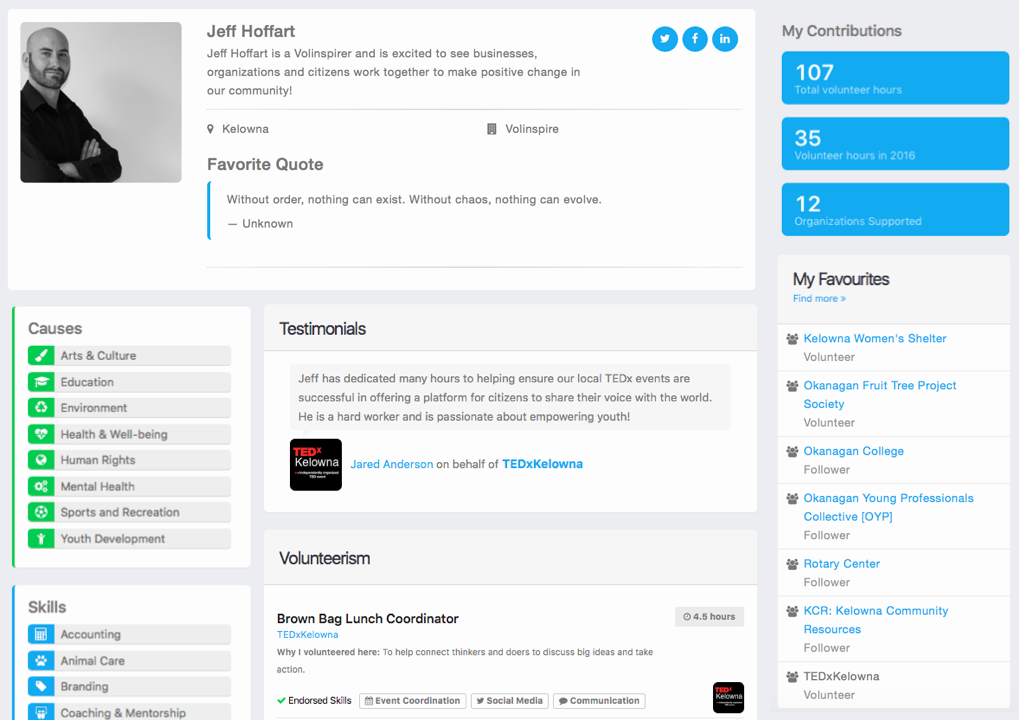 Strengthen your skills: Volunteering doesn't just feel good - it looks good. Put your inspiration to use in productive ways that develop personal growth and enhance your resumé. Build new skills and increase your credibility with a profile that showcases your community impact, complete with testimonials from charities highlighting your contributions.
Personalize your profile and populate it with past and current volunteerism and display a record of your contributions and impact
Get your skills endorsed by organizations and receive and show testimonials from organizations
Receive personalized volunteer recommendations (which appear in your newsfeed), based on your interests and skills
*For more on 'Building your Identity' and updating your Profile, click HERE.
LOG HOURS

Help local organizations by tracking your contributions to causes in the community
Provide feedback to volunteer managers to enhance future experiences
The Log Hours drop-down will populate once you add a current position on your profile or once you are Approved for new positions. To learn more about logging hours and adding positions, click HERE.
Not sure WHY you should log your hours? Here are 4 Reasons WHY to Log your Hours, and how logging hours can help your cause, community, company and yourself!