Build your identity and inspire others with your involvement in the community!
MY CAUSES / MY SKILLS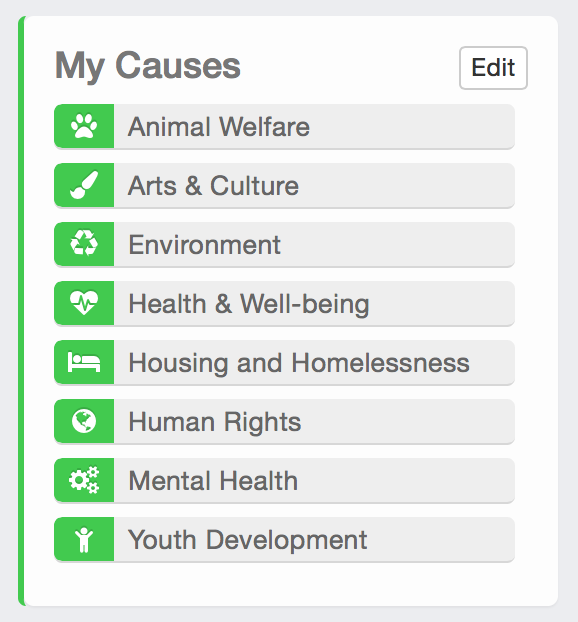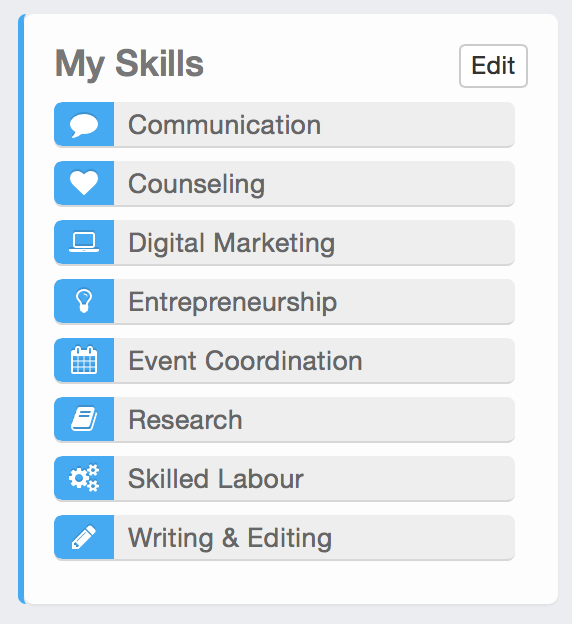 Choose and add causes that you care about and skills you are able to offer
Once these are filled out, you can easily search for new positions on the 'Get Involved' page using your chosen causes and skills
This will also help us continue to personalize suggestions and recommendations, so that the most fitting opportunities end up finding you
*For more details on skills and skill development, please click HERE. 
MAIN INFORMATION (select "edit profile")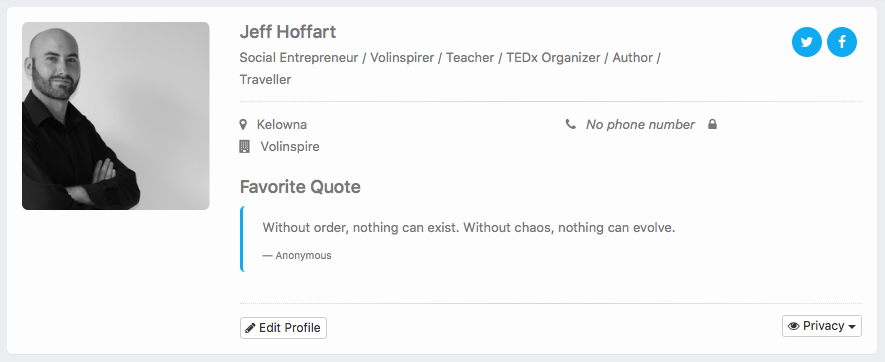 Photo

: upload a picture of yourself (hover over image to see recommended sizes and formats and press camera icon)

Name

: enter your first and last name

City:

changing this will affect what appears on the news page and what volunteer positions can be found in your community

Status

: choose if you are currently a student, employed, retired or fit into more than one of these. Once choosing a status (e.g. employed or student), you will then be able to enter where (you work or go to school)

About

: provide a brief bio, share why you volunteer and what your goals are

Mobile Phone Number

: Do Some Good wants to make sure you receive the best communication possible. If you enter your mobile phone, in the future we will be able to offer the option of receiving text messages for important notifications

Social Media (Twitter / Facebook / Linkedin)

: Optionally provide links for users or volunteer managers to find you elsewhere and learn more about you. Hover over the information icon ("i") for specific instructions to make this easier.
***You can also update some of your relevant Privacy Settings from your Profile. To learn more about ALL Privacy Settings, click HERE.
ENHANCEMENTS (select "edit profile", then choose the "Enhancements" tab)

This is where it gets fun! You can currently add your favourite quote to further personalize your profile. In the future, we will continue to add other enhancements that you can choose to add to your profile (e.g. badges)
NEXT STEPS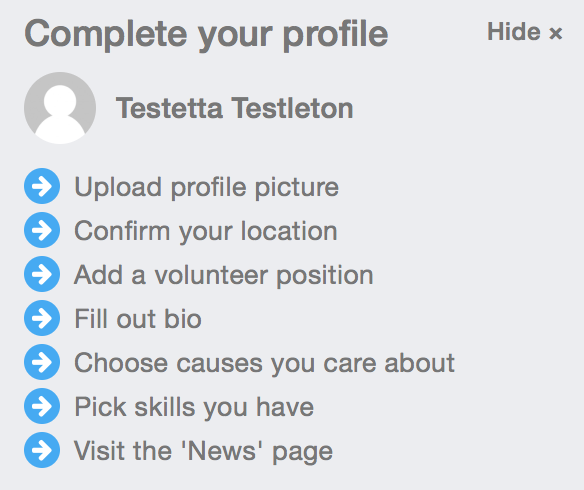 Provides prompts and ideas to strengthen your profile and overall engagement with Do Some Good and what it offers
Hover over each option to learn more and click each option to complete the suggestion
Complete all suggestions and you are on your way to becoming a Community Champion!
MY VOLUNTEERISM
Easily add positions that are not posted on Do Some Good. *To learn more about adding current, existing or historical volunteerism, click HERE
When you apply for a new position on Do Some Good, this will automatically update
Historical / Current Positions Added by User:
Once you have added a position, the Actions dropdown allows you to edit the name of the role and why you volunteered
You can also edit or add skills that were used or developed during the volunteer experience, which are then submitted to the organization you volunteered for, so you can get your skills endorsed
You can also delete the role if you made a mistake or no longer want it shown on your profile
Choose "Log hours for this position" and you can track the time you have contributed to this position
If a position is ongoing and you have finished logging hours, you can move it to your history by choosing "Move to 'My Volunteer History'". NOTE: Once you move a position to the history, you will no longer be able to log hours for it.
New Positions found on Do Some Good:
For each position listed (that was applied for), click the position name to view details including dates and times, view the impact, see who organized it and click to see the organization's profile
The Actions dropdown allows you to message the organizer who posted the position, as well as if the position is upcoming - you can

cancel

if you are unable to make it. This will remove it from your profile.
MY CONTRIBUTIONS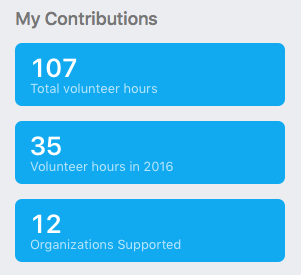 Total Volunteer Hours:

calculates all "estimated hours" for past positions added, plus all hours logged for current and new positions, whether hours are verified or not

Volunteer Hours in [current year]

: calculates all volunteer hours for the current calendar year

Organizations Supported:

calculates the number of organizations that you have supported 
MY FAVOURITES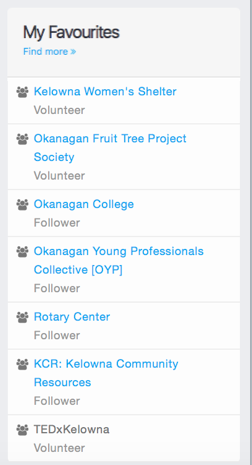 This is your list of all of your connections, whether you are an admin, employee, volunteer, customer/member that you have favourited an organization or business
These connections help determine how content is displayed on the news page and who you can log hours for
Press "x" to remove the connection
Click the name to visit the connection's profile
Choose "Find more" to visit a directory of all organizations currently using Do Some Good in your city (where you can quickly add favourites and make new connections)
*For more information about making connections and how this helps enhance your Do Some Good experience, click HERE.