Easily share the good you do without having to update your website. Use our customizable widgets to auto-populate your website with community content from you and your ambassadors.

Note: If you are a Credit Union using Forge, please refer to this more specific help article.
Quick Links:
What Are Do Some Good Widgets?
Do you have a Community page or section on your company website? We know that keeping this page updated and fresh can often be a challenge. That's where Do Some Good widgets come in.
When you embed widgets on your company website, any content you post on Do Some Good (or are tagged in and you approve) auto-feeds to your site. Widgets can also be embedded on your staff intranet, which is great way to engage employees in your community impact.
See Widgets in Action
Here's an example of what Do Some Good widgets look like on Royal LePage Kelowna's website. Click the image to go to their site to explore.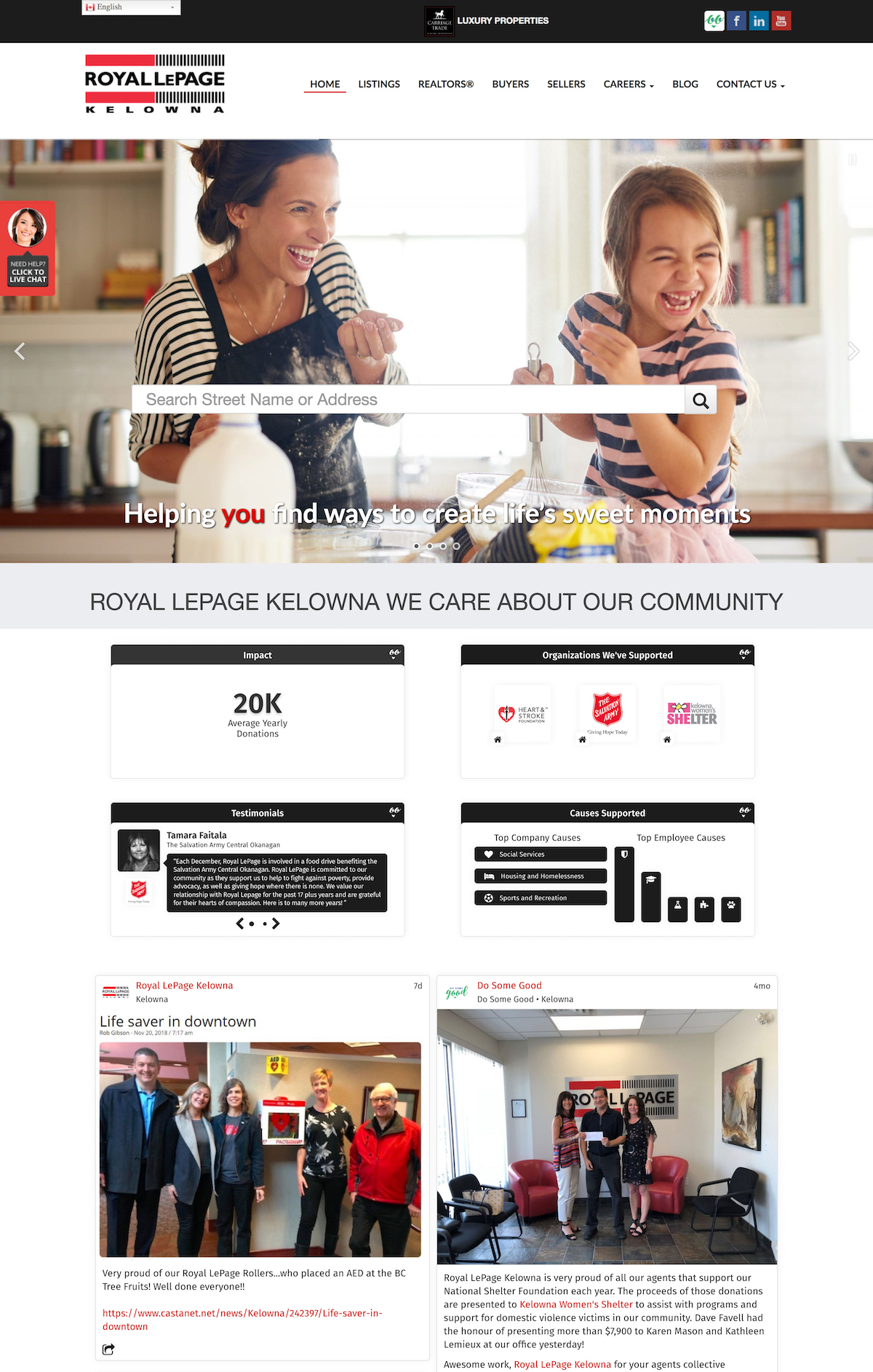 Here are a few other examples of customers who have saved time using our widgets:
7 Different Widgets to Choose From
When you're ready to move forward with widgets, the first thing you'll want to do is choose which type of widgets you'd like to embed on your website and/or staff intranet. There are 7 different widgets to choose from:
News: Displays stories posted by your company, employees and any stories you are tagged in (once you've approved them).
Impact Ticker: Displays your company's volunteerism, donations and number of organizations supported.
Causes: Shows the official causes supported by your company as well as causes that your employees care about.
Testimonials: Displays testimonials written by charities and non-profit organizations endorsing you and the impact you make.
Supported Organizations: Displays a carousel of logos for all of the organizations that you've supported.
Events: Shows all upcoming events that you've created.
Positions: Shows all upcoming volunteer positions you have posted.
To get a sense of what each one looks like, head to the "Widgets" page in your left-hand navigation. We recommend that businesses start with the News, Testimonials, and Supported Organizations widgets.

Prepare Content for Widgets
Once you've chosen which widgets you'd like to embed, you'll want to make sure you have enough content built up to initially populate the widgets so they don't appear empty on your sites.
You only need a bit of content to get started. For example:
This widget "prep" is also outlined in our Quick-Start Guide for Widgets.
Customize & Embed Widgets
It truly takes just a few minutes to customize and embed widgets on your website and/or intranet. Once you've customized your widgets, you simply copy the code provided and paste it on the backend of your site (or send the code to your IT support to have them do it).
Taking just a few minutes to embed widgets on your site will end up saving you hours and hours of time updating content and keeping your sites fresh.
Oh and keep in mind that you can embed as many Do Some Good widgets on as many sites as you like.
Customizing Widgets
All of the Do Some Good widgets are fully customizable to meet your needs, and each type of widget has its own set of options. This gives you full freedom to make the widgets fit with the look and feel of your website or intranet.

As you select different options, you can see a real-time preview of the change so you know exactly how they'll look like on your site.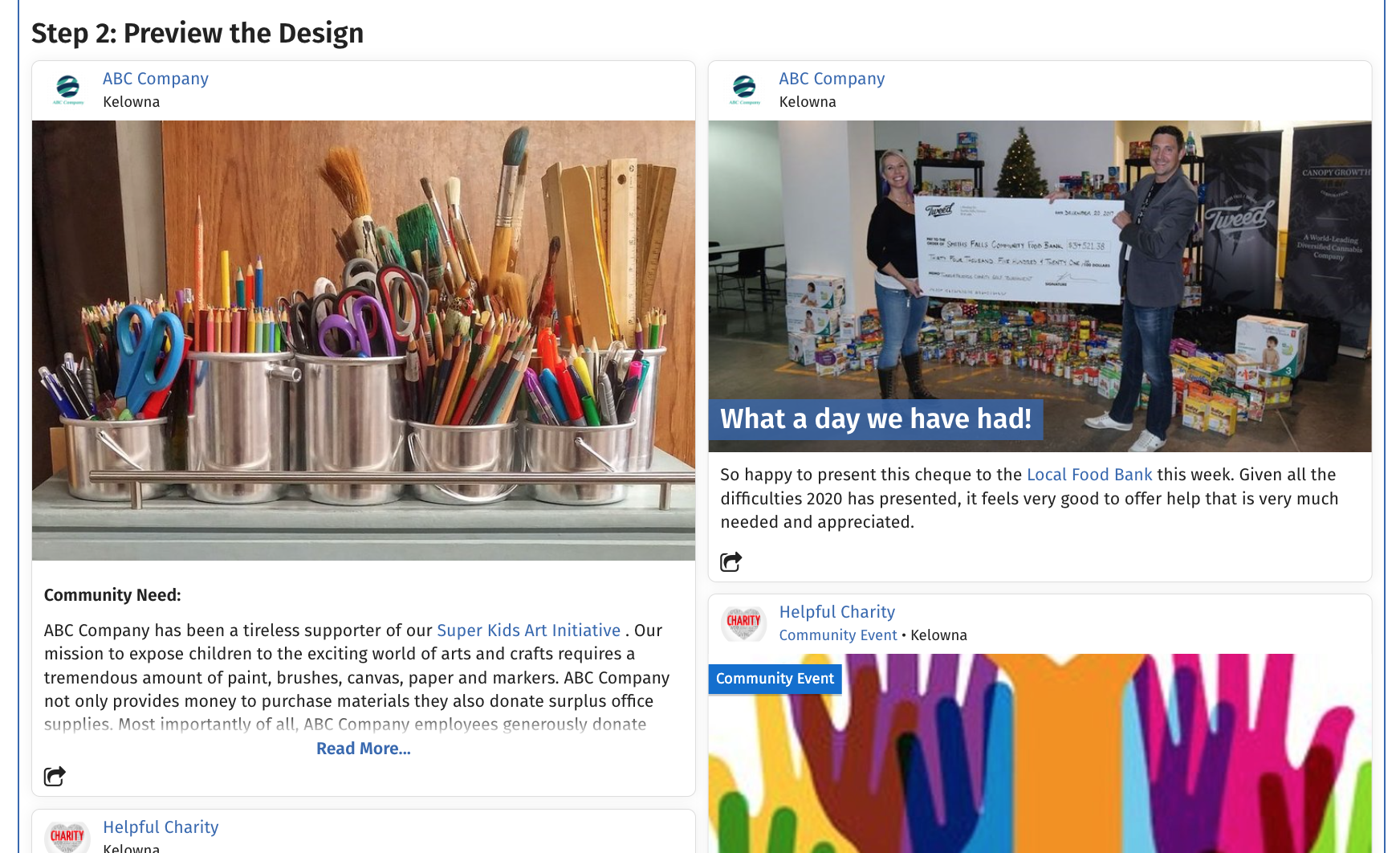 Embedding Widgets
Once you're happy with your widget settings, all you need to do is copy the code at the bottom of the page and paste it into the backend of your site (or have your IT support do this). It's THAT easy!
If you or your IT support have questions about embedding the code on your site, please contact the Do Some Good team at hello@dosomegood.ca. We're here to help!


Common FAQs
If you or your IT support have questions about embedding the code on your site, please contact the Do Some Good team at hello@dosomegood.ca. We're here to help!
Here are a few common FAQ that we hear about widgets:
Is there a way to whitelabel the widgets so they are a natural part of our website vs. coming from a third party?
Our widgets are built to be fully customizable and completely blend into your existing website or intranet. You can apply primary and secondary colours to the widgets to be in line with your company's branding. When you embed the widgets on your website or intranet, they automatically inherit the design choices you already have in place (e.g., font, link colour, button styles, etc.). When users interact with the widgets by clicking links (your business name, community organization name, etc.), they are brought to the Do Some Good platform to view that information. This not only helps boost your brand and reputation as a company that cares, but also builds awareness for the causes you care about.
Are there specific brand/promotion guidelines we must follow when we embed widgets? You are free to embed the widgets on your website or intranet in any way you like. Some of our customers choose to promote Do Some Good alongside their widgets (hyperlinked logo, short description, etc.) to build awareness that we are a community platform, which means all individuals, families, students, volunteers, and community organizations can use it for free. This helps create a ripple effect of goodness. All Do Some Good print and digital assets are available in the platform here:

Using Widgets on Your Staff Intranet
One of the great things about Do Some Good widgets is that they can be embedded on websites AND staff intranets! The steps to embed a widget on your intranet are the exact same as embedding on a website. The only difference is that when you configure your widget for your intranet, you will need to make sure this box is checked: "Include stories that are private for employees".
Checking this box means that when you post stories to employees only, those stories will feed to this widget on your staff intranet. Public stories will also feed to your intranet widget.


NOTE: This option is only available for companies on our Premium package. If you would like this feature, but don't require any of the other employee engagement features, we can do an a la carte add-on to your account (cost involved). Email us at hello@dosomegood.ca to learn more.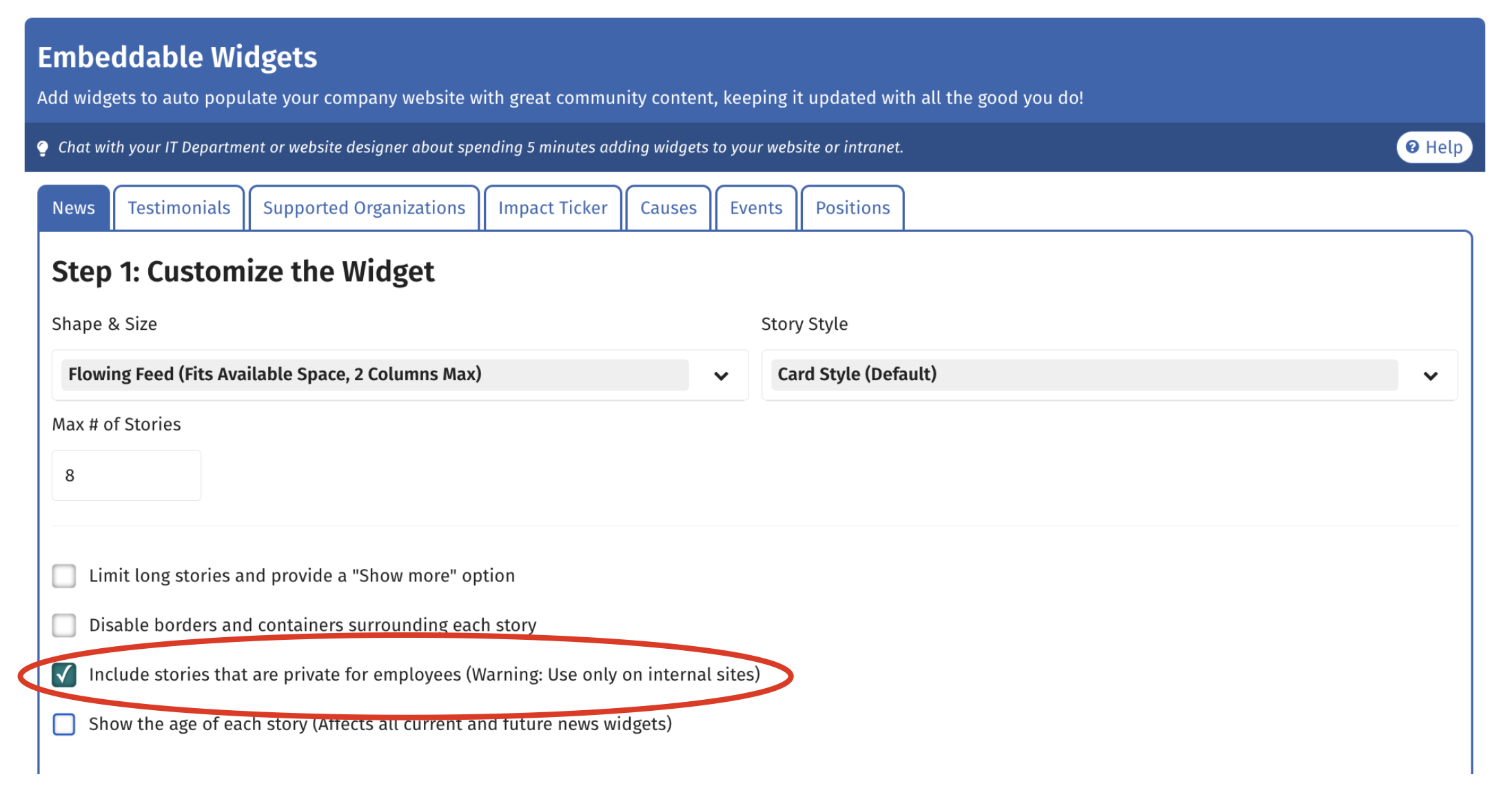 Moderating Content
It's important for you to have control over what content appears on your sites. Do Some Good has some checks and balances in place to ensure your brand is protected. Here's what content auto-feeds to your sites and what doesn't:
Admins: Any content your admins post DOES auto-feed to your sites
Employees: You have the choice as to whether employee content auto-feeds to your site. The default setting is YES, but you can change this. See this article to learn how.
Community Organizations, Businesses, Individuals: Any content your business is tagged in by community organizations, businesses, and individuals DOES NOT auto-feed to your sites. You need to approve this content first via your approval queue.

Best Practices
Brand your widgets with company colours!
For each widget, you'll see "primaryColor":"#3667B1","secondaryColor":"#ffffff" in the code. This is pre-set to the Do Some Good brand colours, but you can easily change these to match your own company's brand guidelines by replacing the numbers/letters after the "#" with your company's brand HEX colours.

If you're not sure what your company HEX colours are, you can use this free tool to find out: https://imagecolorpicker.com/
Option 1: Upload your logo or an image. Then click on the color in the image you've uploaded and it will tell you the "HTML code:" with the hex color.
Option 2: Enter the URL to your website or an image and pick the color on the preview they provide to find your hex color to use when customizing widgets.