Regularly posting stories strengthens your brand and reputation as a company that cares. This builds trust and loyalty with customers and employees, and attracts new ones to your company.
The more you post stories, the more you connect with customers, employees and the community. They will become your brand ambassadors and spread the word about the good you do!


Let's dig in!

Post on Behalf of Your Company
When you go start a new post, beside "Posting as [your name]", you will see a dropdown arrow that you can select to choose to post as your business.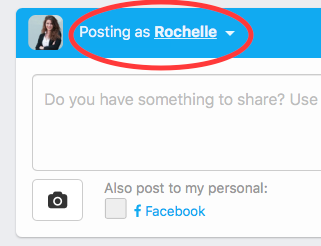 Don't worry, you will also be able to edit or delete your post if you make a mistake or if there are any issues and you can easily share your post via social media.
Post to Employees Only
This allows you to post privately for only your employees to see. Here are some ideas of how you could use this functionality:
Post daily announcements
Send company-wide surveys; employees can use the reaction buttons to vote
Provide updates on your company's community involvement
Share events or positions that your employees would be interested in. Once you find the event/position, simply press "Share", select "Do Some Good", and then choose to post on behalf of your company (see steps above) and choose "Employees only".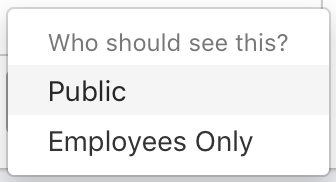 Hit the Local Media in BC!
Boost your media reach and exposure by having your stories hit the local media in B.C.!

Through Do Some Good's partnership with Black Press Media, you can reach a larger audience by seeing your brand, and the stories you and your ambassadors share, on local media sites across B.C. each week. It's never been easier to share the good you do, and enhance your brand and reputation as a company that cares!
When you or your ambassadors post on the Do Some Good newsfeed, your posts will appear in the "Local Good" section on the homepage of B.C. media sites in and near your location. As new content is added to the media site, your post will eventually move to an "All Local Good" area still on the media site which readers are still easily able to access.
Each media company has its own editorial rules about what it wants in a 'Good News' story. Here are some guidelines that will maximize your chances of getting your story published in a local media site:
Include a nice picture - A high resolution picture will add visual appeal to your story. Make it relevant to your team, the organization you support or the people who are being impacted. Square pictures work best for most media sites and are often preferred.
Share the impact - Tell your story and how the community is being impacted, needs help or has been helped. We are all trying to do our best to Do Some Good, tell that story.
Posting Frequency - Try and space out your stories a bit. You can post as often as you like to appear on your business profile or in your widgets but media partners want diverse authors and will not publish several stories from the same organization all at once.
Don't know what to post? We have lots of ideas here! Oh and don't forget to encourage the non-profit and charitable organizations you support in B.C. to do the same!
Not located in B.C.? Our plan is to expand our media partnerships across Canada. If you have strong relationships with media partners in your area, please let us know at hello@dosomegood.ca.

Best Practices
Want to take your storytelling to the next level?