Adding connections and getting testimonials are great ways to demonstrate your social mission and how you've had an impact on your community. We call this third party social proof! This enhances your brand and reputation as a company that cares.


Quick Links:
Adding Connections
Here's a great video that talks about how adding and inviting community connections benefits your business and the whole community.
To add connections, head to the "Community Connections" page in your left-hand navigation and click the green "Add or Invite Organization" in the top right corner.

You'll see a list of community organizations that are on the Do Some Good platform in your area. Select the "Add Connection" button to quickly add an organization to your profile.
Each time you add a connection, Do Some Good nudges that organization to leave you a testimonial and post stories about your impact.
Note: if you look at the list and see multiple versions of the same organization, choose the one with a green checkmark and bolded location. This means they are active users on our platform.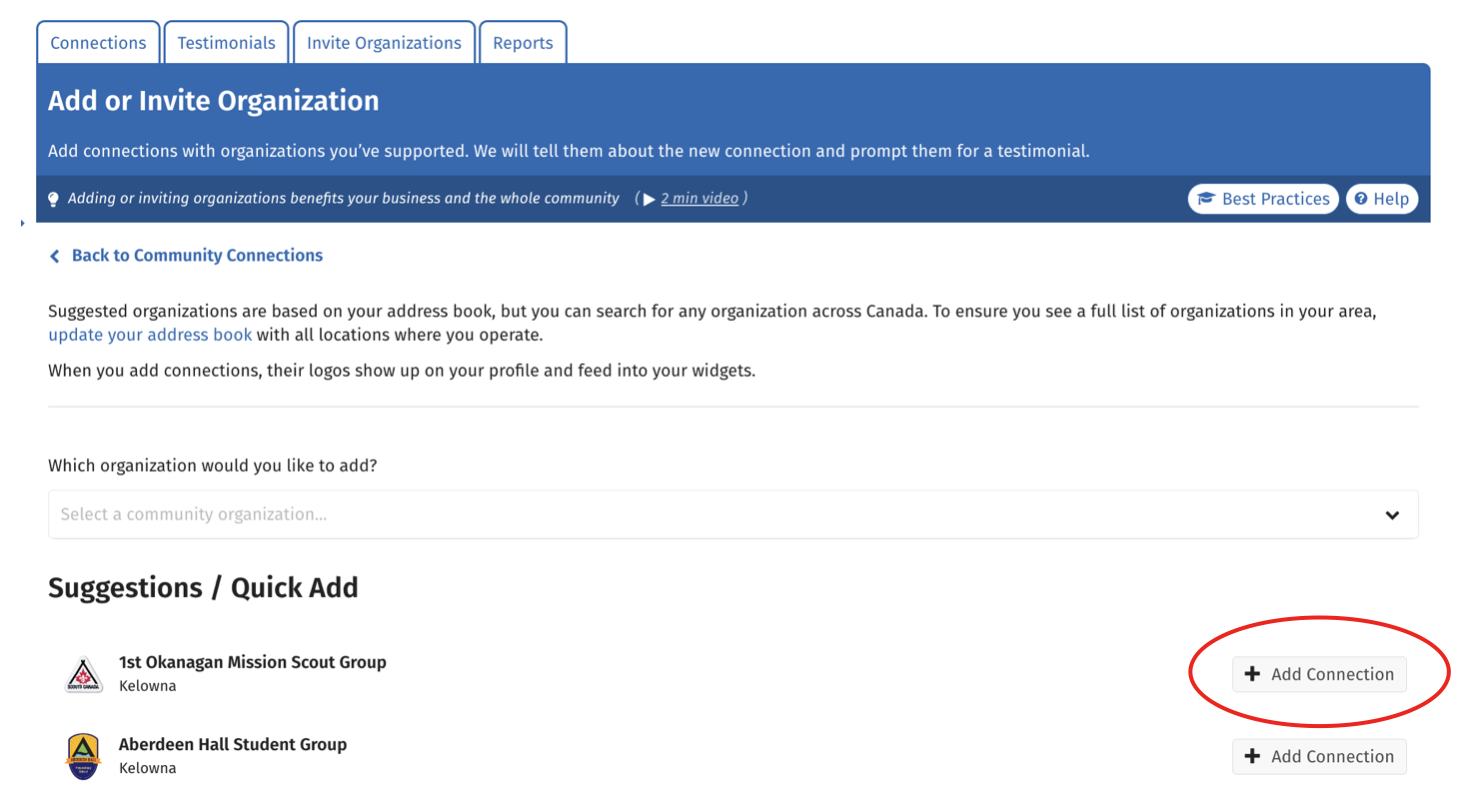 Even if the organization is not on the platform, you can still add them as a connection. Simply type in the organization name and click the "Would you like to add...?" link and fill out the fields on the next screen.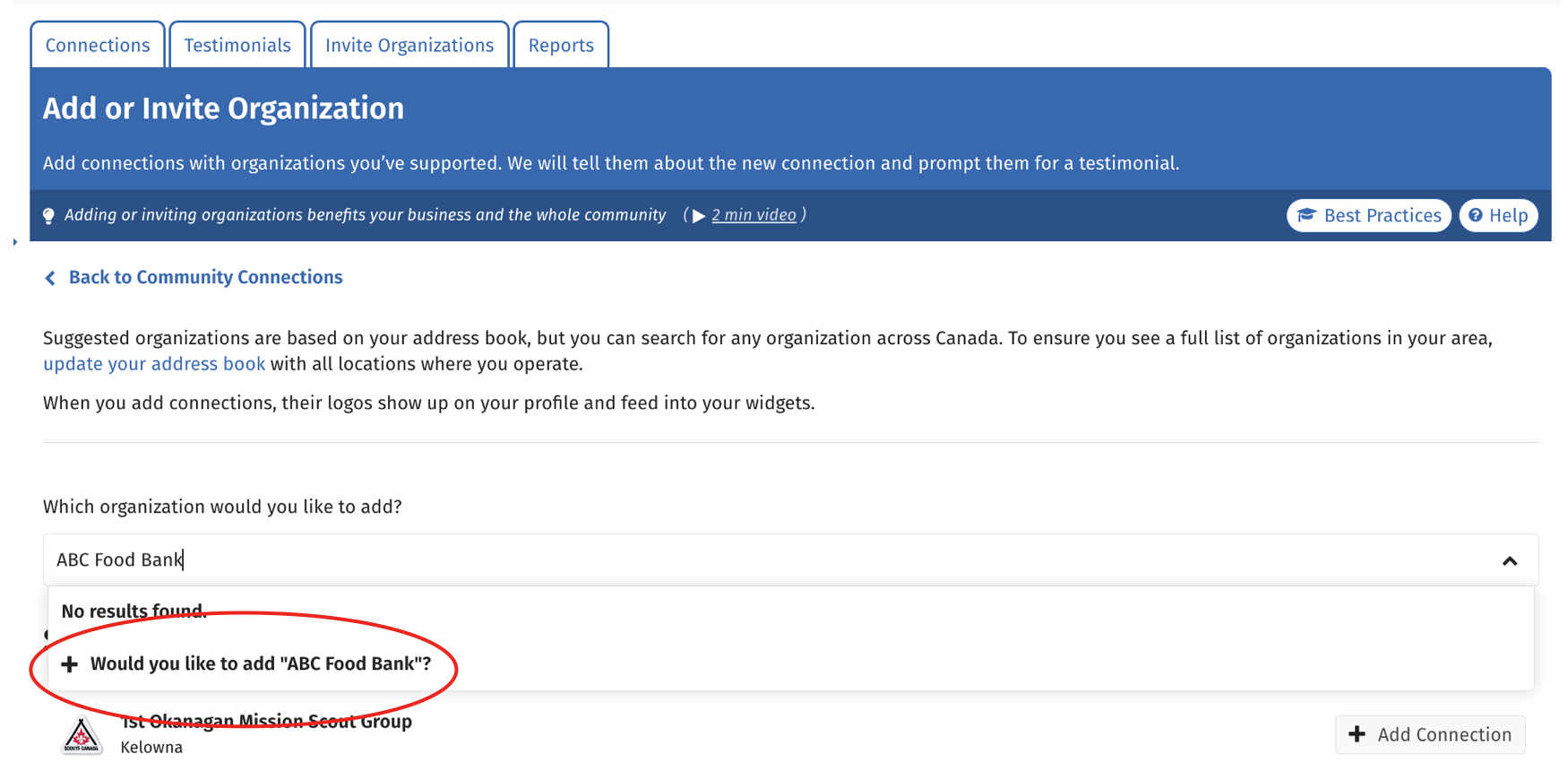 On the next screen, there are just a few quick fields to fill in. We recommend you add an email address so we can invite the organization to join the platform. Do Some Good is FREE for organizations and your connections will know they are receiving powerful features because of your company.
Note: In order for a connection to appear on your profile, a logo needs to be uploaded. We recommend you do this on the organization's behalf which will provide them with added exposure to build awareness for their cause.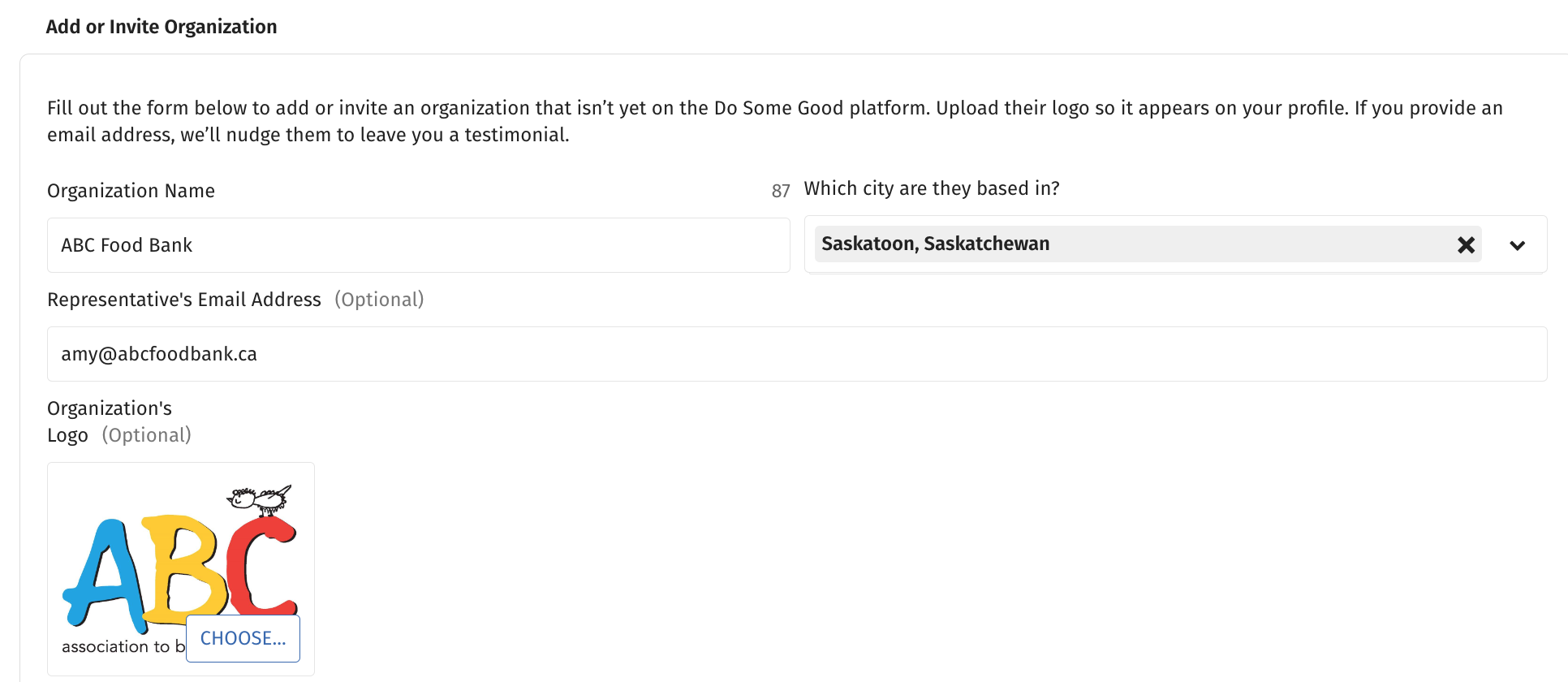 Getting Testimonials
Once you've added connections with community organizations you support or have supported, you can get testimonials.
When you add a new connection, Do Some Good automatically nudges the organization to leave your business a testimonial. You can re-nudge organizations every 30 days by simply clicking the "Request Testimonial" button next to your connection.

If the organization is not already on the Do Some Good platform, you can still request a testimonial from them. They can also send you a testimonial without being on the platform. We've removed barriers to make it easy for organizations to share the impact your business has made.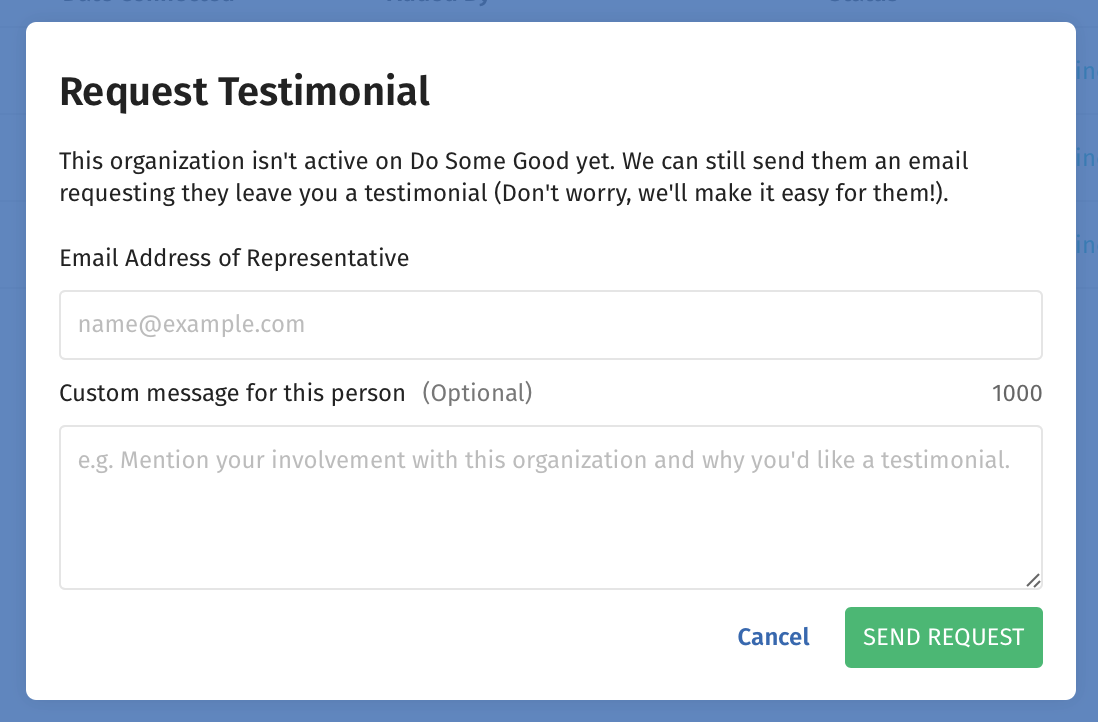 Best Practices
Once you add connections with community organizations and get some testimonials from them, what's next?


Invite others to join Do Some Good!
Here's an email template you can use to invite other community organizations you've supported to join Do Some Good if they aren't already on the platform. We've made it super easy for you - just copy and paste the text into an email and send it off!
Your membership allows causes you care about to use our platform for free. This increases volunteerism and support to ALL nonprofits and charities in your community.
Imagine how excited these organizations will be to have a valuable, free tool to use that could bring them more awareness, donations, and support all because of YOU!
Share your testimonials!
Sharing testimonials is a great way to elevate your brand as a company that cares, and build trust and loyalty with customers and employees!
Share your testimonials on social media! Go to your Management area and click on "Community Connections". Now go to the "Testimonials" tab. Click the three dots next to "Hide from Profile" to instantly share on your social media channels.




Use our customizable widgets to have testimonials automatically feed to your website!


Share testimonials on your Do Some Good newsfeed and they will appear on local media sites (where available)!


And keep in mind, you can request testimonials as many times as you'd like, so consider putting a reminder in your calendar, such as after a donation or at the end of your donation cycle.