Congratulate your employees on their good work and share inspiring stories about the great people you work with! This is your chance to celebrate your company's goodness and also recognize employees. 

Here are some helpful articles you might be interested in:
POST ON BEHALF OF YOUR COMPANY
Beside "Posting as [your name]", you will see a dropdown arrow that you can select to choose to post as your business.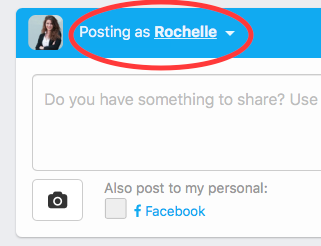 *Don't worry, you will also be able to edit or delete your post if you make a mistake or if there are any issues and you can easily share your post via social media.
POSTING TO EMPLOYEES ONLY
This allows you to post privately for only your employees to see. Here are some ideas of how you could use this functionality:
post daily announcements
send company wide surveys; employees can use the reaction buttons to vote
provide updates on the company's community involvement
share events or positions that your employees would be interested in!   Once you find the event/position, simply press "Share", select "Do Some Good" and then choose to 'act as' your company and choose 'Employees only' (see below)
***Use the instructions above to act as your company. On the bottom right side of the 'post-box', click the "Public" button to access the drop-down and be able to choose "Employees only".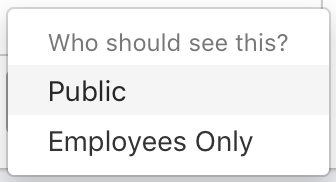 NOTE: This feature may not currently be part of your package. If it's not and you're interested in learning more or upgrading, please contact us at sales@dosomegood.ca