Regularly posting stories strengthens your brand and reputation as a company that cares. This builds trust and loyalty with customers and employees, and attracts new business and top talent.
Quick Links:
How to Post Stories
If you can post on Facebook or Twitter or LinkedIn, you can post on Do Some Good. It's very easy and will feel similar to other social media sites.
When you're an admin of a company, there are two places you can post from. You can post stories from your News Feed or "News" tab.

Or you can also post from your "News & Marketing" page in your company's Management Area.



We always recommend that admins post from the Management Area since it provides the most posting options and allows you to see all of your company's posts.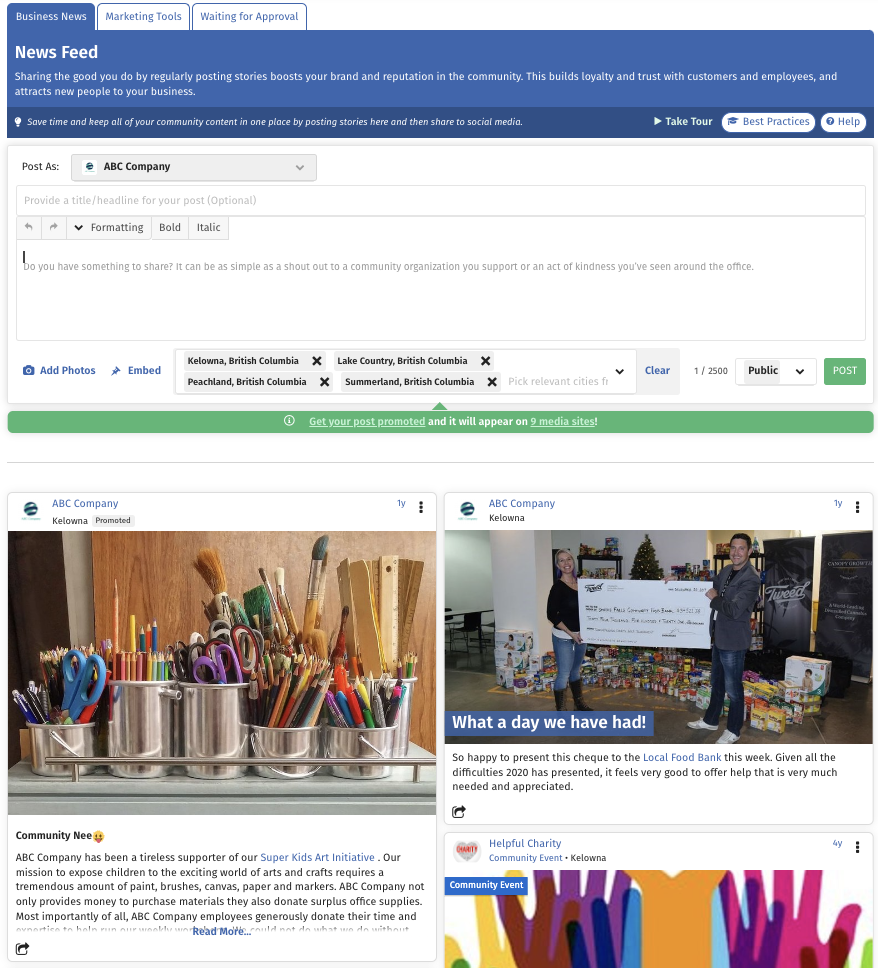 Posting As Your Company vs. Yourself
When posting from your News Feed (or "News" tab), you have the choice of posting as your company or as yourself, just like on social media sites.
Just click anywhere inside the posting box and it will unfold. Click on your name and a drop-down list will open and you can toggle between posting as yourself and as your company.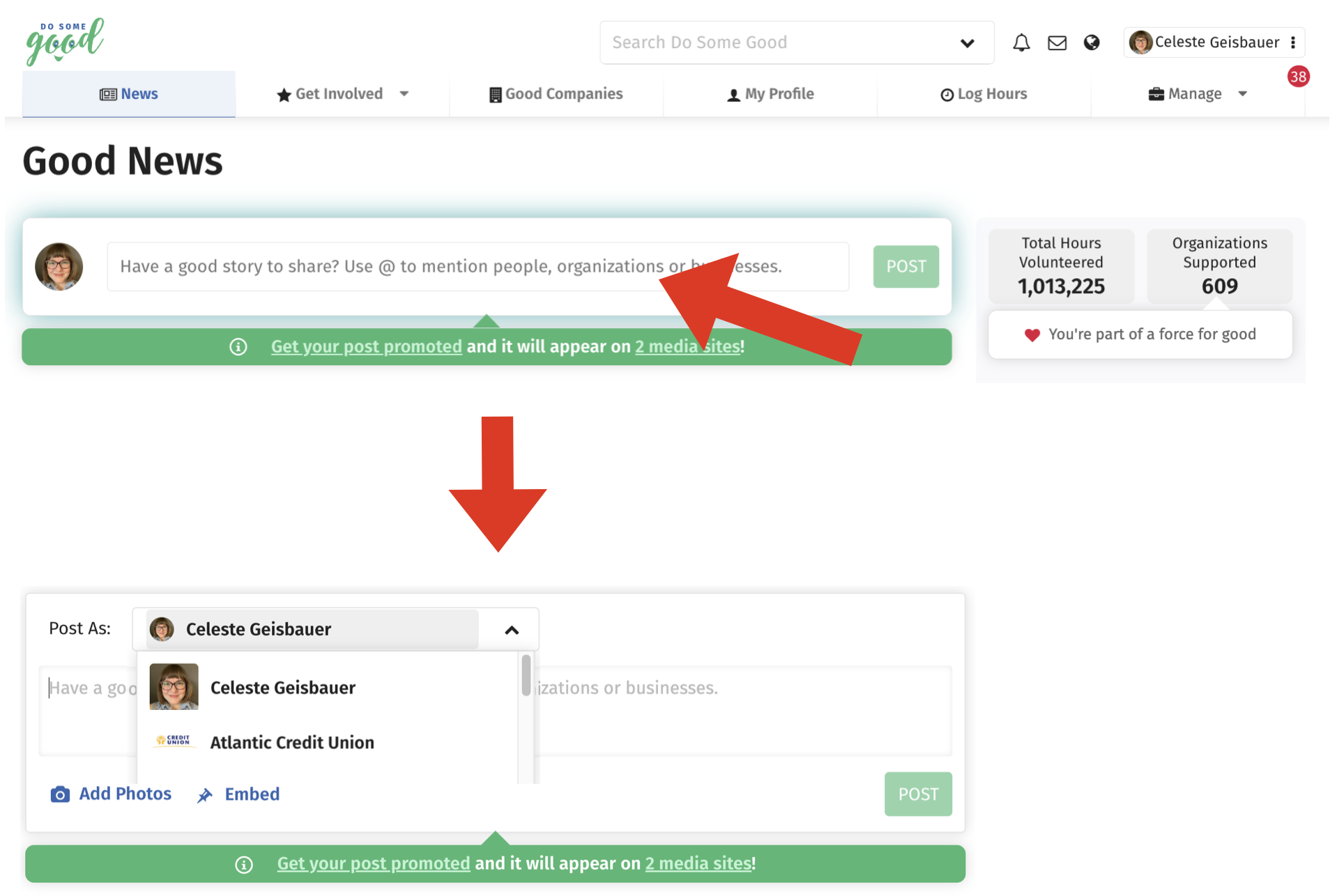 Posting to Employees Only
This option is only available when posting from your Management Area AND is a feature in our Premium package. If you would like this feature, but don't require any of the other employee engagement features, we can do an a la carte add-on to your account (cost involved). Email us at hello@dosomegood.ca to learn more.
At the bottom right of the posting box, there's a drop-down list where you can choose to post to the public or to employees only.
This allows you to have posts about community news, events, volunteer opportunities, etc. show up just on your employees' newsfeeds, as well as on any widgets you've embedded on your staff intranet site.

Geo-Targeting Your Posts
You have the option of targeting your posts to all or just some of the locations in your address book. (Ensure your address book is up to date with all of your locations!). Each time you go to your "News & Marketing" page in your Management Area, ALL of your address book locations will be loaded in by default. Click the "X" next to the city name to remove that location. If you want to add it back in, just start typing the city name in the white space.


NOTE: Your stories will always be seen by your followers (those who "favourited" your company) and employees regardless of the city the story is published in or the city that employee/follower lives in.

Adding a Title
You have the option of including a title or "headline" to your story. We this as it will help your post stand out more when you share it and draw people in.

When the story is posted in the newsfeed, the title will be displayed over the image in a blue bar.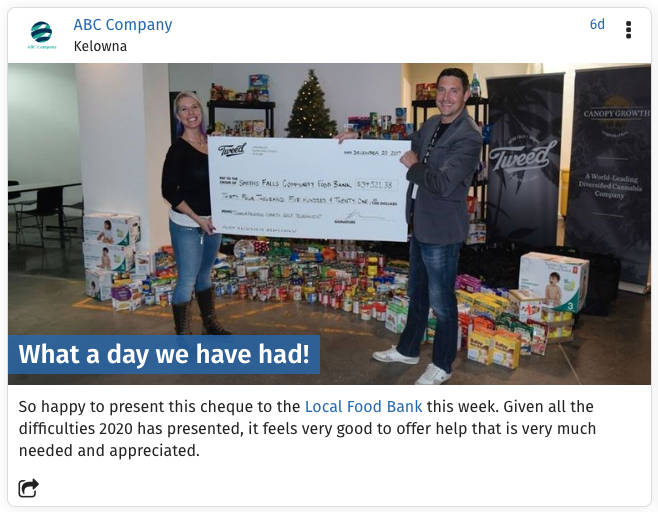 Adding Multiple Photos
You can add up to 8 photos to your post by dragging and dropping them or uploading.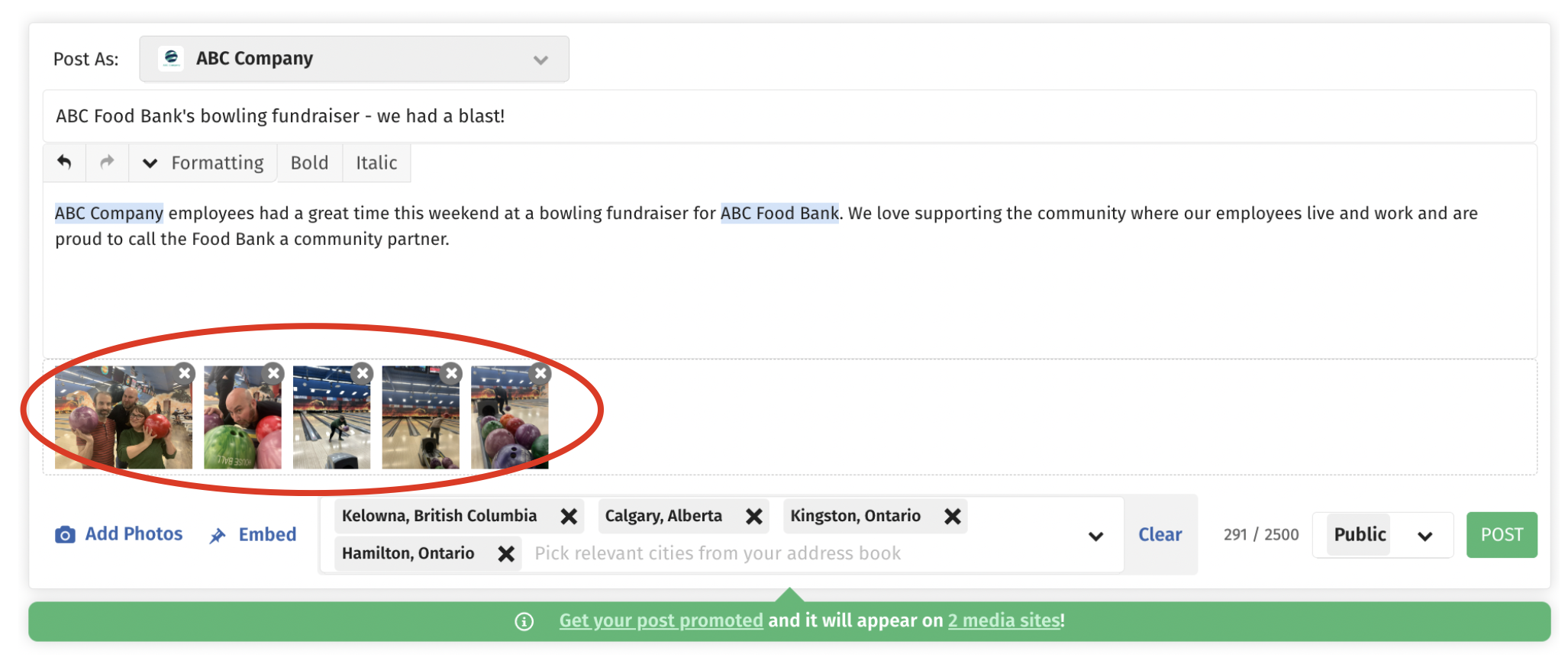 The first uploaded photo will be the preview image for the story when seen in a news feed and viewers will be able to cycle through the photos in a carousel by clicking the arrows or swiping (if using a touch screen device).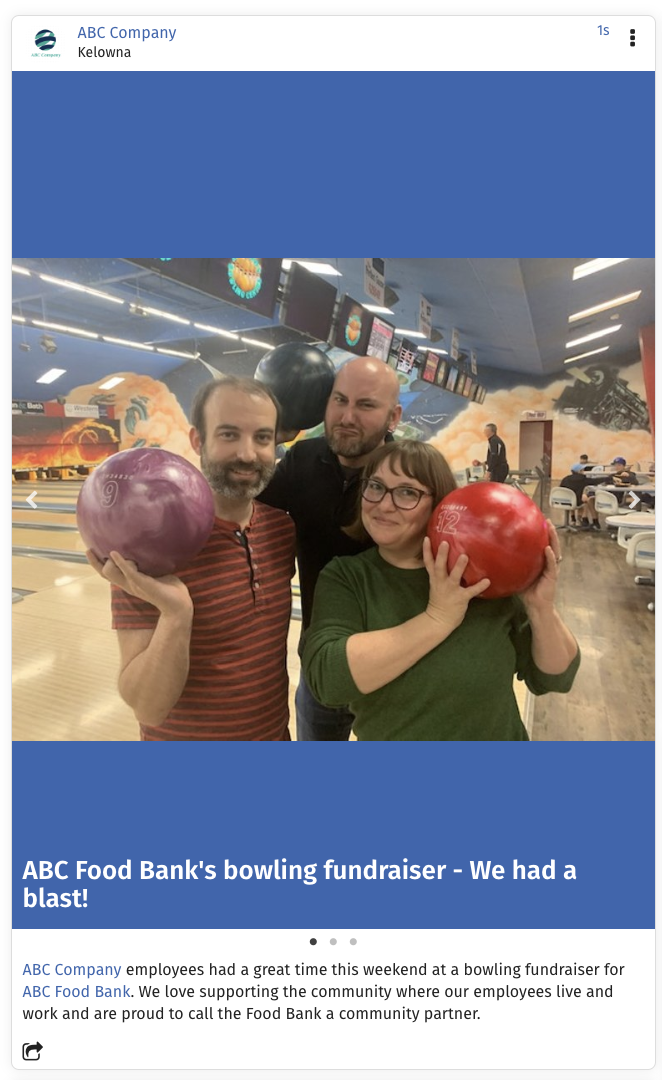 What to Post About
Don't know what to post? We have lots of ideas HERE! Whether you post about a recent donation your business made to a local charity, your employees volunteering in the community, or simple acts of kindness, just focus on the theme of doing good.
See Your Posts Hit Local Media Sites
Through Do Some Good's media partnerships, any stories you post on Do Some Good (or are tagged in and you approve) also appear on local media sites. This is great reach and exposure for your brand, enhancing your reputation as a company that cares. For more about media promotion, check out this article.
Sharing Your Posts To and From Social Media
The right posting process is whatever works best for you and your admins. Some customers post on Do Some Good first and then push their stories to social media. Others post on social media first and then push those stories to Do Some Good. Either way, just make sure that post makes its way onto Do Some Good so you can take advantage of the reach and exposure, especially if you live in a location where we have media partnerships.

Posting on Do Some Good first and pushing to social media:
Go to any of your Do Some Good posts and click the share icon in the bottom left corner. A window will open with options for you to share your story on Facebook, Twitter or LinkedIn, to create a QR code to the story, or to copy a link to it.




Posting on social media first and pushing to Do Some Good:
Go to your story post on Facebook, Twitter or LinkedIn and grab the post link. (Tip: get the link by either clicking the triple dot menu or click on the date stamp of the post and then grab the URL)
Paste the link in your posting window on Do Some Good and hit "Enter" or "Return" on your keyboard. The post will be re-created for you!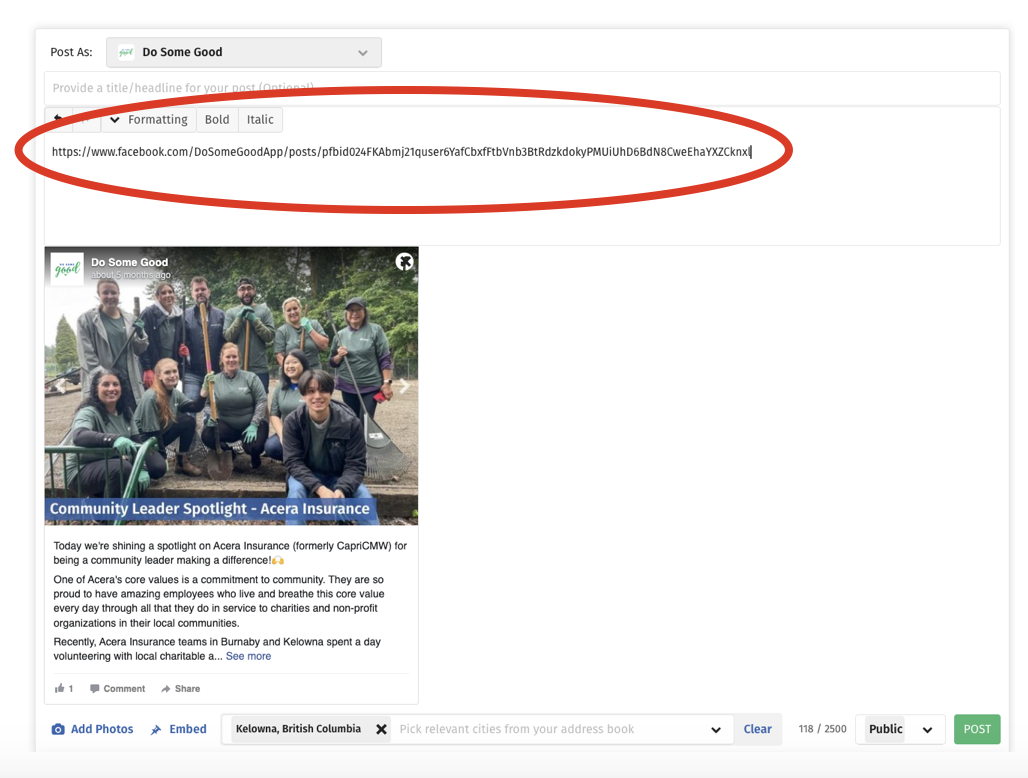 Best Practices
Want to take your storytelling to the next level?