Designing Your Forms To Generate Stories
Do Some Good has developed a platform feature that is an absolute marketing game changer! In any form you create, you can mark almost any field to be 'Suitable For Stories' in the form builder properties. Any submission to that form can be shared as a Do Some Good story in seconds!
This allows you to ask a series of questions to people submitting forms that not only let you evaluate their submission, but can be used to help spread the word about the community work they are doing. Consider questions like "What impact is your organization making in the community?", "What help do they need most in order to fulfil their mission?", "Upload a picture of you and your team or the community that you are helping.".
Even if you do not provide financial support to the organization who submits a request for financial assistance, you can still help that organization by spreading the word of the good things they are doing in the community, all with just a few clicks.
Things To Consider While Designing Your Form
Try out our template forms. When you create a new form, you have the option to start with a blank form, or, try one of our templates. We have built an Impact Follow Up form (for after a donation is given) and a Spotlight form that make extensive use of 'Suitable for stories' fields. Even if they don't meet your needs you will get to see how they work!


Consider the order of your "Suitable for stories" fields. The story will be constructed in the order you ask the questions. Each question will be a new section in the resulting story, in the same order they appear in the form.


Customize the label for your story field. When you select 'Suitable for stories' in the properties, you have the option to change the label that will appear in any published story. In your form you are asking a question of a submitter, this label will introduce the content to a reader and can be customized if you like. An example of a question might be: "What impact has your organization made in the last year?", the label for the story might read "Our Community Impact!". Putting thought into how your story will look will save you time in every story you publish.


Sharing Your Auto-Generated Stories
As soon as you get your first submission with a suitable for story field, you will be able to start publishing. In your Submissions list, the 'Current State' column has a newspaper icon indicating that a story can be published:
Red: Story available but not published
Green: Story available and has been published in the past

All you need to do as an administrator is select the menu for the submission and pick 'Create a Story'. This can also be done from the submission details page.

You'll be taken to the Create Story From Submission page where you have the option to customize the story before posting.
Title
You can optionally add a title to your story. By default, this will be your form name but you can change it or remove it if you like. When the story is posted in the newsfeed, the title will be displayed over the preview image(s). When viewing the story on its own page, the title will appear at the top of the story.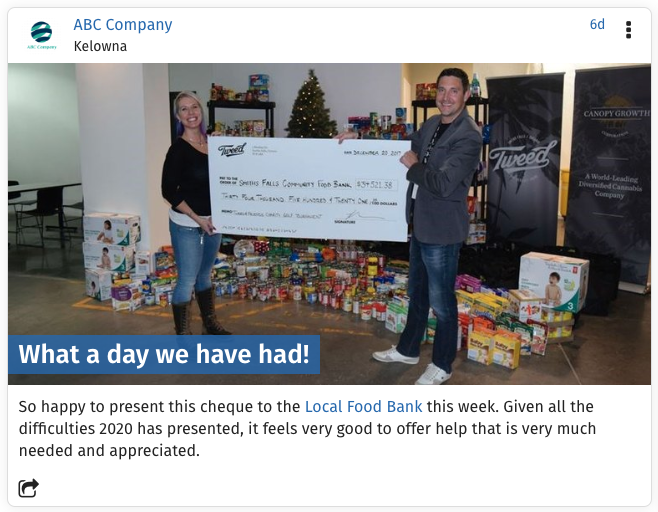 Customize Story
The Customize Story page is an editor that is pre filled with all of the suitable for story fields from the submission. After your story is published you will have access to these same editing features for your story. As you make changes in the editor, you will see exactly what the story will look like when it is published.
The ability to edit or format content is ideal for fixing typos and grammar, adding @mentions, moving images around. Best of all you can add an introduction about your business, social mission or partnership with the submitting person or organization.
The 'Insert Image' button in the formatting will only allow you to add photos that were uploaded as part of the submission. In the future we plan to add the ability for you to upload any image you like to add to the story.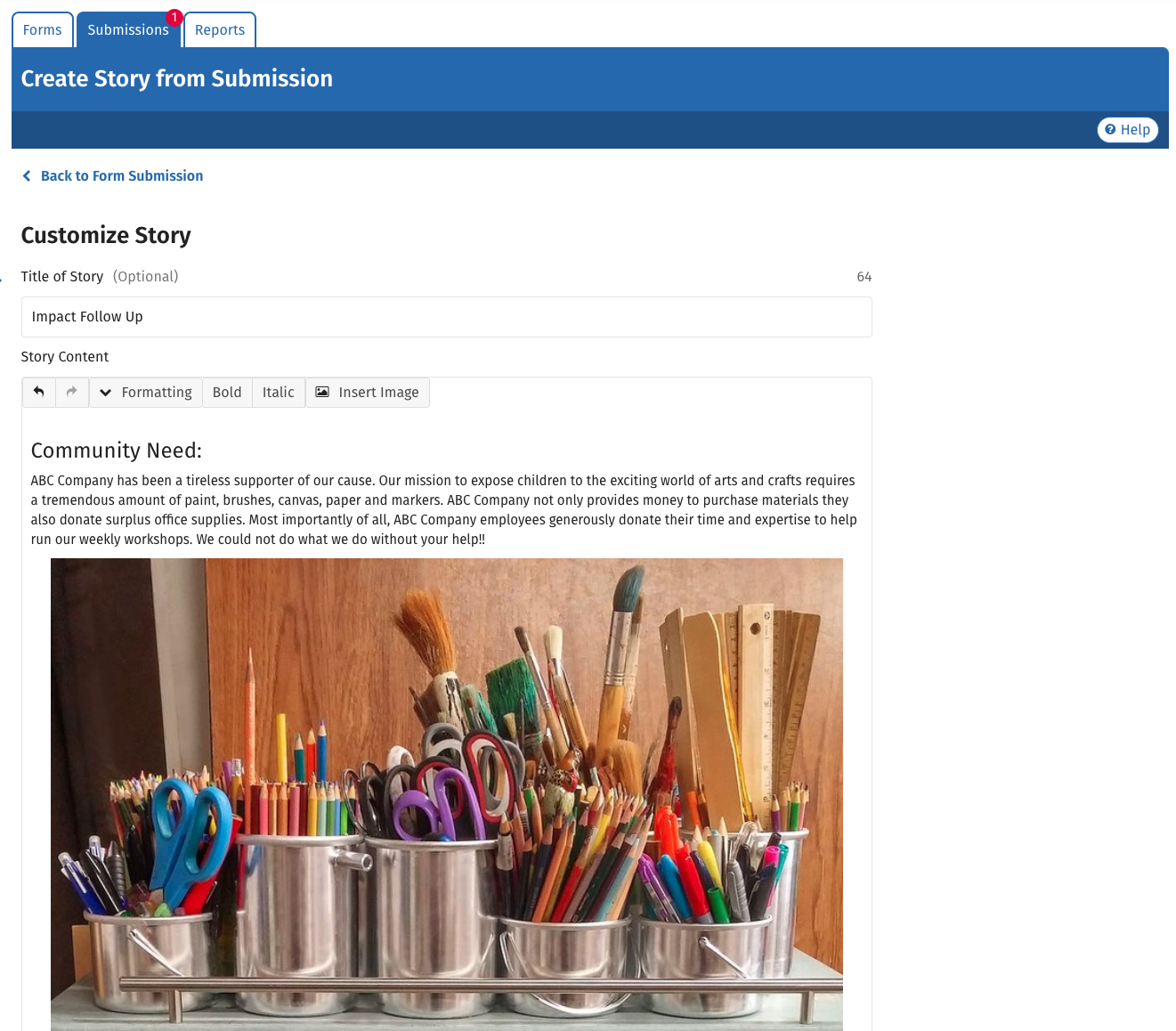 When you are happy with your story, click "Post Story" and the story will instantly appear on your Do Some Good newsfeed and on your website if you have widgets configured! You'll then be prompted to share your story on social media. Simply click the button and you can easily share the story to all of your social media channels and copy and post/send the story link. If you would like to have stories you and your ambassadors share also automatically feed to your website, learn more here!