Do Some Good's form system is world class and can be used to create and manage any kind of form you can imagine. Here are some best practices from customers and the social impact industry to help take your form to the next level.
Quick Links:
Best Practices When Using a Form for Donation/Sponsorship Requests
Use a Ready-Made Template to Save Time
Creating a form is easy with Do Some Good's ready-made templates. We highly recommend you start with a template when creating a form for donation/sponsorship requests since they have been built using industry best practices, and not starting from scratch will save you significant time. Learn more about our templates here.


Customize With Your Branding
There are a few simple ways you can brand your donation/sponsorship request form to not only promote your company, but also give the form a warmer look/feel.
Add a background colour

- You can easily customize the background colour of your form to one of your brand colours by editing your form details.



Add an image to the top of your form - Add a colourful image to the top of your form by dragging in an Image element when in Form Builder.
Here's an example of these two tips in action:


Keep Your Form Short With Conditional Visibility
To ensure you have the best response rate possible for your form, we recommend you keep your form short. Community organizations have little time to spare and, research tells us, that often charities will decide whether or not to apply for a grant because of how long and detailed the form is.
One way to keep your form visibly short, but still ask a large number of questions is to use Conditional Visibility or "nested" questions. Learn more here.


Set Character Counts
You've likely seen applications where the applicant provides very long answers to the questions. To avoid this, and to save your reviewers time, we recommend you set character counts for each of the text elements in your form which can be set in the element's properties.We recommend setting the character count somewhere in the 500-750 range.


Consider Including a Storytelling Question
When a community organization is filling out your donation/sponsorship request form, they are a focused, captive audience. They are also incentivized to fill out the form because of the potential payoff. Take advantage of this and collect impact stories from right within your donation/request form by including a storytelling question.
We've built a storytelling question into our donation/sponsorship request template to take out the guesswork. We ask: "Have you received a donation (cash or in-kind) or sponsorship from us in the past?". If they answer "Yes", a few storytelling questions appear. They fill these out and then continue on with the rest of the form. Our Story Generator takes the responses to these questions and auto-creates an impact story FOR you.

You receive the request information you need AND an impact story about your company at the same time! Envision Financial did this and, in just 3 weeks, they received 100 impact stories that they either would never have collected otherwise or wouldn't have had the time to.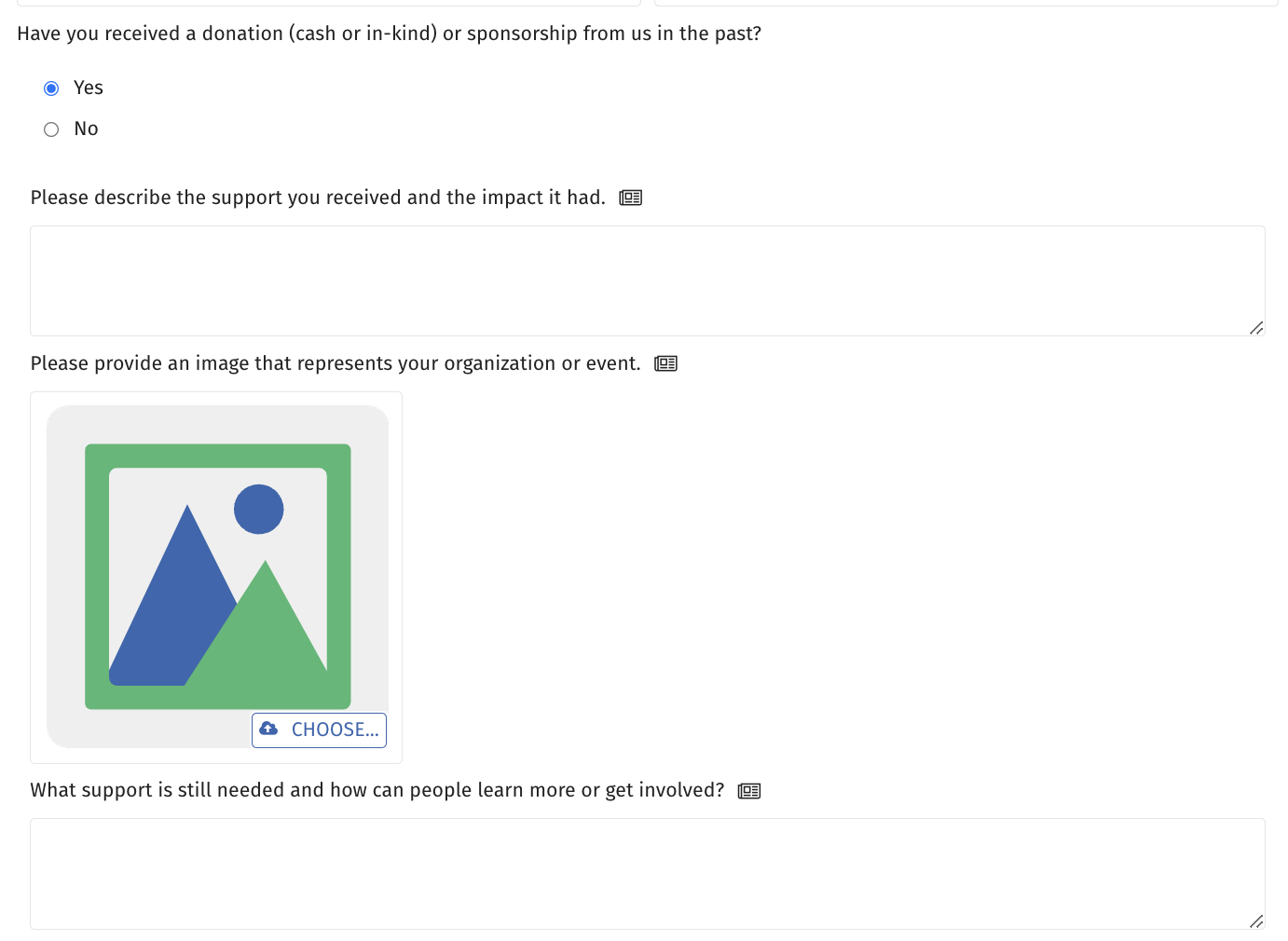 Test Your Form
When you feel like your donation/sponsorship request form is complete, it's always a good idea to send the form link to a colleague or another admin on your business account to review the form and do a test submission.

If your form is NOT yet published, you can click on "Preview Draft Form" and send the form URL, but be aware that the person will only be able to review the form and not do a test submission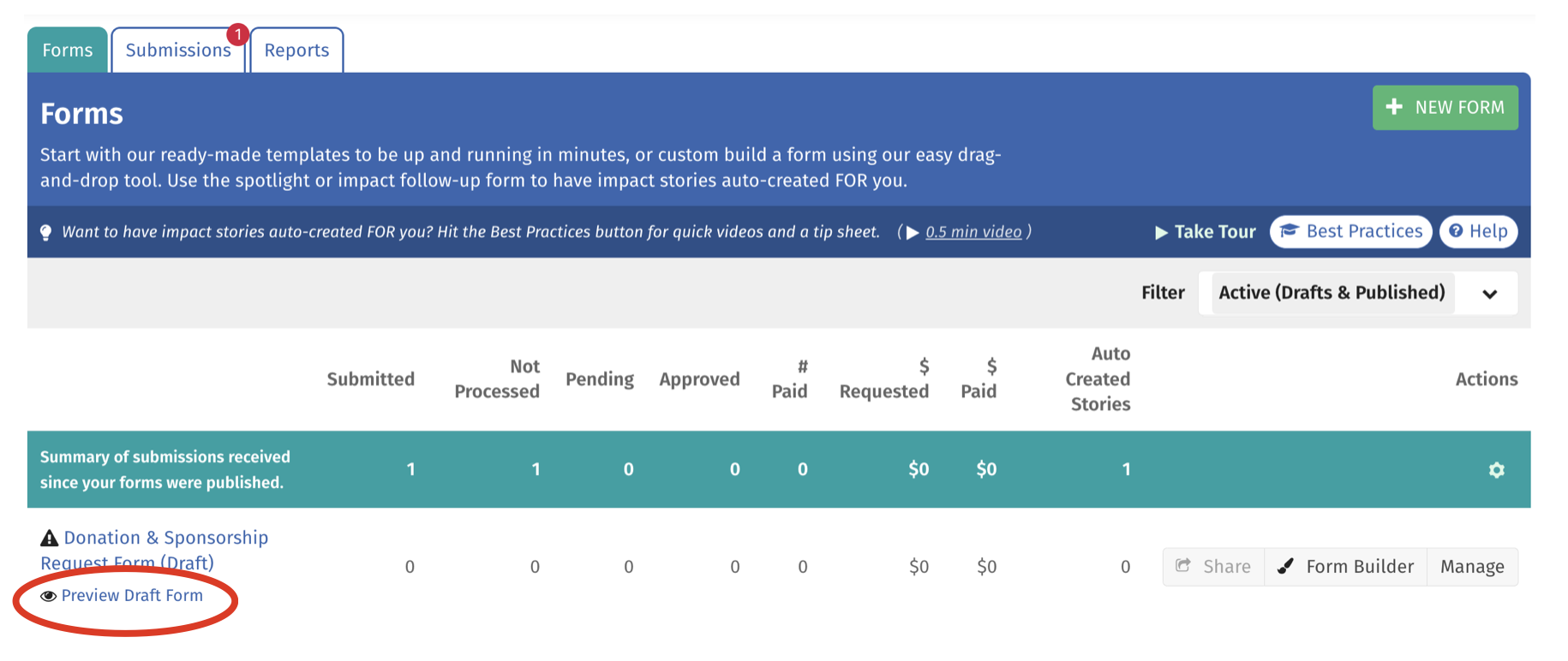 If your form IS published, you can click on the "Share" button next to your form and send the form URL and the person will be able to review the form AND also do a test submission.

When you are done testing your form, be sure to archive all test submissions by changing their state to "Archive" so they are not counted in your form reports.
Use Our Sample Message to Contact Organizations
We've given you a head start in sharing your form link by crafting a sample message you can use to contact organizations to alert them of your donation/sponsorship request form.
If you craft your own message, ensure you're up front about how long it will take to fill out the form. If organizations know it will only take 20 minutes, they're more likely to apply.

Build a Community Page on Your Website
If your company regularly supports the community, we highly recommend you build consider a Community section or page on your website and a dedicated link or tab to it prominently on your home page.
Here's how Otter Co-op has set up their community webpage. You'll see they've posted some details about their Community Support Fund, including eligibility, program details, and a link to their application form.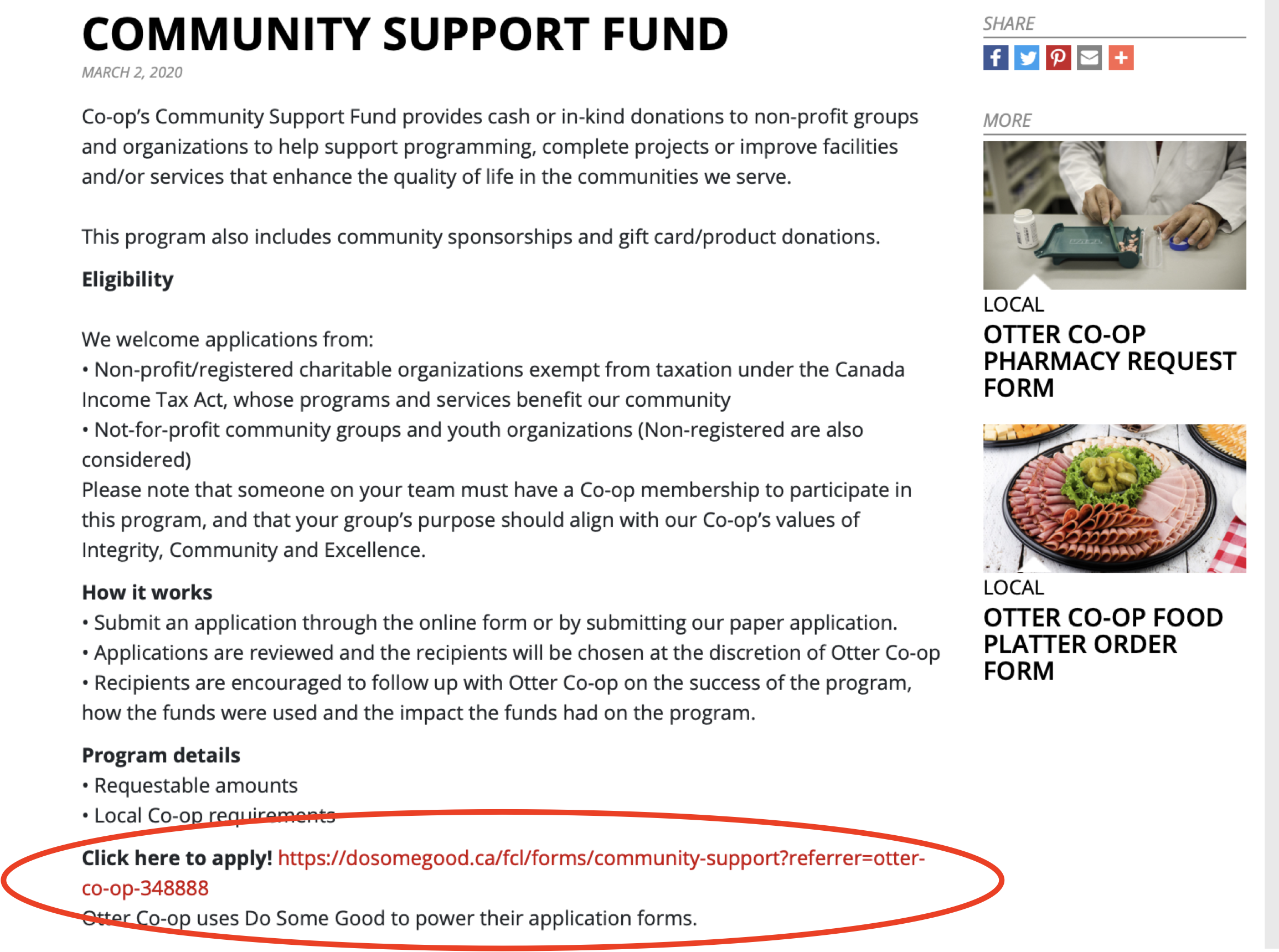 Be Aware - People Need an Account to Fill Out Your Form
In order for an organization to fill out your donation/sponsorship request form, they will need to create a Do Some Good account. It's really quick and easy and has some great benefits for the organization. Learn more in this article.
Best Practices When Using a Form to Collect Impact Stories
With our one-of-a-kind Story Generator tool, you can have authentic impact stories auto-created FOR you from community organizations you support, employees, customers, and even your stores/branches/locations, all speaking to your company's community impact.
This not only saves you significant time in creating content, but sharing these powerful stories boosts your brand and reputation as a company that cares.
Check out this article for a ton of great tips when creating your storytelling form, how to get the most stories possible, and how to best edit and share the auto-generated stories.