Through Do Some Good's media partnerships, any stories you post on Do Some Good (or are tagged in and you approve) can also appear on local media sites! This is great reach and exposure for your brand, enhancing your reputation as a company that cares.

Note: Media story promotion is currently available for those customers located where media partnerships exist. If you aren't sure whether your business is located in one of these areas, email us at hello@dosomegood.ca.
Do Some Good is in active discussions with additional media partners across Canada and in the U.S. to expand our media offering. If you have strong partnerships with media companies, please contact our team at hello@dosomegood.ca so we can offer even more value to your business and others.
Quick Links:
Media Partnerships & Publications
When you post a story on the Do Some Good platform, and you are located where media partnerships exist, your post will hit local media sites.
Which media publications your story will appear in depends on the locations in your address book and the agreed upon media locations outlined in your contract when you joined Do Some Good.
A quick way to see this list of media publications, is to go to the "News & Marketing" page in your Management Area. You will be taken directly to the Newsfeed tab. Right under the green "Post" button, you will see a hyperlink with the number of media sites your stories could appear in.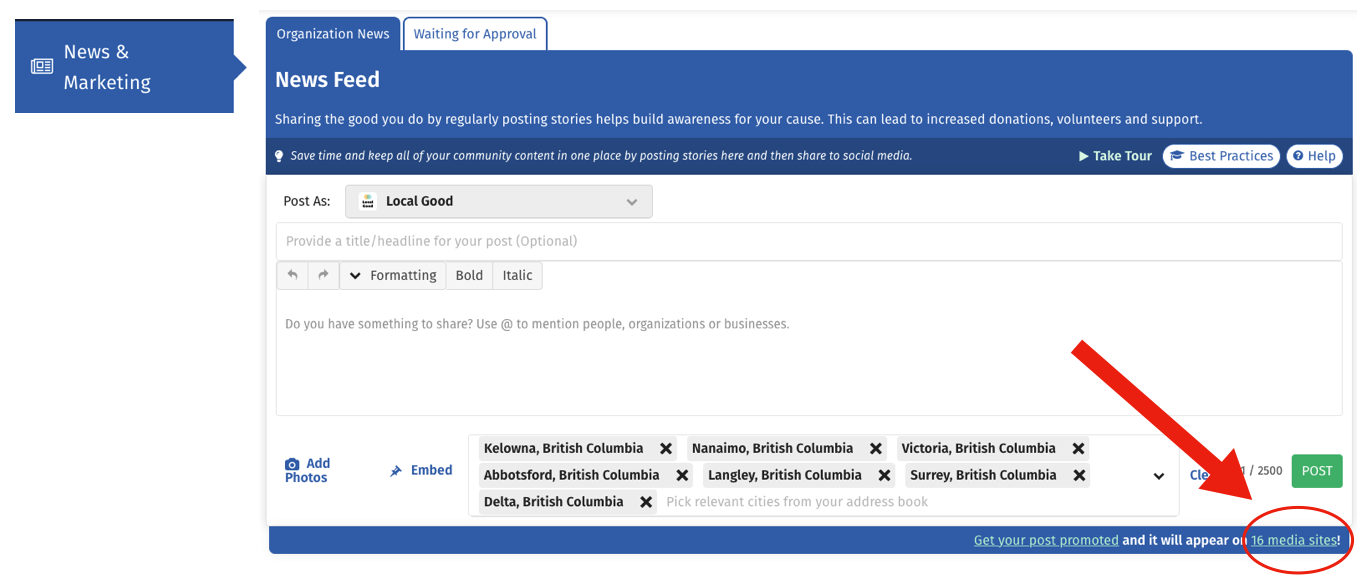 When you click the hyperlink, you will see the list of media publications your story could appear in. Click any of the publication links to see some recently promoted stories.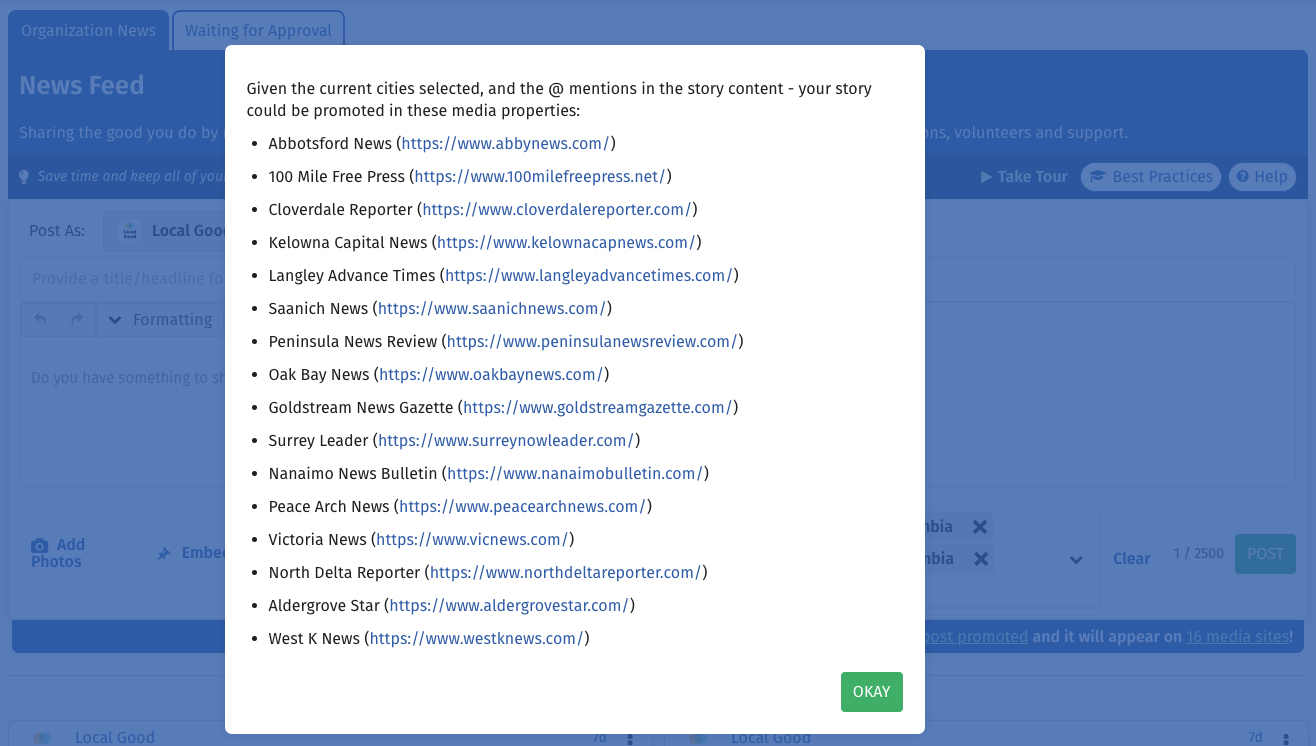 If you would like to expand your media reach and exposure, please contact our team at hello@dosomegood.ca.

How Media Promotion Works

Content Moderation
If your company is located in one or several media locations, and you post a story, our Do Some Good team reviews that post before it is promoted to local media sites.
This also goes for posts from community organizations and individuals who may @mention you. Protecting your brand is important to us, so we review all posts to ensure the content is appropriate.

Promotion Criteria
Each media company has its own editorial rules about what it wants in a 'Good News' story. Our Do Some Good team uses the following criteria when deciding whether to promote a story to media sites or not:
Photo Included. Did you know posts with images get 94% more views than those without? A high resolution picture will add visual appeal to your story. Make it relevant to your team, the organization you support or the people who are being impacted. Square pictures work best for most media sites and are often preferred. You

must

include a photo in order for your post to be promoted to media sites.


Post frequency.

Try and space out your stories a bit. You can post as often as you like to appear on your business profile or in your widgets, but media partners want good news from diverse authors, so we will not promote several stories from your company in the same day. We recommend you space your stories out by 1-2 days to ensure your posts are promoted.

Where Your Post Appears
When your post is promoted by the Do Some Good team, it appears in the "Local Good" section of the media site(s) where your company is located. Here's an example of what promoted stories look like on the Kelowna Capital News media site: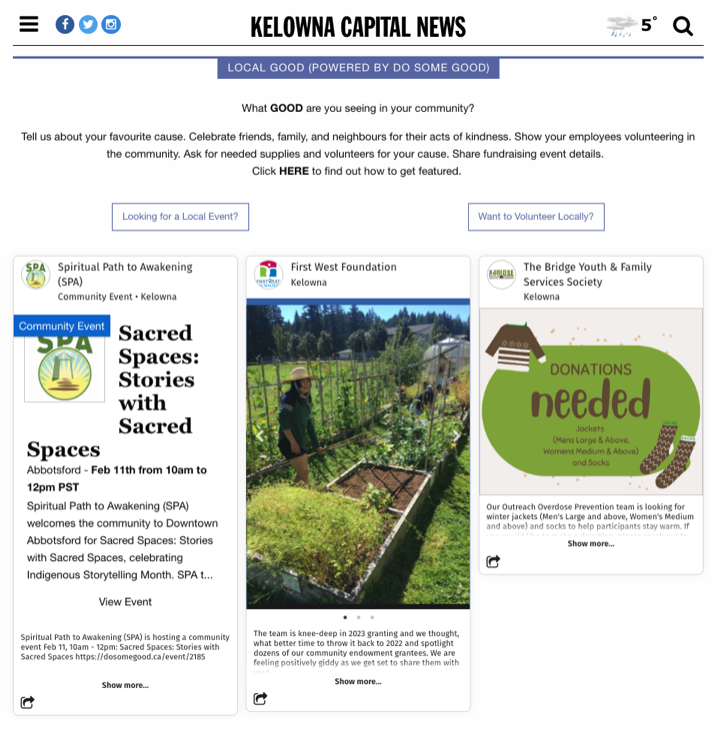 24-7 Branding
In addition to having your good news stories promoted on local media sites, you also get 24/7 branding by having your logo/brand appear on media sites where you're located. The logos rotate upon page refresh - the frequency depends on how many Good Companies are in that location.
Here's an example of this branding on the Kelowna Capital News media site: