Do Some Good can be used to strengthen relationships with businesses by recognizing good companies in our community. Use Do Some Good to engage donors and businesses, which can result in increased donations.
You can use Do Some Good to write a testimonial for a business that has supported your organization or you can showcase their logo on your profile. Interested in adding testimonials for volunteers? Click HERE.
1) ADD TESTIMONIALS FOR BUSINESSES

Add a testimonial to recognize your business supporters for their contributions; this will strengthen your relationship with them, while also giving you added exposure via their profile.
Go to your Organization's Management area
Go to the 'Business Recognition' tab on the blue side bar. The 'Testimonials' tab will automatically show
Click 'New Testimonial', and find the business your organization wants to recognize.
TIP: If you are the admin of an organization, you can also simply visit a good company's profile and click the "Write a testimonial" button. 
Note: You can always come back to edit this testimonial or remove it
2) ADDING A BUSINESS SUPPORTER'S LOGO TO YOUR PROFILE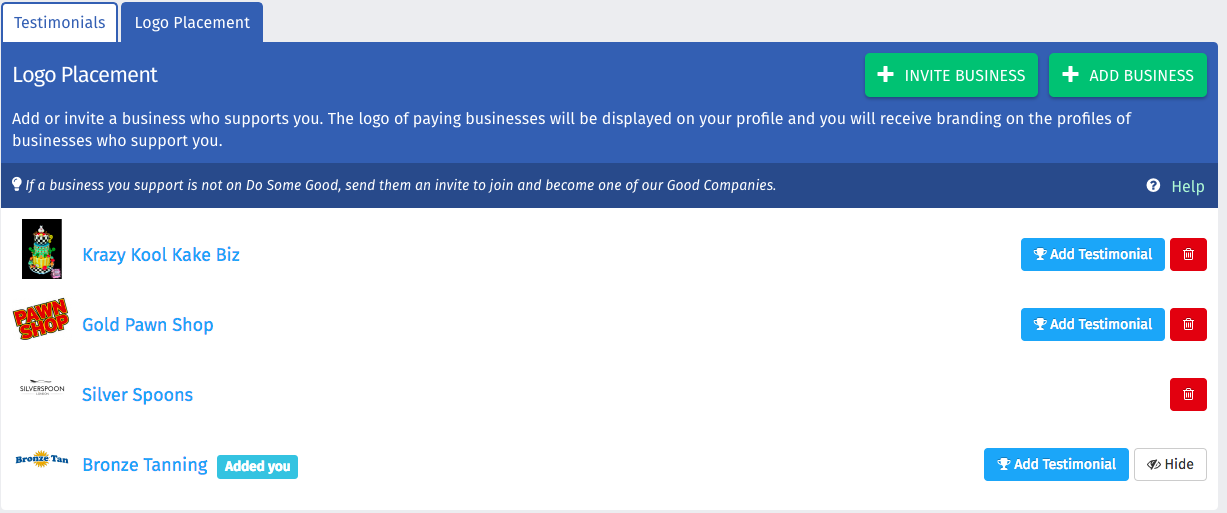 Showcase the logo of one of your business supporters on your profile; this will appear under a section labeled "We work with the following Businesses". This will strengthen relations with good companies that support you, and will also get you added exposure as your logo will appear on their profile as well.
Go to your Organization's Management area
Go to the 'Logo Placement' tab on your 'Business Recognition' page
Click 'Add Business', and search for the one you would like to recognize
Notes:
You can only form relationships with businesses that are currently active users of Do Some Good. If they are not on the platform, send them an invite to join and become one of our Good Companies!
If a business adds a relationship with your organization and you do not want their logo on your profile, you can simple press hide.