Custom build forms for any purpose, from donation and sponsorship requests, to customer and employee spotlights, to follow-ups with charities on your impact, and more! Responses to your forms auto-create stories that you can share far and wide with one click, enhancing your brand and reputation as a company that cares!
Quick Links:
Creating a Form

Getting Started & Templates

To create a form, go to your Management area, click on Forms & Submissions (you'll land on the Forms tab), and click the "New Form" button.


Enter your Form Name. Your Form Name is automatically added to the end of your URL. Note: this URL cannot be changed after this point.
Enter your Public Form Description. This is shown when you share your Form URL on social media, etc. We recommend you include a brief description of your company and why you support the community, followed by what the form is (e.g., funding/grant application, spotlight form, etc.) and what it's meant to do (e.g., support kids sport programs, showcase our customers, etc.).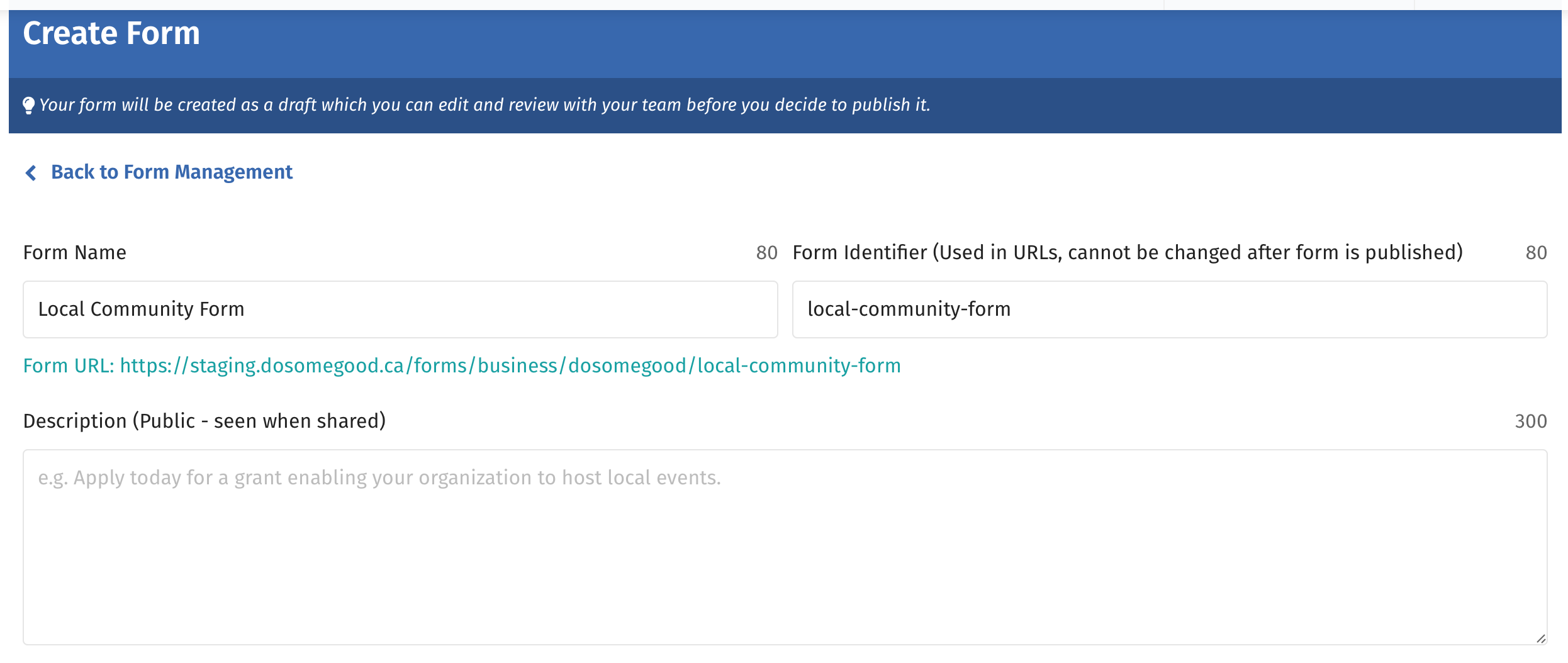 You can choose to start with a blank slate, choose a Do Some Good template, or choose a form you previously created. Either way, your form will be created as a draft which you can edit and review before you decide to publish it.


We provide you with three commonly used templates that you can customize and edit however you wish: Donation & Sponsorship Request Form, Impact Follow-Up Form, and Spotlight Form. Click here to view each template and learn more about how to use them to boost your company's brand!

Starting with a template helps speed things up for you, and can provide insight into the types of questions to ask. But keep in mind that you aren't restricted to just these types of forms! The power of our Form Builder tool is that you can create a form for ANY business purpose, so we encourage you to dream up other use cases!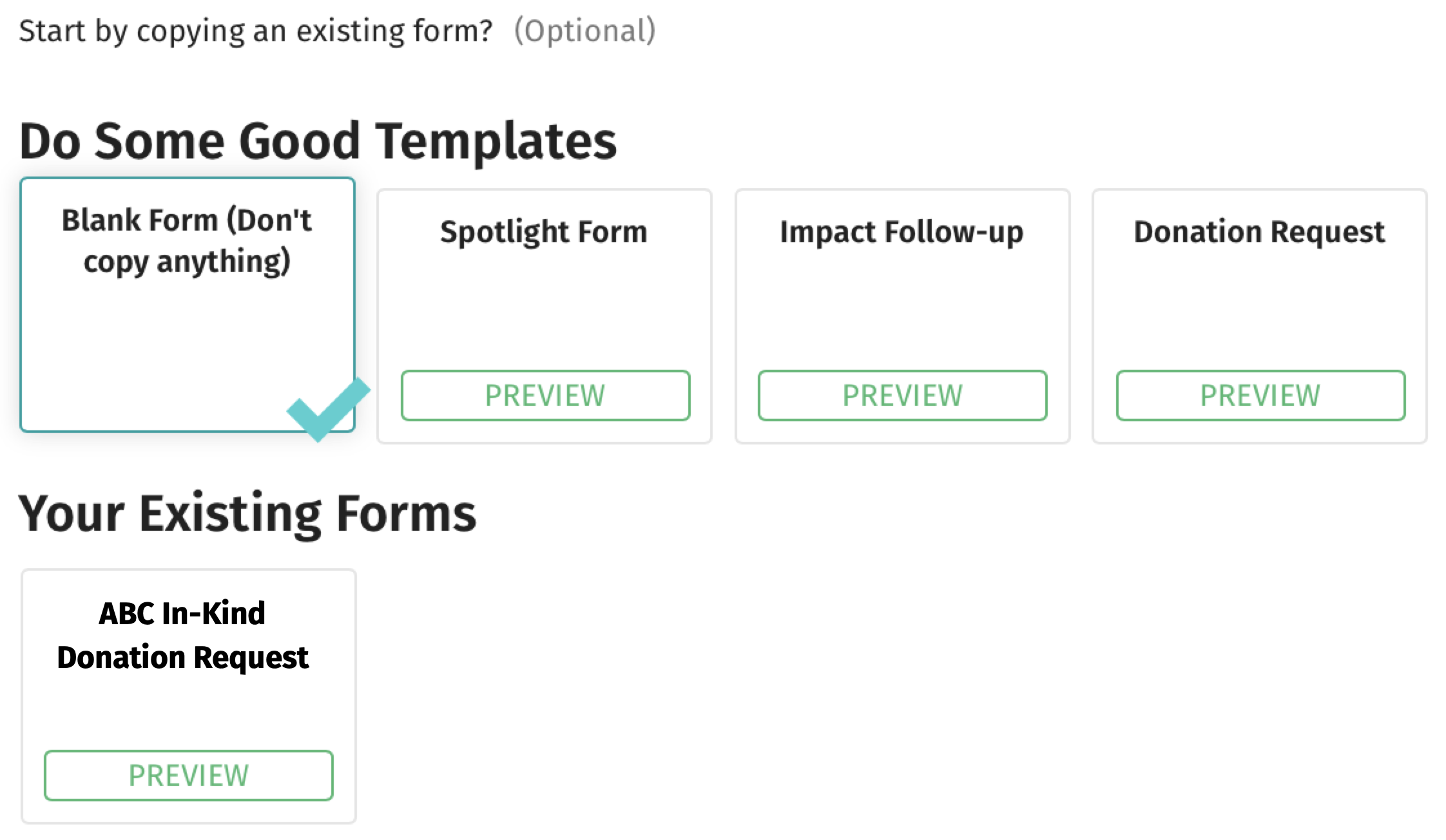 Once you have chosen what type of form to start with, you are then taken to the Form Builder tool. We recommend you click "Take a Tour" to learn some basics about creating a form.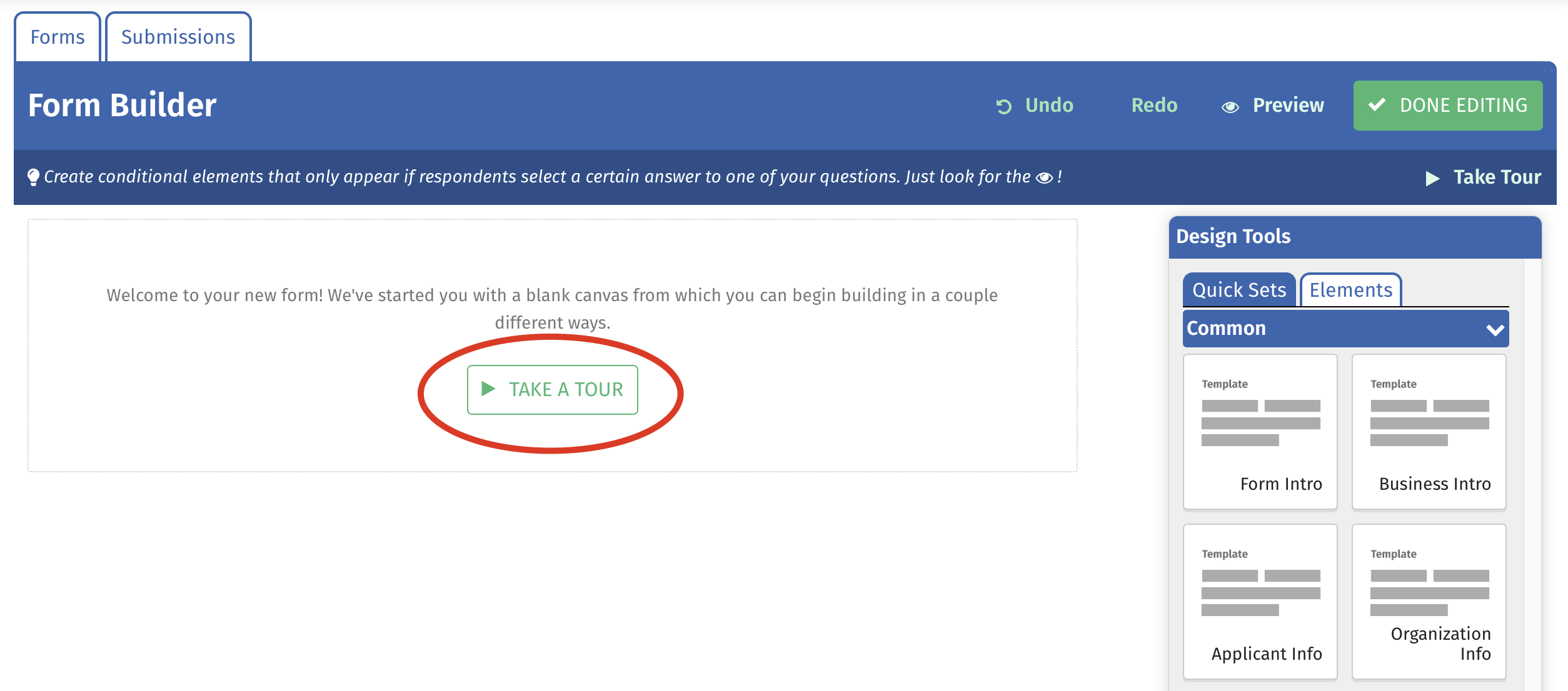 *NOTE* As you work with the Form Builder tool, your changes are not automatically saved. Please be sure to click "Save Changes" periodically.



Quick Sets & Elements
In the Design Tools area on the right-hand side, use Quick Sets to speed up the creation of your form. Some Quick Sets. For example, the Form Intro Quick Set automatically pre-fills with your company information.


Other Quick Sets, like Organization Info, contain many Elements that gather certain information (e.g., contact information) that are common to most forms.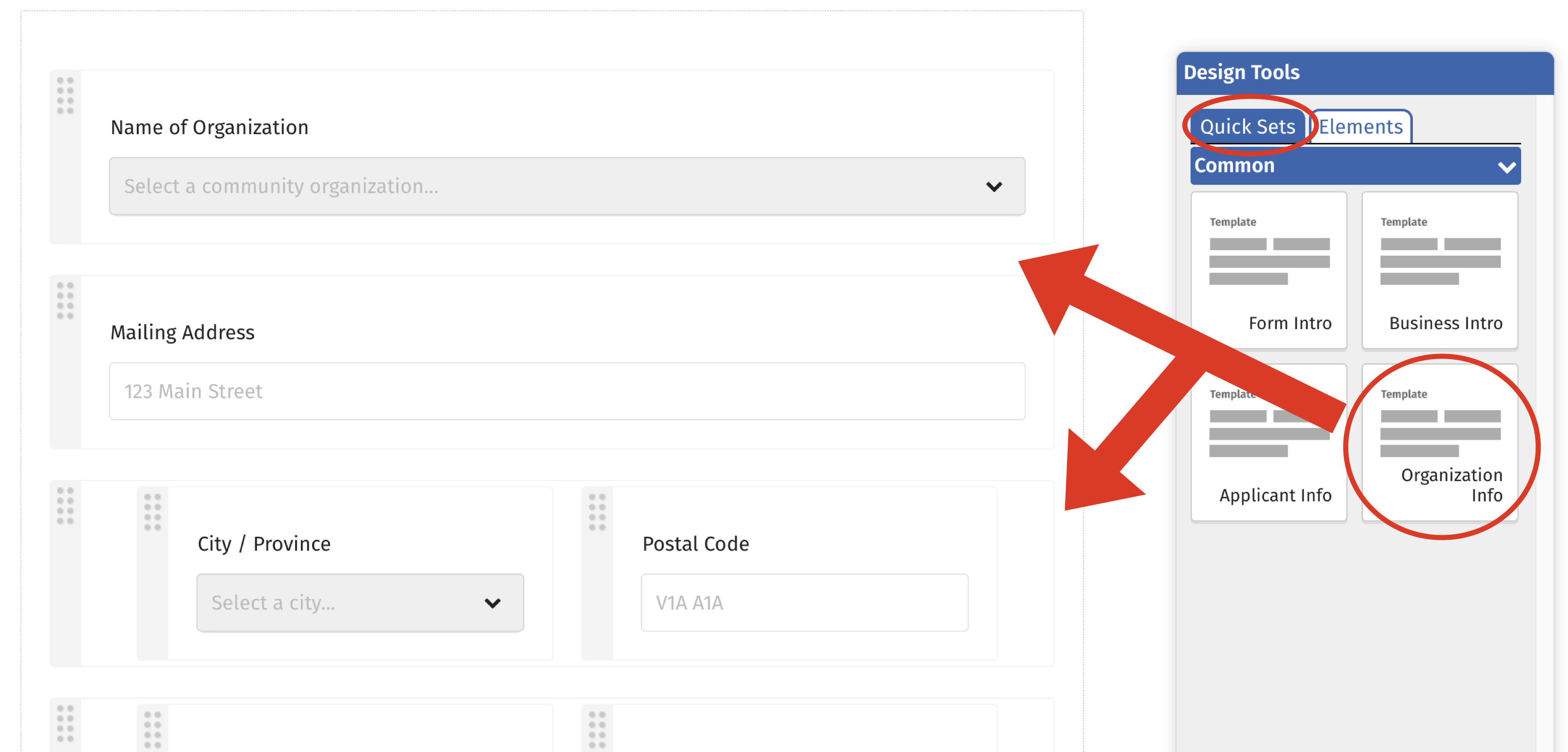 In the Design Tools area on the right-hand side, use Elements to build out your form. There are dozens to choose from. Again, some will auto-fill with your business information to help save you time.
Hover over an Element to read its description.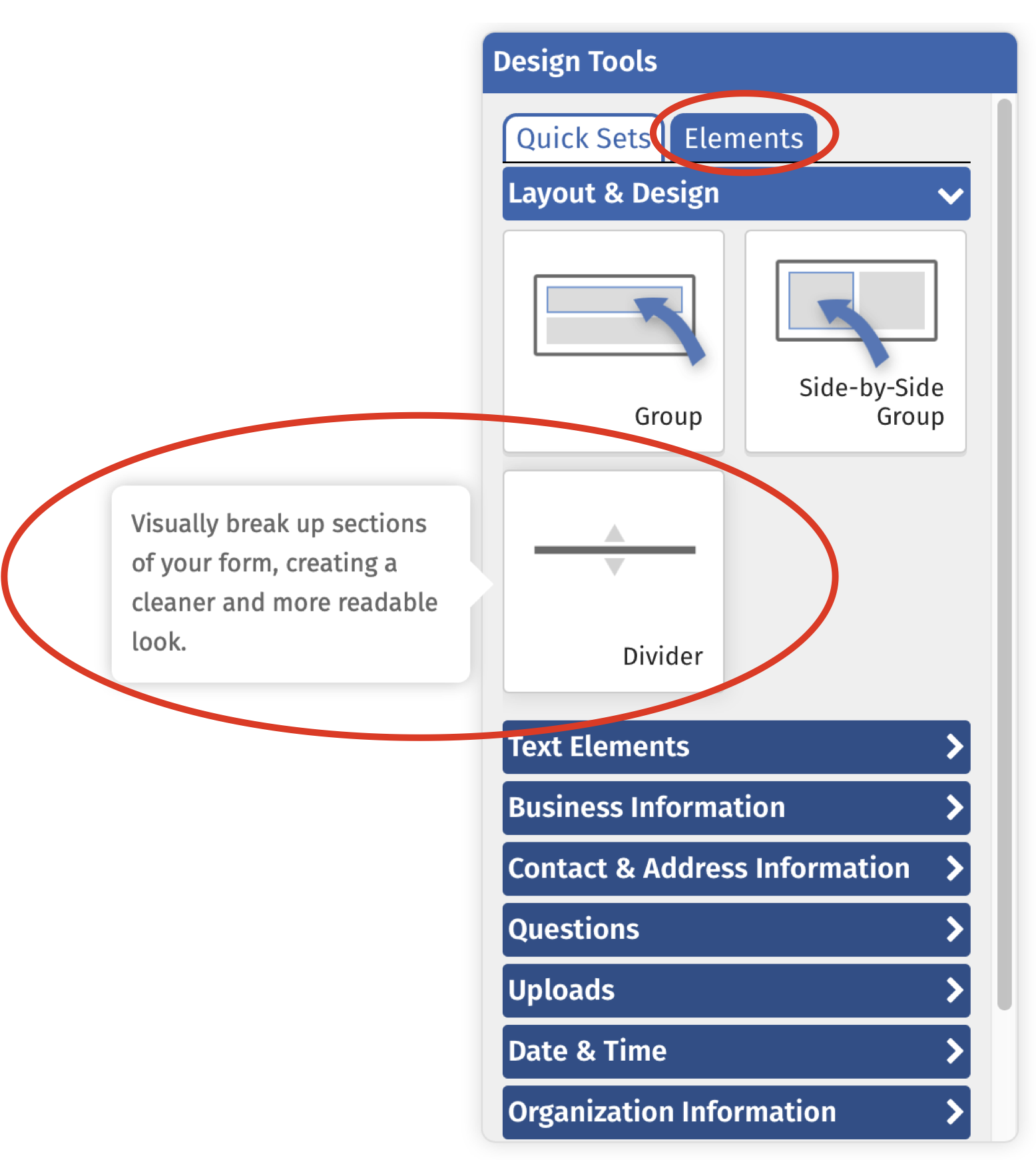 Properties
Once you have placed an Element in your form, you can click on it to bring up its Properties window. Properties vary by Element, but the four options shown here are common to all.
Required

- Indicates that this Element requires an answer. If an answer is not given, a note will pop up for the respondent. They will need to provide an answer to the Element before being able to submit the form.

Suitable for Story

- Indicates that responses to this Element will be used to auto-create a story that you will be able to access when viewing the Submission, and will be able to share the story on your Do Some Good newsfeed, on social media, on your website (using our widgets), and on local media sites (where available).

Internal Field (Admin-Only)

- Indicates that this Element will only be visible to Admins, and Admins will fill in this field once a Submission is received. (e.g., entering a budget code)

Include in Reports

- Indicates that responses to the Element will be included in a report for this Form that you can view once Submissions are received.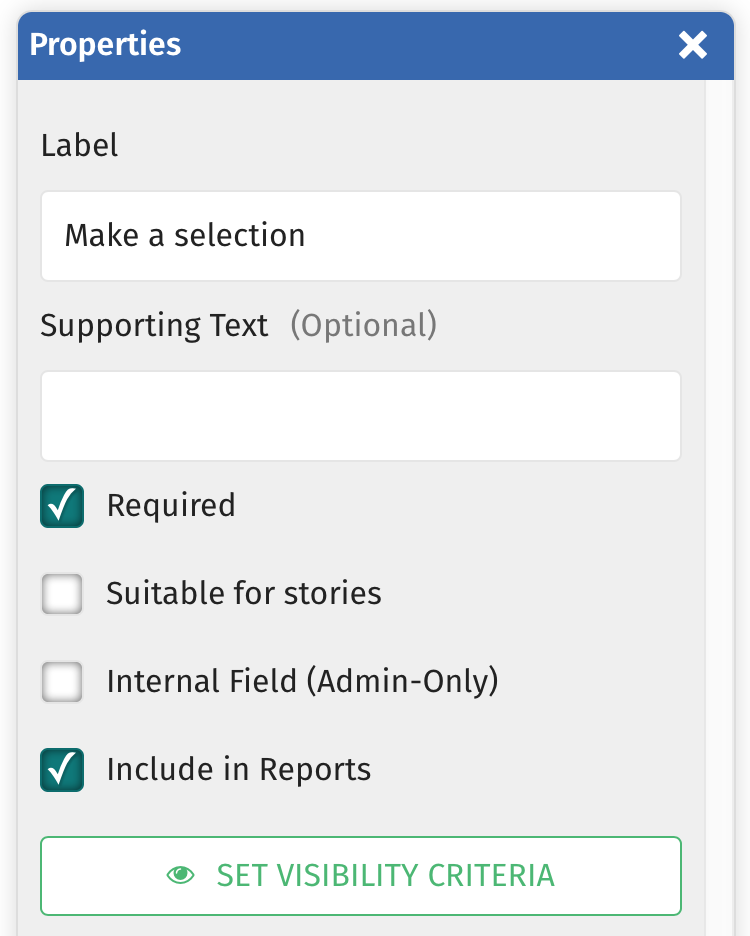 Groups
In the Design Tools area on the right-hand side, under the Elements > Layout & Design tabs, you'll find Groups. Groups are a great way to house and move multiple elements at once, and to display your elements in different ways.
Drag a Group into your form and click on it to see its Properties window which shows the different layout options.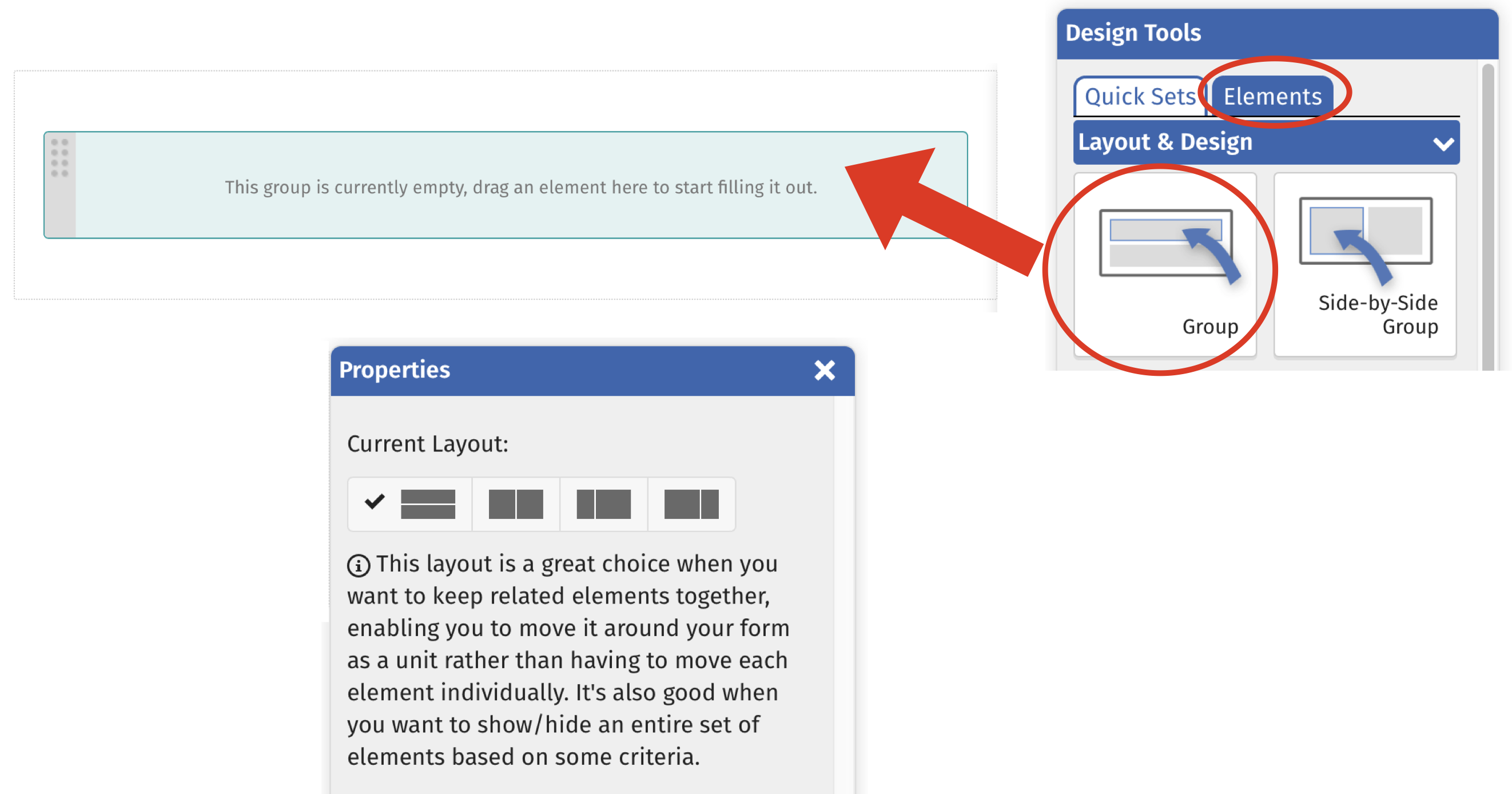 You can also use a Group to gather Elements that will only appear if certain responses are given to your questions (we call these Conditional Elements). Read on to the Element Visibility & Conditional Elements section below to learn more.
Element Visibility & Conditional Elements
In your form, you may want to ask a question and, depending on the response given, you'd like additional questions to appear. We call these additional questions "Conditional Elements". There are few ways you can set this up.
In the example below, you see the initial question and the two Conditional Elements. (Note: In this example, individual Conditional Elements are shown, but this is the same process for a Group of multiple Conditional Elements too.)

To link the Conditional Elements with the response options ("Cash donation" or "In-kind donation"), click the eye icon on one of the Conditional Elements.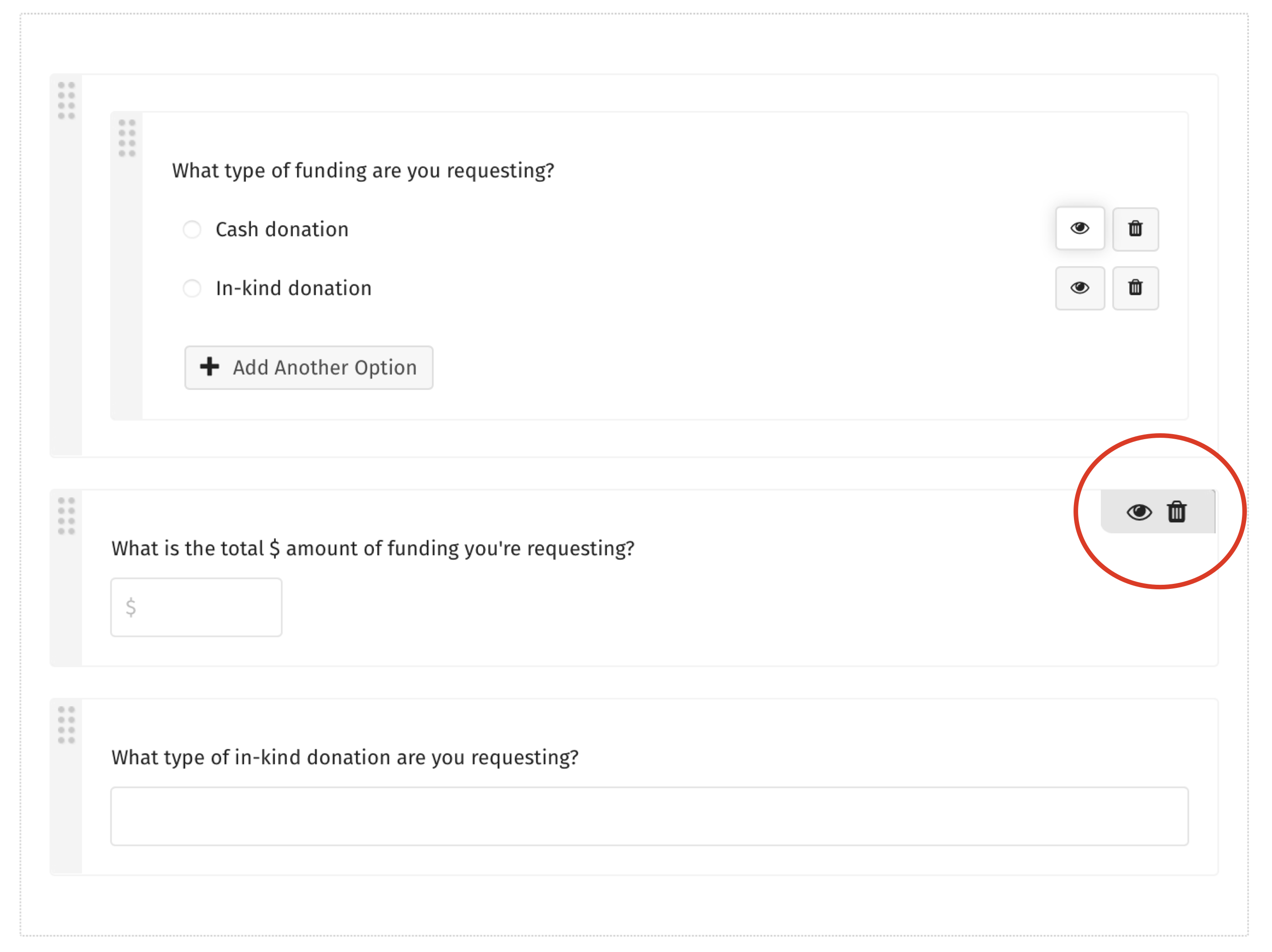 This Element Visibility window will pop up. You'll be able to select the initial question and response that will make the Conditional Element/Group visible. Repeat this step for all Conditional Elements.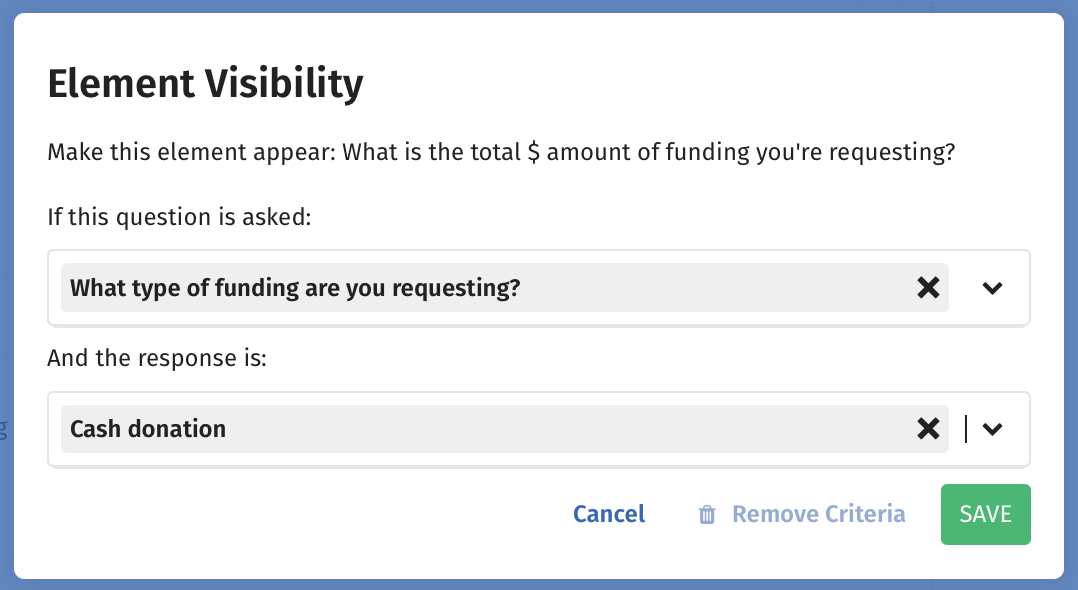 Another way to set up Conditional Elements is to set up your initial question with your response options and then click on the eye icon next to the response you'd like to add a Conditional Element to.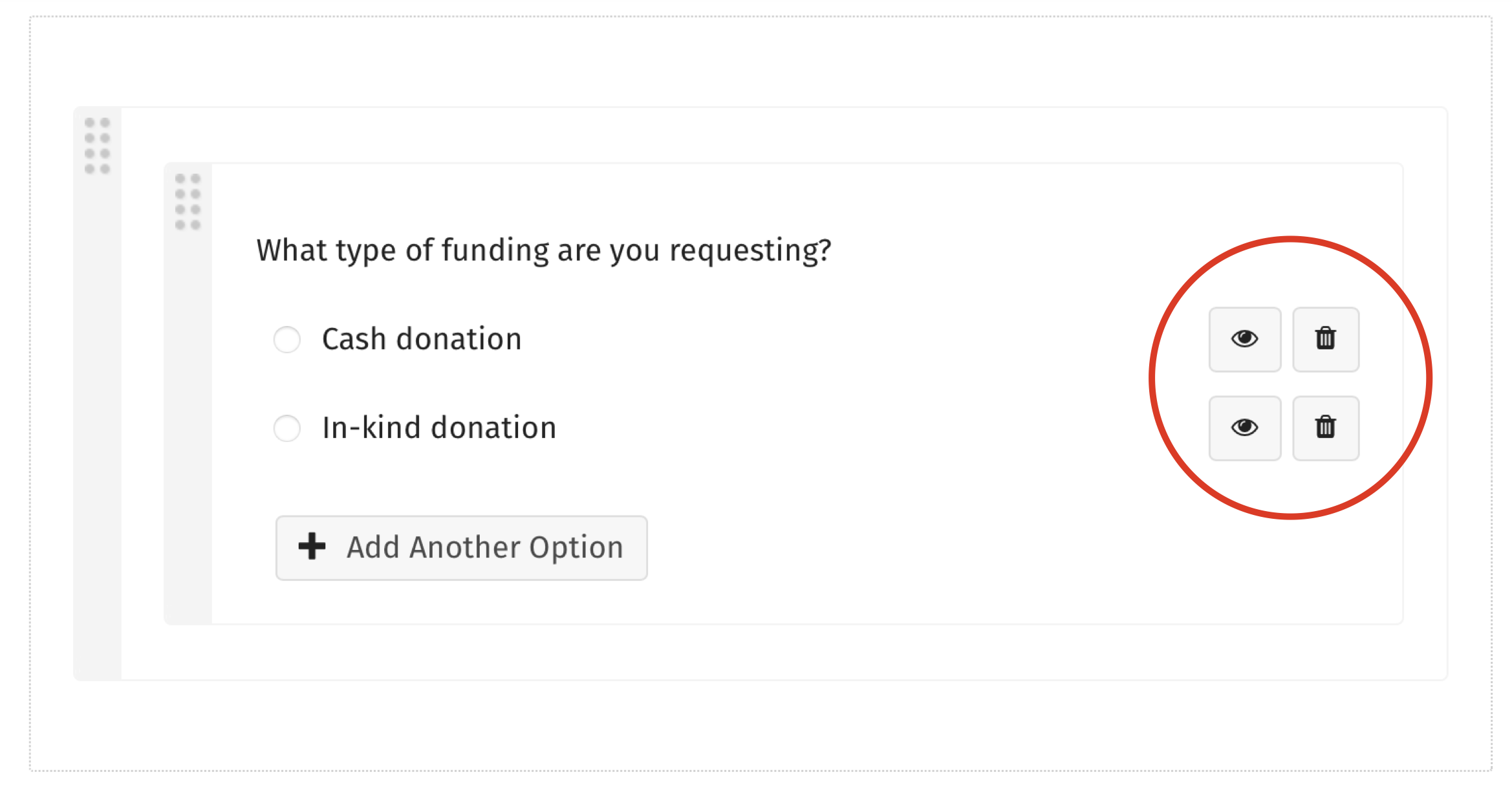 This Add Conditional Elements window will pop up. You will be able to create a Group of Elements or select an existing Element/Group in your Form, to be visible when that response option is chosen.

Editing & Publishing

When you are done working in your Form and have saved your work, click the "Done Editing" button in the top right-hand corner. You will be taken to a Manage Form area where you can do a number of things.
You can click the Form Builder buttons at any time to keep working on your form.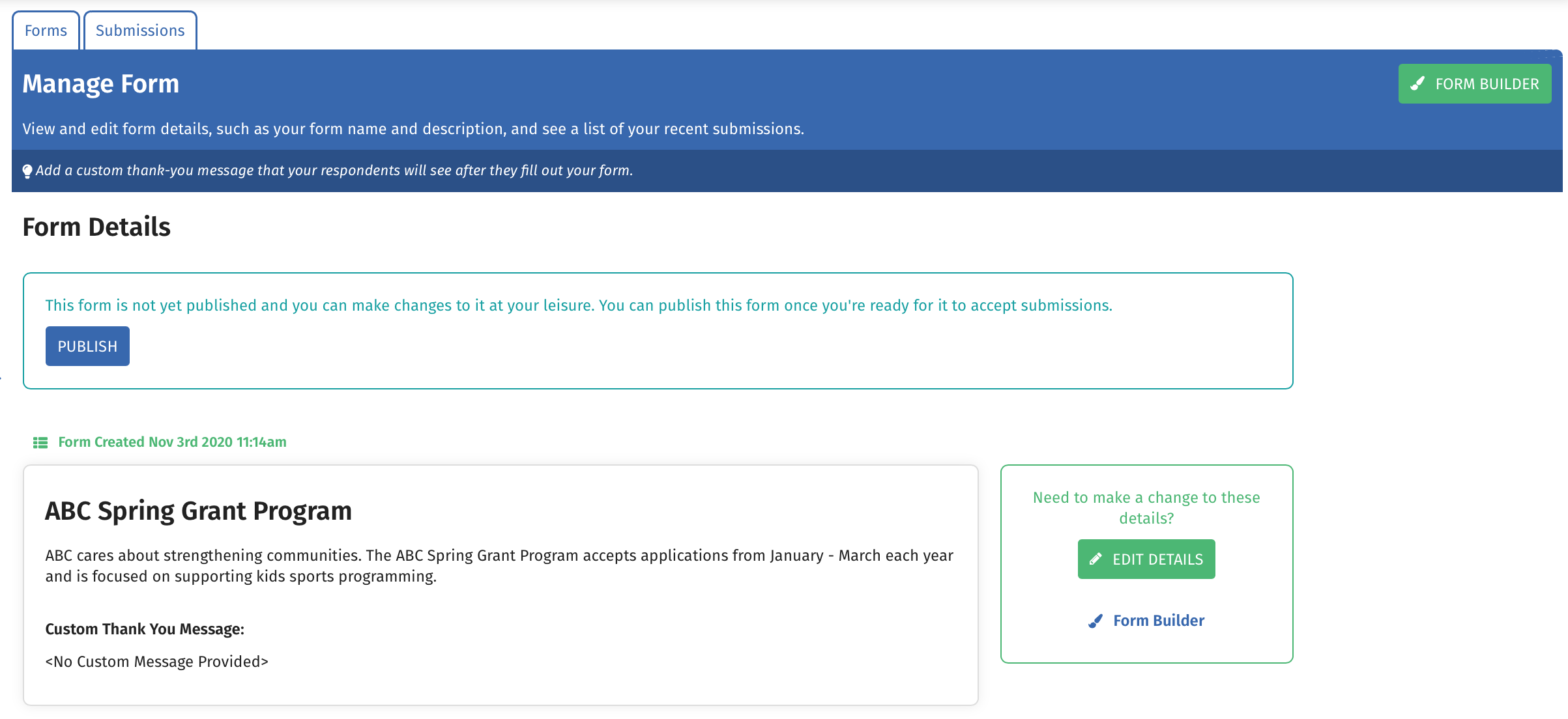 You can also click the "Edit Details" button to edit certain details of your Form, including:
Form Name

- Note: the URL that was created when you first named your form will still contain that original form name. Changing the Form Name here will not update the URL.

Public Form Description

- This is shown when you share your Form URL on social media, etc.

Thank-you Message

- When a respondent submits a form, they will receive a standard thank-you email from Do Some Good. Add a custom message here that we will include.

Stop accepting submission after

- You can select a date and time after which Submissions will no longer be accepted.

Message displayed to applicants accessing the form after this

deadline

- You can customize this message for your applicants.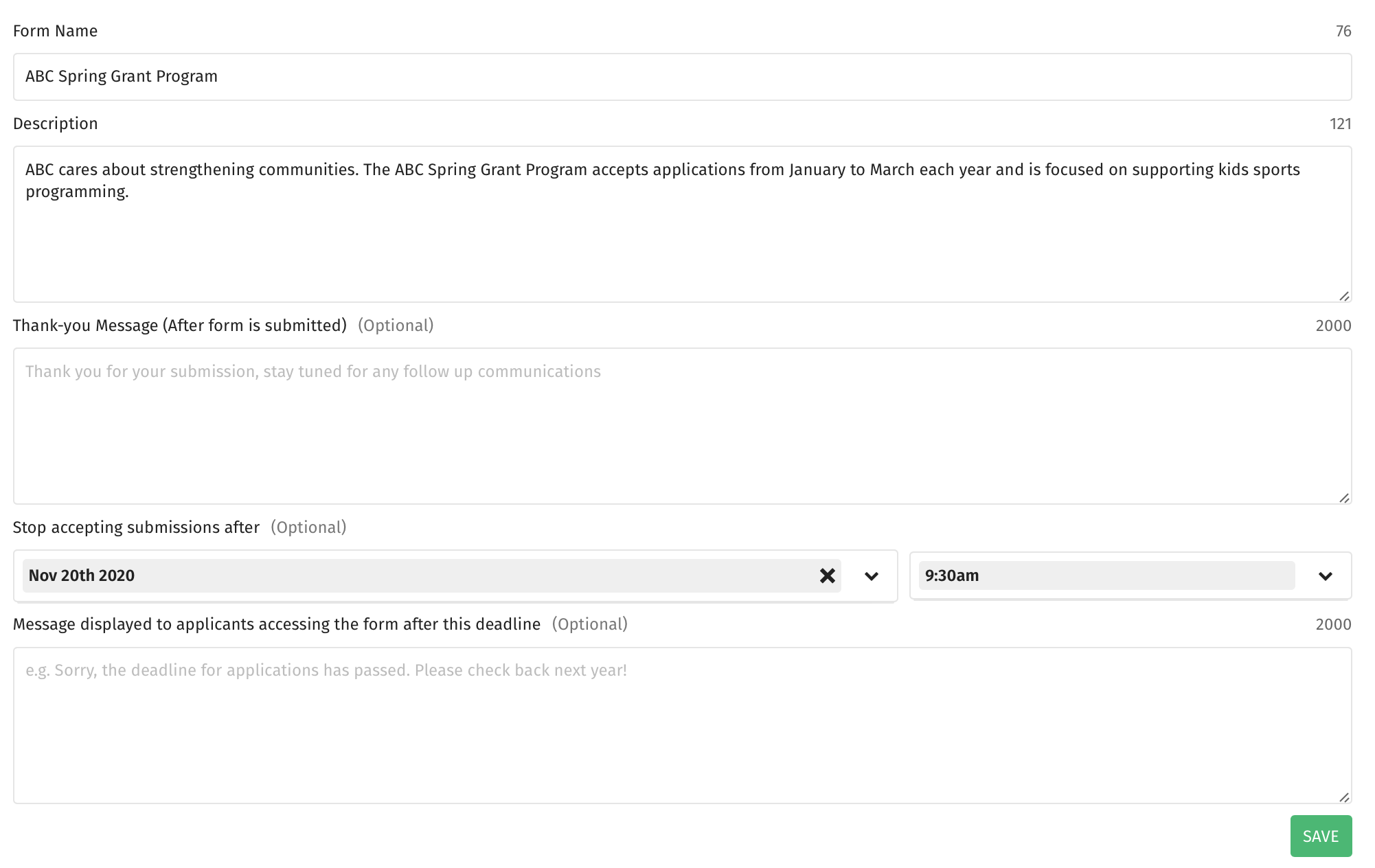 In the Manage Form area, you can also view a list of your recent submissions, see all recent activity related to this form (includes ANY action taken by any admin), you can assign a form owner, and you can archive your form.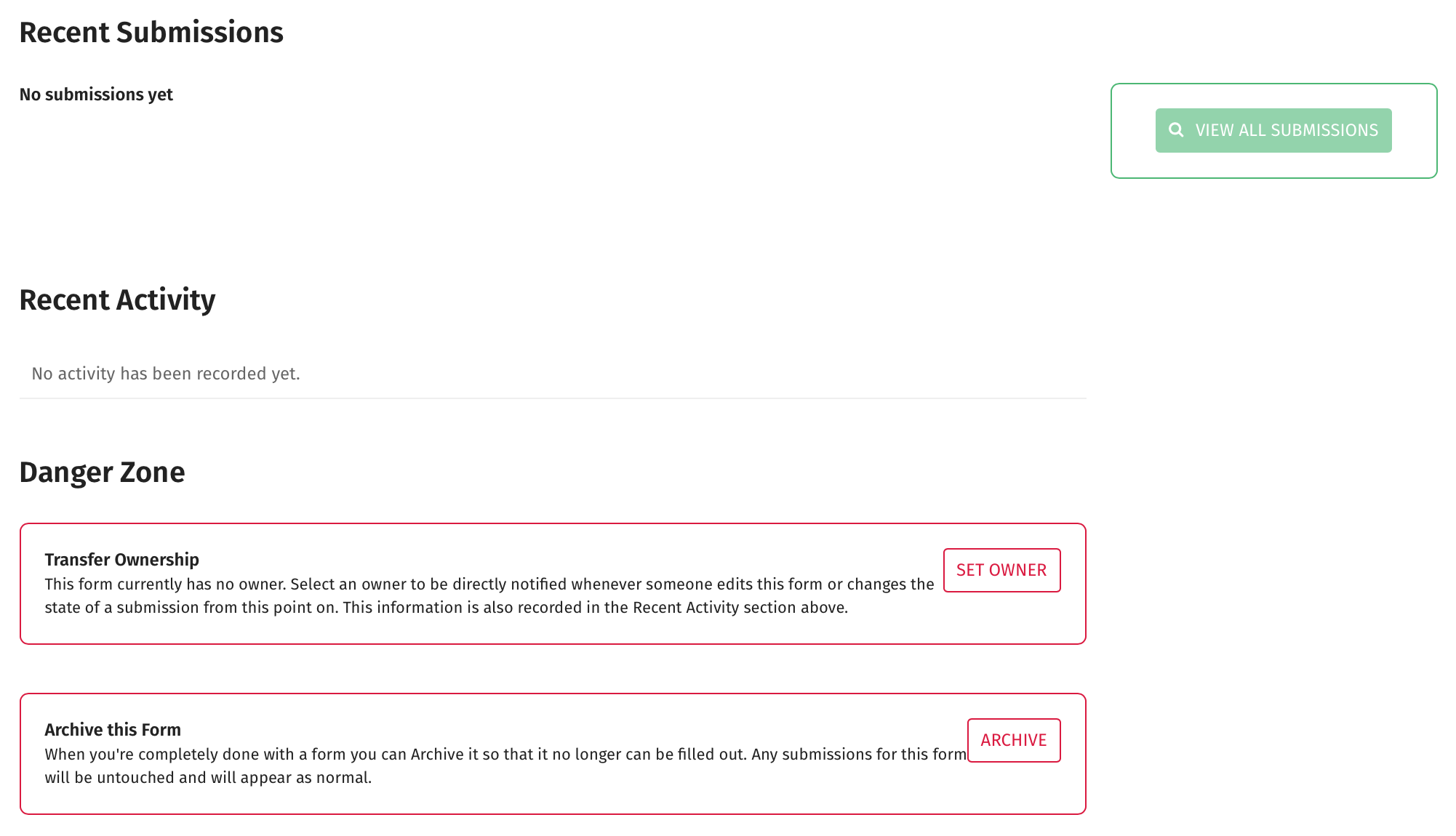 When you are completely finished working on your form and you are ready to publish it, click the "Publish" button. A confirmation window will pop up.




Once your form is published, click the "Share This Form" button to see your form URL that you can copy and paste on your website or share via social media, email - however you like!




Once your link is posted and/or shared, you will start to receive Submissions. You'll be notified by email each time a person fills out your form. Learn how to review, process and manage submissions here.
If you identified any Elements in your form as "Suitable for Story", a story will be auto-created for you that you can easily share on your website, on social media, and on local media sites (where available) with one click!

Auto-Creating Stories
Do Some Good has developed a platform feature that is an absolute marketing game changer! Custom build and send out a form, and have stories auto-created for you that you can easily share far and wide. Save hours or even days creating content!

Here's how it works:

As you custom build your form, decide which Elements you'd like to identify as "Suitable for Story". Those elements will show up in your form with a little newspaper icon next to them, like in the example below. Responses to those questions in your form will auto-create a story that you can easily share on your website, social media, and even local media sites (where available) with one click!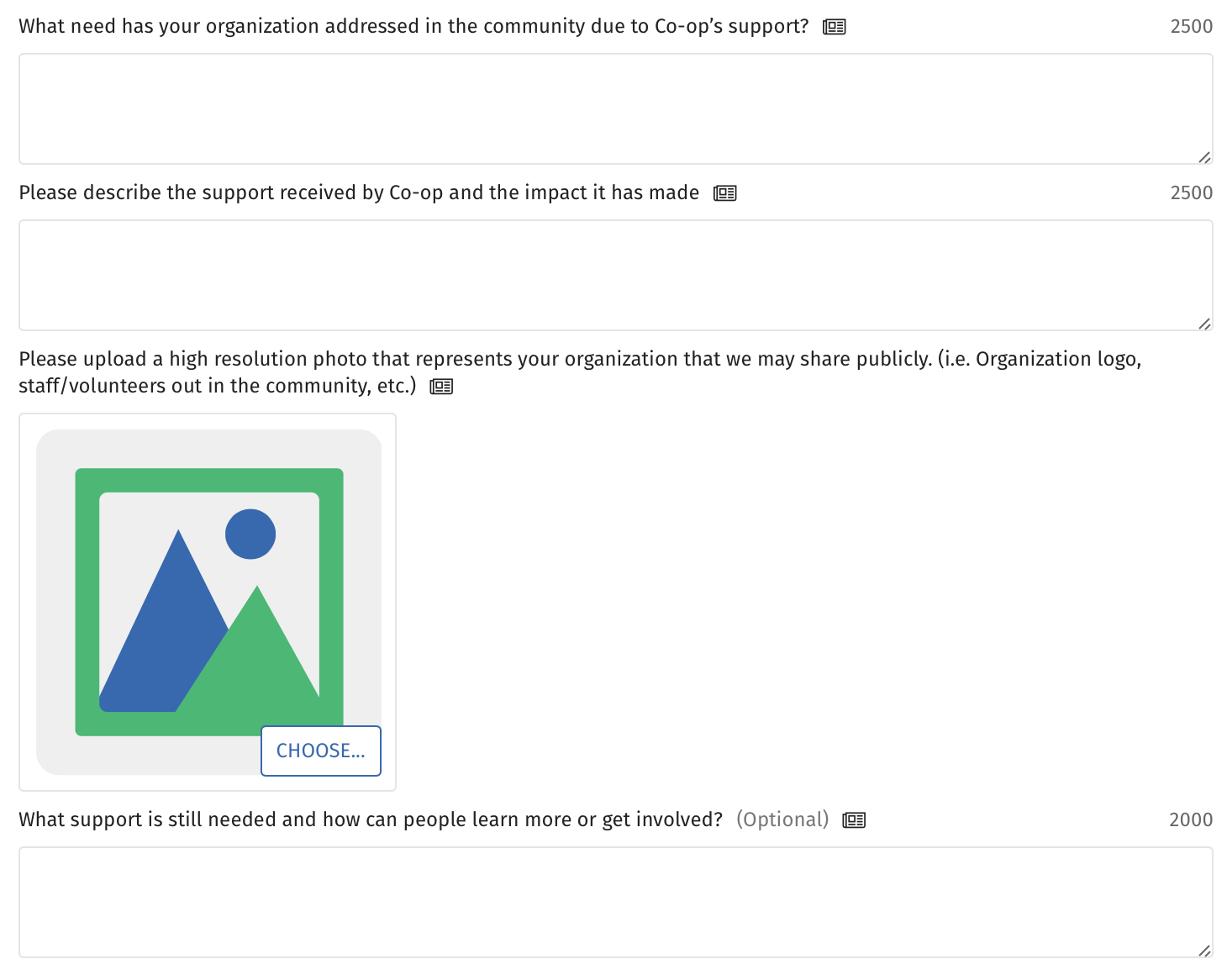 Needing an Account to Fill Out a Form
Once applicants click on the link to your application form, they are taken to the Do Some Good login page to either sign into their Do Some Good account or create one.
Applicants must have a Do Some Good account to fill out your application form. This provides a number of benefits:
Allows for some application fields to auto-fill based on applicant's login information

Ensures security and credibility of the completed form, weeding out any spam

Creates a connection between your business and the applicant

Makes it easy to communicate with the applicant after the form has been submitted

Allows you to collect more data for tracking and reporting

Allows the Do Some Good platform to nudge and encourage the applicant to be a brand ambassador for your business (e.g. sharing stories, writing testimonials)
After filling out your application form, the applicant is given a link to view their submission and its current state of review. The applicant will only be able to view their submission if they are logged into their account. Any verifiable fields that are edited by one of your team will be displayed to the applicant (along with their original entry) in this view.
Best Practices

When it comes to forms, it's best practice to create and use them in a variety of ways to fully maximize the powerful Form Builder tool and enhance your brand and reputation as a company that cares.



Consider building an impact follow-up form (or using the template we provide) to ask charities you've supported about the impact your funding or sponsorship has had on their organization.



Or a spotlight form

to send to your customers, employees, or community partners. Spotlights are a great way to celebrate or recognize the accomplishments of others, which leads to strengthened business relationships.


And keep in mind, the possibilities for creating and using forms are endless! Think of your business needs and how sending out a form, and auto-creating stories with the responses, will help you meet your goals!



It also matters how you get the word out about your form!



If your company regularly supports the community, consider building a community section or page on your website. You can add a link to your donation and sponsorship request form here.

Here's how Otter Co-op has set up their community webpage.

You'll see they've posted some details about their Community Support Fund, including eligibility, program details, and a link to their application form.