What are desktop notifications?
Desktop notifications allow your web browser to alert you when you receive messages and other kinds of events on Do Some Good. You can then click them to go directly to the message or event.
For example: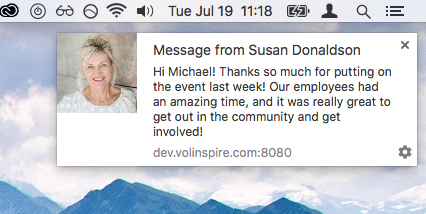 How do I get started?
Log into Do Some Good with a supported browser.
Click your name in the upper-right corner of the page, and choose "Settings & Privacy".
In the "Notification Settings" section, under "Desktop notifications", click "Turn on" and follow the directions to allow permission to send notifications.
Click "Send test notification" to see an example of a desktop notification.
Please note that if you use Do Some Good on multiple computers, you may need to perform these steps on each of them.
What browsers support desktop notifications?
Notifications are currently supported in the latest versions of:
Chrome
Firefox
Safari
Opera
Older versions of these browsers, or ones not listed above are not guaranteed to support desktop notifications.
Will notifications arrive even when I don't have Do Some Good open?
No, you will need to have Do Some Good open in at least one tab. The tab doesn't have to be in focus, however.
Will these work on my mobile device?
Not yet, but we will be adding support for more devices in the coming months!
What does it mean when it says "Your browser is set to block notifications from Do Some Good"?
If you've answered with "Deny" or "Block" to a notification request, Do Some Good won't be allowed to send notifications until you change the setting back to "Allow".
Learn how to unblock desktop notifications.