Keep in touch with your employees and/or volunteers and congratulate them on their good work! Do Some Good also offers powerful and streamlined communication through group messaging. Our messaging service is in real-time and updates automatically, so you will always know if someone is trying to communicate with you.
*To access messaging, use the mail icon in the top right and click 'Create New'
SENDING MESSAGES
Use messaging to congratulate employees, welcome them to Do Some Good, or to communicate with them about volunteering.
To message individual Employees, type the first 3 letters of their name. 
GROUP MESSAGING OPTIONS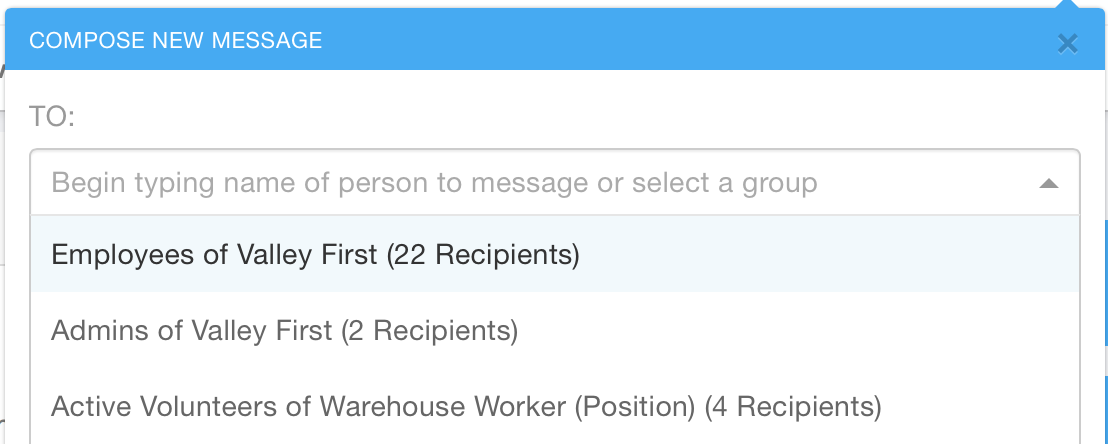 Choose one of the following options from the dropdown list:
ALL Employees: sends to all users that have an employee connection to your business. To Learn more about creating connections to your business using invites, click HERE.
ALL Admins: if you have multiple administrators and need to send information to all at once, choose this option.
Active Volunteers of ....(Position): sends a message to all volunteers that have applied for a specific position and have been approved. This is great if you only need to inform a certain group about something (e.g. those running registration at an event vs. everyone volunteering at the event)
Active Volunteers of....(Event): sends to ALL volunteers that are volunteering for an event that you have posted.
*If you want to get in touch with a representative from one of the organizations using Do Some Good, simply visit their profile and press "message".