Create volunteer positions to easily recruit, schedule, manage and communicate with volunteers. This powerful, yet easy-to-use system saves you time and ensures you get the support you need.
All volunteer position creation, management and scheduling is accessed from your organization's "Management" area by going to the 'Positions & Events' page. We've added new filters and sorting abilities to make it quick and easy to access the information you need.
The creation of volunteer positions is quick and easy, but we have shared some tips and best practices below to make sure you get the most out of Do Some Good!
Use these links to access the section you need:
Once you have created a position, you may also be interested in digging into some deeper details about Event and Position Management (e.g. approvals and communications system), Volunteer Scheduling / Shifts or the ability to view all of the upcoming shifts and volunteers right in your calendar by Syncing your Calendar.
POSITION CREATION - Tips
Before you get started: Do you have a position you've previously created that is similar to the one you want to create?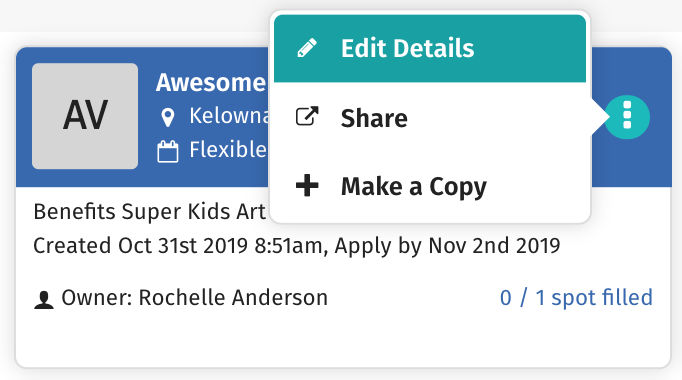 You can "Make a Copy" of an old position, which copies ALL details (including permissions, visibility, etc.) and then quickly modify anything that's changed. Now that's easy!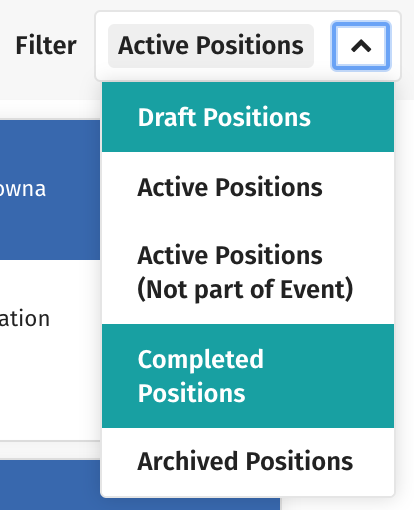 NOTE: It may be that the position you want to duplicate is older or has already been completed. Use the "Filter" options to view positions that have been completed or archived.
Step 1: Creating a New Position
Position Information
Role:

If you have previously created a role (e.g. clean up crew), you can search and choose the role and it will automatically copy the skills associated with that role. Although optional, it's recommended you choose skills as this helps volunteers find opportunities personalized to their skill-set.
Impact:

Let volunteers know how their time will make an impact. This text will appear on the position's card as well as on the profiles of volunteers who have applied for the position.
Causes:

Just like skills, this field is optional, but we recommend you add causes the opportunity supports as this helps volunteers find opportunities personalized to what they are interested in and care about. If this position is part of an event, this auto-populates with causes you've chosen for that event. If it's not for an event, it will auto-populate with the causes you've chosen for your organization profile, but these can be edited and personalized to each position.
"Is this position suitable for any of the following?":

Choose audiences that this position is ideally suited for. Users will be able to use the advanced search options on the "Get Involved" page to narrow all positions posted by these criteria.

Note:

This does not mean your position will only be found by people choosing these; it means all people will see your position, but IF people choose to narrow their search by these, it will be found.
Requirements:

Let volunteers know if they need a criminal record check, need to complete an orientation, etc... Press "Add new" to add as many as needed. Follow-up on these requirements can be done using the messaging functionality.
Applications / Permissions / Visibility & Location
Volunteer Applications:

Prepare for powerful options! You can choose how you want to handle volunteer applications. You can also set a deadline if you need to have a cut-off date of when people can apply by and you can now personalize a message that applicants will receive after applying. This allows you to set expectations or share next steps and communicate any important information right away.

Approval Needed:

Have people apply and require approval if you need to do any vetting or ensure that volunteers meet the requirements or have the best skill-set to match your needs.

No Approval Needed:

You can also choose that volunteers can register themselves with no approval needed. This might be useful if you just want as many people to show up as possible or that it's simply a first come, first served opportunity.

Disable Applications: The third option is not to have any applications at all and, instead, you can add existing volunteers into a position and right into shifts or time slots if you add them later. For more details on Scheduling, check out this article.

"Permissions" Tips:

Enjoy flexibility at its finest! If you want to have a private volunteer position for existing volunteers, you can choose the audience you want the position to be visible to.

Message for Volunteers: After your volunteer registers/applies for the position, they will see a thank you screen. You can optionally leave your volunteer a custom message that will appear on that screen. This could be anything from instructions, to a link to more information about the application process to a simple thank you.

"Visibility" Tips: Keep all options checked to maximize visibility. If you choose that only existing volunteers can access the position (in permissions), then these visibility options only apply to that audience. E.g. if you have a private position for existing volunteers and you keep the box checked that says "On your organization profile page", only those people connected to your organization as existing volunteers on Do Some Good will be able to view it at that location on the platform and it will be private from all other users.
Position Location: Enter where you expect the volunteers to meet (this could be entered and set differently for each different volunteer position). When you add the location, users will be able to click the word "map" and view the location and get directions via Google Maps. If you choose "This position can be performed remotely, online or via telephone", it means that volunteers could complete this position from anywhere (e.g. graphic design - creating posters). The BONUS is that if you choose this option, volunteers from across the country will be able to see it!
Step 2
Your Position is still in draft mode after step 1, so you can make changes and complete next steps before it goes live.
Need to make changes?

Maybe the date or time has changed or you accidentally made the position private instead of public. No worries. You can edit the position details at any time.
Is your position part of an event?

It's now extremely easy to link or unlink volunteer positions from an event with one click!
Add Shifts & Scheduling: You can add as many shifts for specific times as you need. For example, for a 'Registration Booth' position, you may need to have people volunteer from 8am-10am and from 10am-noon. Adding shifts ensures you can easily schedule and organize your volunteers based on time and streamlines the application and approval process as well as communications! For more details on Scheduling, check out this article.
"This Position Benefits":

Part of the benefit of making connections on Do Some Good is that your collaborators can help share your story and spread the word. By adding other organizations that your position supports, they'll be encouraged to help you promote the position. They will be notified once you press "Publish" or, if you've already published the position, they will be notified immediately after being added. If it's a private position, they won't be notified (not to worry).
Volunteers: This list includes applicants and (if approval is required) you can manage approvals and messaging right from your position! With one click, you can easily message all volunteers (before, during or after) and you can download a CSV file to use as a printable registration list!

BONUS TIP

: If you first created the position and then later added shifts, it could be your volunteers are approved, but aren't assigned to a specific time slot. If that's the case, beside their name you will see a button that says "Assign Shift" which allows you to slot your volunteers into the shifts you need them at.
***Add Volunteer Option: If any scheduling is needed, we highly recommend using shifts to save you time and hassle. But, if the exact timeline doesn't matter (e.g. someone creating posters for an event) or if you want to do scheduling offline and you just want to organize people by the volunteer position, then you now have a powerful tool to add any existing volunteers to the position. This is especially helpful if an existing volunteer has confirmed offline that they can make it and you want to keep things organized and streamline communications all in one place. Once the position is over, it also means it will encourage them to log hours OR you can log hours on their behalf! For more details on Scheduling, check out this article.
Recent Activity: This is a great way for you or other admins to be aware of the details related to a specific position. This includes everything from creation times, if something was cancelled or updated, as well as necessary details about applications and your volunteers.
PUBLISHING OPTIONS
Saved as Draft:

When you create a volunteer position, it is always created as a draft. Drafts will appear on your 'Positions & Events' page in orange with the word "Draft". Only other administrators for your organization will be able to see the draft until it is published.
Publish: If you have multiple positions, especially if they are part of an event, be sure to publish each of them (as a story) so they can be found by potential volunteers.

You can publish your position from the top of the position details page in your organization management area.
NOW SHARE! BEST PRACTICES FOR RECRUITMENT
Once you have created and published your volunteer position, your audience will be able to find them via the "Visibility" locations you chose (e.g. Get Involved page or via your profile). There are some additional ways to drive increased traffic to get an increased number of interested volunteers: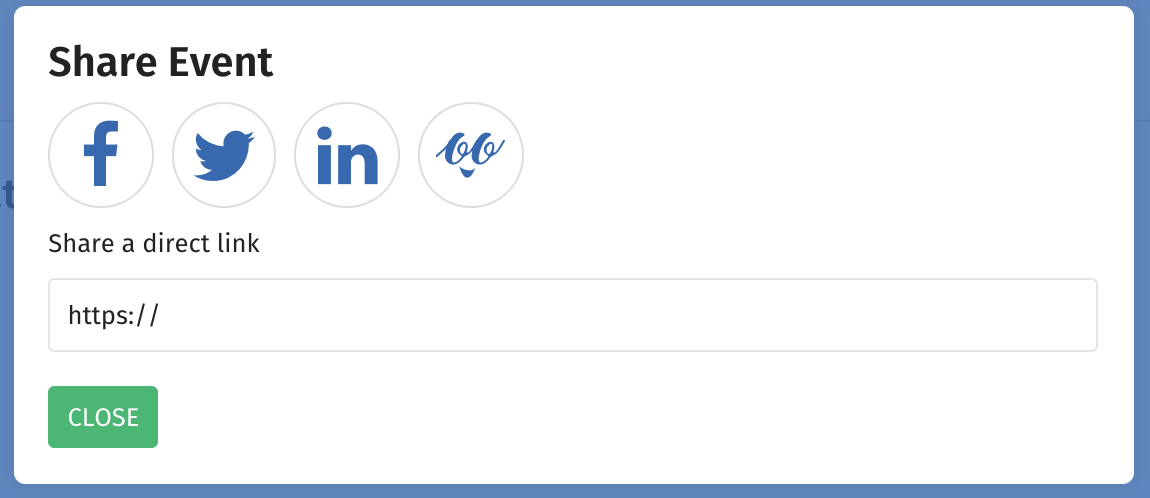 From the position page or when managing the position, press 'Share'. You can choose to share the position to the social networks of your choice. If you are wanting to drive traffic to your position via an email or newsletter, simply copy and paste the direct link. You can also choose the 'Do Some Good' option, which will auto-create a story post that will be seen on the newsfeed.
BONUS:

If you have widgets embedded (e.g. on your website), it will get extra exposure via these integrations. Don't have widgets embedded...you should! Learn more

HERE

.
EXTRA BONUS:

If you share your position as a story post on Do Some Good in locations where we have media partners, your position would also gain additional views and interactions via the media!
WHAT DO YOU DO WHEN THE POSITION IS OVER?
All good things must come to an end. When an active volunteer position is no longer needed, it should be marked as completed. If you have shifts with specific dates and times, this will happen automatically when all of the shifts are ended or in the past. If you have a 'Flexible' position without any shifts, you can choose to 'Close this position' in the Shifts and Scheduling area of the position.
Doing this will have the following effect:
All of the active volunteers for that position will get a notification saying that the volunteer position has been ended by the administrator.
Any active volunteers will have the position move into the 'Volunteer History' section of their profile and they will have 30 days to log any remaining volunteer hours.
The position will be removed from any public searches, listings and widgets. Administrators will still be able to find it in the position management area by choosing the 'Completed Positions' filter option.