Businesses can create events that benefit local causes and organizations. 
Businesses can create events that have one, many or no volunteer positions at all.

Businesses are in complete control of the audience that will be able to search for the event and who can see it on their Good Company profile.

You can engage the general public (potential customers) or limit the audience to your current customers or employees. 

You can allow your audience to RSVP to the event and even print out an attendees list from the management area. 

All event management is accessed from your company's "Management" area by going to the 'Positions & Events' page, selecting the 'Events' tab.

Interested in creating volunteer position that is not part of a specific event? Click HERE.
The creation of events and positions is fairly straightforward, but we have shared some tips and best practices below to make sure you get the most out of Do Some Good! Use these links to access the section you need:
EVENT CREATION - Tips
Event creation: The first step is the simply entering the details for your event like time, place and causes. If you are using another platform like Facebook or Eventbrite to promote your event you can link to it in the details. 
Make a Copy: Is this an annual event that you are hosting again? Is it similar to another event you have hosted? If so, click on the menu for the old event (usually found in Completed Events) and choose 'Make A Copy'. The event details including supporters and beneficiaries will all be copied over to a new event for you.
RSVP: If you want to track the number of people who are attending the event, select the option in the event details. You will be able to communicate directly with everyone who is marked as attending through the Do Some Good platform. 
Select a Non-Profit or Charity beneficiary, or invite them if they are not currently using Do Some Good, and click "Next Step". The supported organization shows up prominently in your event when people view it. The beneficiary will be notified if the event is published publicly and they can help promote your event for you.
Add Supporters (business or organization) that are helping to make the event a success. The event will appear on the Do Some Good profile page of all supporters (Good Company Package required). Supporters are notified if the event is published publicly and they can also help to promote your event. 
Event photo (optional): Attendees, volunteers and employees are more likely to view events and positions that have engaging images. If you do not upload an image, this will default to your business' logo. If you hover over the upload button, it will give you tips for best image size and format.
POSITION CREATION - Tips
*Now that you have created an Event, you can create one or many volunteer positions for the event. Don't worry, all of this is editable once you publish, including the name of the role.
Impact: let volunteers know what will be the result of their time being given - 140 characters max (This text will appear on the position's card as well as on the profiles of volunteers who have applied for the position)
Position Photo (optional): If an image is not uploaded, this will default to your event photo. For recommendations on best sizes and formats, hover over the 'upload' button
This Position is also Good For: choose audiences that can fulfill this position. Users will be able to use advanced search options on the "Get Involved" page to narrow all positions posted by these criteria. Note: This does not mean your position will only be found by people choosing these; it means all people will see your position, but IF people choose to narrow their search by these, it will be found
Requirements: let volunteers know if they need a criminal record check, need to complete an orientation, etc... Press "Add new" to add as many as needed. Follow-up on these requirements can be done using the messaging functionality
Skills Associated with this Position: choose the top 3 skills that are needed for the position. This is not required, but is highly recommended as users will be searching for positions by skill choice 
Deadline for Applications: this can be the day of the event or if you need to have secured positions by a certain date, it can be set prior to the event
Location (optional): enter where you expect the volunteers to meet (this could be entered and set differently for each different volunteer position). When you add the location, users will be able to click the word "map" and view the location via Google Maps.
PUBLISHING OPTIONS
Saved as Draft: When you create an event it is always created as a draft. Drafts will be appear on your 'Positions & Events' page in orange with the word "Draft". Only the other business administrators will be able to see the draft until it is published. 
Choose Your Audience: When editing the event details you can choose who will see this event on your profile and if it will be listed in the public Get Involved page. Even if you make an event public, you can still have private volunteer positions.
Publish: You can publish your event from the top of the event details page in your business management area. Once published, all of your beneficiaries and supporters will be notified. 
NOW SHARE!  BEST PRACTICES FOR PROMOTION
Once you have created and published your event, your audience will be able to find them via the Get Involved page or via your profile. There are some additional ways to drive increased traffic to get an increased number of interested attendees and volunteers: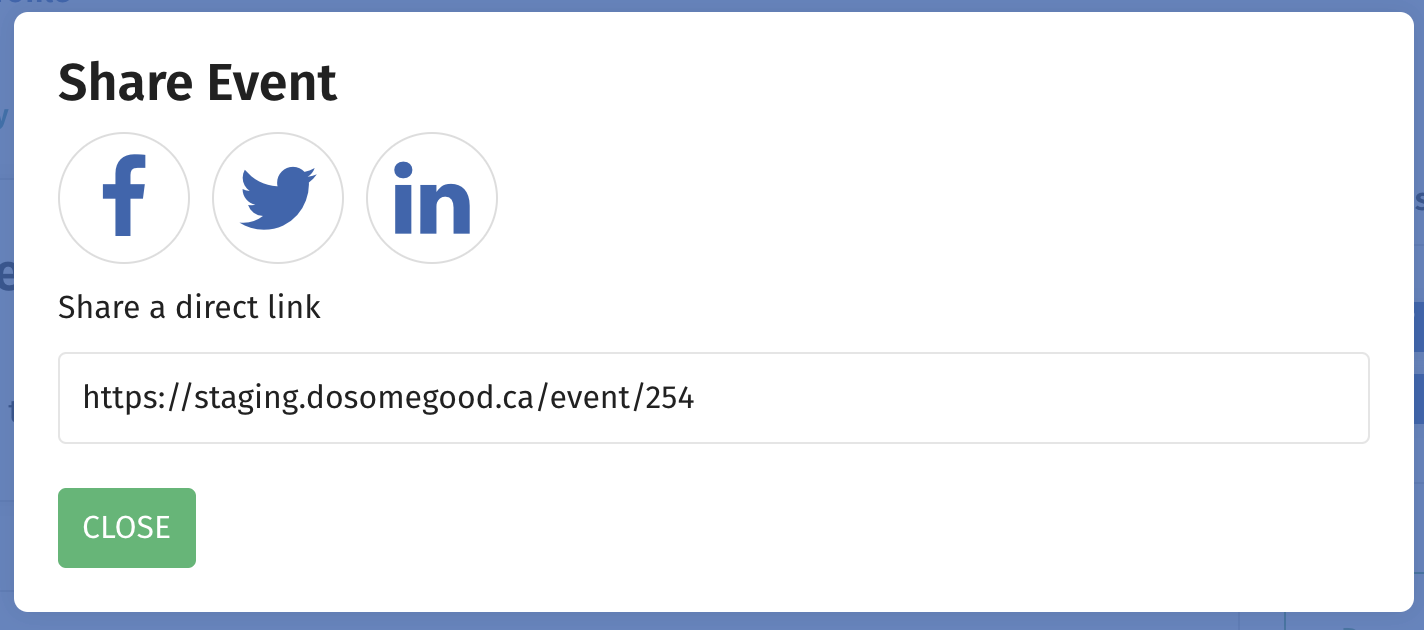 From the event and/or position pages, press 'Share' and choose 'Do Some Good'. This auto-creates a story post that will drive traffic and increase awareness about how people can get involved! (As an admin, you can choose to post this to employees only).
If you are engaging the public (the community and potential customers):
You may want to press 'Share' and share to social media
Then press 'Share' and choose "Share link" and send this via email (mailing list) or a newsletter
CREATING MULTIPLE POSITIONS (for an Event)
When you are creating an event, you can easily create multiple positions for one event.
Once you finish your first position and press "Publish", you will be directed to a second create position page with most of the information already filled out.
Repeat this process for as many positions as needed.
When you are creating your last position, be sure to check "I'm done adding positions to this event".
If you need to create additional positions later on simply:
Go back to your Management area,
Choose "Positions & Events" and click the "Events" tab,
On the event card, click "+ New Position."

*Don't worry you can always go back to edit an event through your "Events" tab in your Management Area.