You can use your dashboard to measure & track your overall community impact and your volunteers' involvement, which can also be used for grant applications.
NOTE: Skip video to 0:46. 
Access your management section in the navigation bar.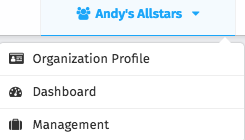 Click on the 'Analytics' page and this will take you to your volunteer dashboard. 
As a default, this page shows totals for the past 365 days, but you can choose to narrow the results using the 'From' and 'To' date fields.
Organization Impact and Overall Statistics
Volunteer Hours:

shows a total of all hours logged towards your organization by volunteers
Monetary Equivalent of volunteer hours

(an average of $20/hr, based on local and national research, may not perfectly reflect the positions completed)
Positions Completed

: shows the # of positions completed (by volunteers)
Top Skills being offered & developed

 (based on choices by volunteers on their profiles)
Volunteer Involvement 
Most Active Volunteers

 shows top 20 (based on total # of hours they have volunteered for your organization); admins can click volunteer name or image to go to their profile to learn more about their involvement
This is where we provide the data, but you can decide what to do with it. Using this list, you can choose to recognize your volunteer champions by posting a story about them, giving them a call, sending them a card or t-shirt.