Collect, track and process your submissions in ONE place, saving you significant administrative time.


Quick Links:
How To Get Submissions
In order to get submissions, you have to have a form that is published and actively accepting submissions. You will need to share the link with people so that you can start to receive submissions. For more details on how to create, publish and manage forms you can visit this help article.
Managing Submissions
Viewing Submissions
Once you have published your form and shared the links with your target audience, you should start receiving notifications that you have new submissions. To view your submissions, head to your Management Area, click on "Forms & Story Generator" on the left-hand side, and then the "Submissions" tab to view all of the submissions.
Submissions can be filtered, sorted and searched to suit your workflow:
Order and group your submissions by their state, recent activity or organization.

Filter the submissions by the owner (not submitter), showing all submissions, all un-owned submissions, or submissions owned by a specific administrator (including yourself).

Filter your list of submissions to only show particular state(s).

Search your entire history of submissions using the text search field. This will not search the contents of the submission, just the 'Applicant Name', 'Form Name', Organization Name'.
Key information about the date, applicant and current state is available for each submission at a glance. Common actions to perform for each submission, such as messaging or changing state, are also accessible for each submission in the list.

TOP TIP: After you have decided on your favourite filtering and sorting options, bookmark the page, it will save all of your choices.
Submission States & Icons
Every submission has a series of process states that can be updated by an administrator at any time by clicking on the Current State of a submission or by clicking the three dots on a submission and then clicking "Change State".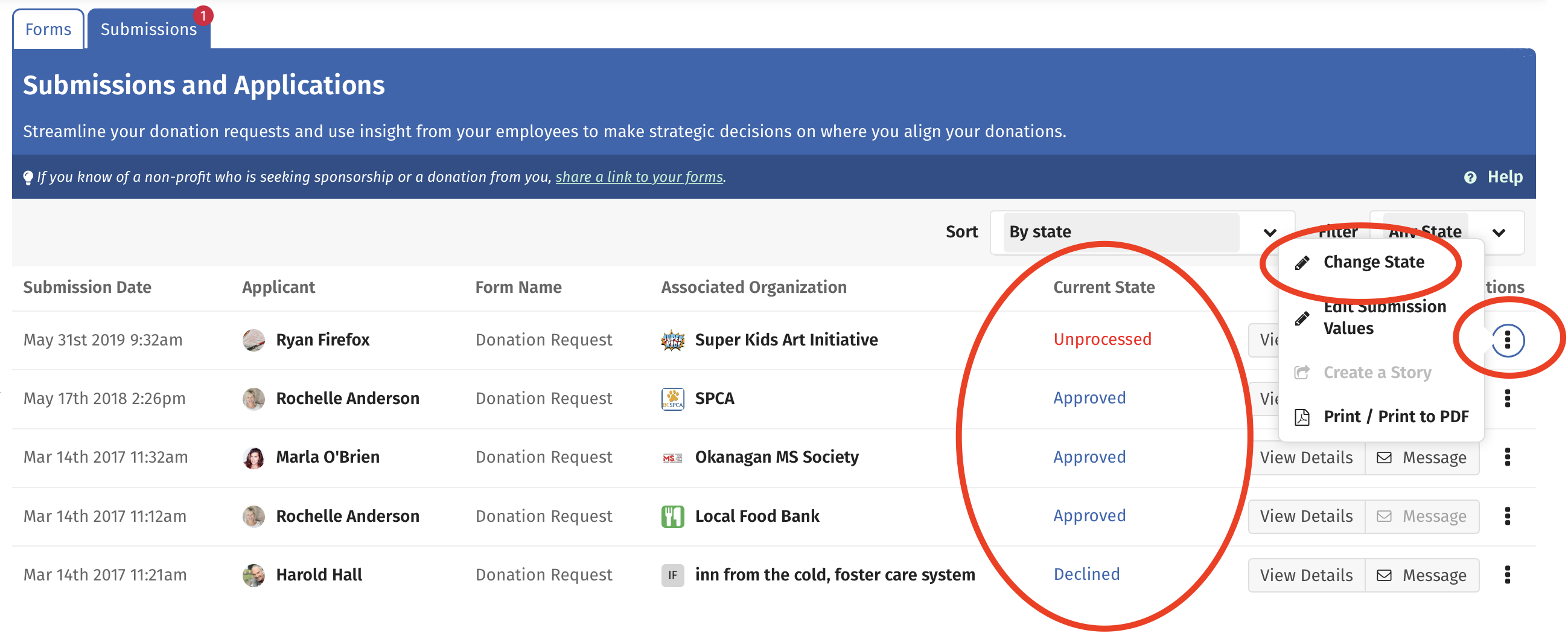 It is up to you and your team to decide how informal or formal your process to be. You can choose to use all of the states or simply skip states that do not apply. You may even have different workflows for different forms. Here are the following state options and how they are commonly used:
Unprocessed

- Every new submission starts in this state. The review process has not yet begun.

In Review

- You have started to look at the submission, but no decision has been made yet. This stage may include communications with the applicant, internal discussions, external validation or any other requirements your workflow requires.

Approved - The submission has been approved. Fields marked as 'Requires confirmation on state change' will be presented to you to verify and edit (if desired) when approving. By default, the applicant will receive a notification, but this can be skipped.
Paid and Distributed - The payment, sponsorship or in-kind support was delivered to the applicant. Fields marked as 'Requires confirmation on state change' will be presented to you to verify and edit (if desired) when marking as paid. By default, the applicant will receive a notification but this can be skipped.
Declined

- The submission has been declined. The applicant will receive a notification by default.

Completed - Not all forms are meant for an approval process. An employee spotlight, impact follow-up, or survey just need to be processed and not approved. The 'Completed' state is for these types of submissions so they don't stay 'Unprocessed' forever.
Archived - The submission was invalid, a mistake, or inappropriate in some way. Setting the state to archived will remove the submission data from any dashboards and also from most reports. This state is NOT for long-term storage of older submissions.

Custom - If your team has a custom workflow, we can add or remove states to perfectly match your needs. Just email us at info@dosomegood.ca, but note that custom support costs may apply.
In the Current State column, you may see icons next to submissions. The following list shows all of the icons and their meaning:
The chat icon indicates an Administrator Note has been added to the submission by another administrator or reviewer on your team.
The pencil icon indicates that at least one field

was edited or adjusted by a reviewer

.
The newspaper icon indicates this submission has fields suitable for publishing a story. Red indicates a story is available but has not been published. Green indicates a story has been published at least once at some point.
The PDF icon indicates there are files attached to this submission. Images uploaded for stories will not trigger this icon.
Submission Actions
Along with the ability to change the state of a submission, there are a number of tools available to you to interact with the submission as well as the applicant.
There are two buttons next to the Current State for each submission:
Details - View the details of each submission. When you click, you will be taken to the Submission Summary Page with all information about that submission in one place.


Message (envelope icon) - Send an internal Do Some Good message to the applicant. If the applicant has kept the default notification settings, they will also receive an email with your message.




There is also a list of actions found by clicking on the three dots in the Actions column for each submission: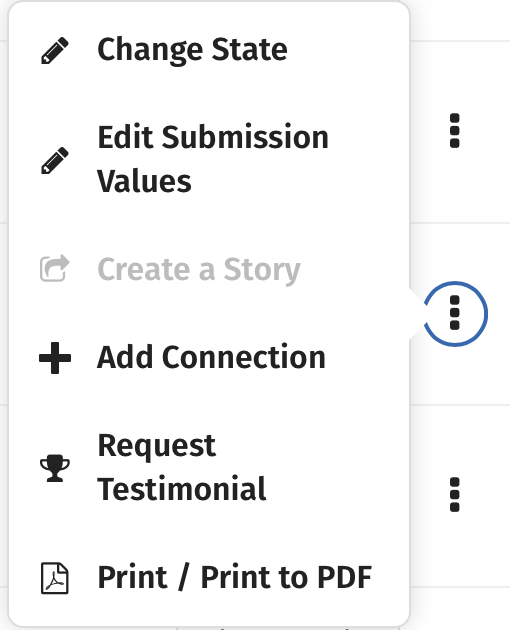 Change State - A way to change the state of a submission (e.g., unprocessed, in review, approved, etc.).


Edit Submission Values - If your form has fields that 'Require confirmation on state change', you can change the values on the submission.


Create a Story - If you have added a "Suitable for story flag" to questions in your form, click this button and responses to those questions and our Story Generator will auto-create a story FOR that you can share on social media, auto-feed to your website, or share on local media sites (where available).


Add Connection - If the applicant, or the organization they represent, has a profile on the Do Some Good platform, you can add them as a community connection.


Request Testimonial - If the applicant is an administrator of an organization on the Do Some Good platform, you can request a testimonial from them.


Print / Print to PDF - A way to print a hard copy of the submission or convert to a PDF to share digitally. The printing is managed by your web browser and will differ based on your operating system and browser choice.
Changing States
When you are ready to move a submission through the workflow into its next state you click on the current state in the submission list or do so from the Submission Details page. The change state dialog is your one place to: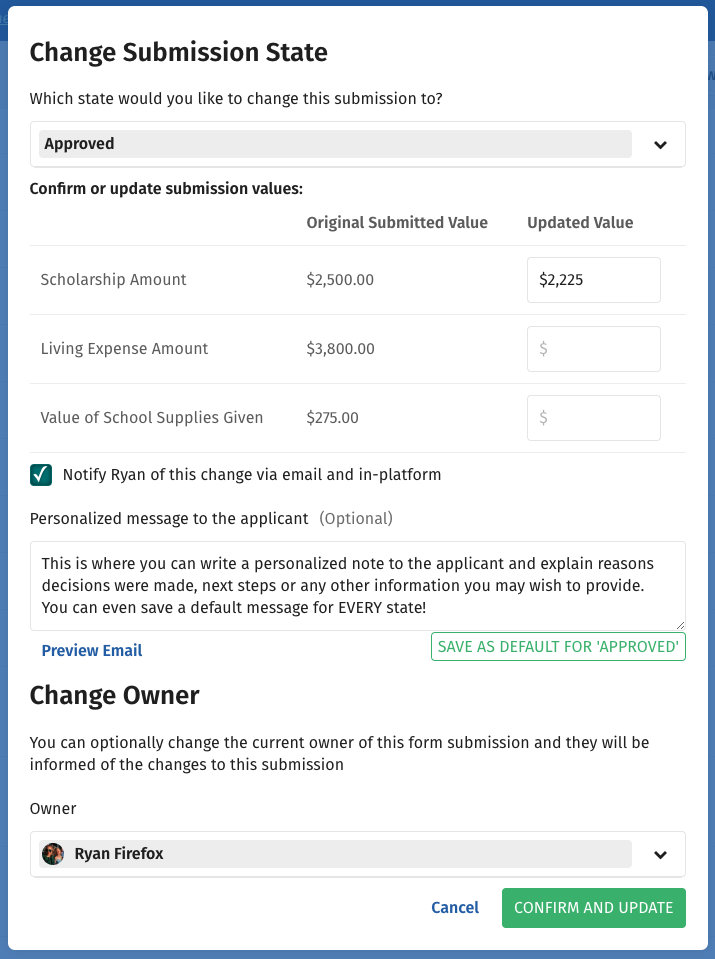 Set State
The primary use of the Change State dialog is to move the submission through your workflow to its new state. Simply choose the new state from the dropdown list and appropriate additional fields will appear in the change state dialog for you to edit as necessary. See below for details.
Confirm or Update Submission Values
If your form has any monetary (or in kind) fields that 'Requires confirmation on state change', and you are selecting one of the approval states, those fields will appear in the state change dialog for your review. You will have an opportunity to edit these values as necessary before moving the submission to its new state.
Notify User
You have the option to notify a user on any state change except 'Unprocessed' and 'Archived'. If you choose to notify the user an in platform notification is always sent. An email will also be sent if the user has email notifications enabled (which is the default).
Whenever you send a notification on a state change, you have the option to compose a custom message to that user. If your team finds that you are regularly sending the same messages for state changes, you can save a message as the default message by pressing the "Save As Default For 'State'". Once set, the default message will pre-fill every time you select that state for a submission to the same form. The default state change messages can also be managed in the Form Details page.
Change Owner
If your team has decided that individual people are responsible for certain roles in the review process, it may be necessary to assign a submission to another administrator while changing the state. This can be done by selecting a new owner in the 'Owner' dropdown list. The field will default to the current owner (or 'No Owner') and can be set to any other administrator with permissions to managing that submission.
Batch Processing Submissions
We've made it easy for you to process your submissions in batches or rather than one-by-one, saving you significant time.
Selecting Multiple Submissions
You are able to select more than one submission at a time using the checkboxes to the left of each submission. You can select all of the submissions on the current page by choosing 'Select All'. You can select submissions that are in different states and even ones that are from separate forms.
As soon as multiple submissions are selected, your filter, search and sort options will disappear and they will be replaced with your bulk action. There are only two actions you can take on multiple submission: 'Change State' or 'Message Applicants'.
In order to see your filter and sort options again, you must clear your batch selection.

Change State
You can change the state for all of the submissions you selected all at once - super handy!
The 'Change Submission States' window for a batch or group is very similar to the regular state change window for an individual submission, but there are fewer options because multiple submission from multiple forms may be selected:
You still have the option to notify applicants of the change, but just know that if you decide to provide a custom message, that message will be sent to ALL of your selected submissions, so ensure the message is relevant to the whole group.

There are no default messages for batch state changes.

You won't see the amount the submitter asked for or any updates to that amount that your admins have made. If you have fields that require confirmation before you can change state, a message will appear (see below). Before you can change the state for the batch of submissions, you will need to go back and confirm those values first.

Message Applicants
You can message your selected batch of submissions all at once - big time saver! Every submitter will receive the same message.
Submission Data & Reports
The data for every submission can always be accessed in the custom report for each form. Details on how reports work and where you can find summary data can be found here.