Do Some Good has created an easy to use and flexible tool that helps you streamline communications with anyone requesting donations, grants, sponsorships or in-kind donations from your business.
What Is It?
This feature will allow you to have forms for each of your community giving programs, streamline the management, review and fulfillment of submissions and also generate reports to quantify your community impact. Best of all, this will keep you closely connected to the applicant and encourage them to share stories about how you work together to make community impact.
How Does It Work?
Managing Your Forms
Each business is given a generic donation request form by default. You can share a link to this form with any organization who is seeking sponsorship or funding from you. Should you need to create a custom form for your giving program, get in touch with our team.
The form tab will give you a dashboard of your key indicators as well as submission breakdowns for each of your programs.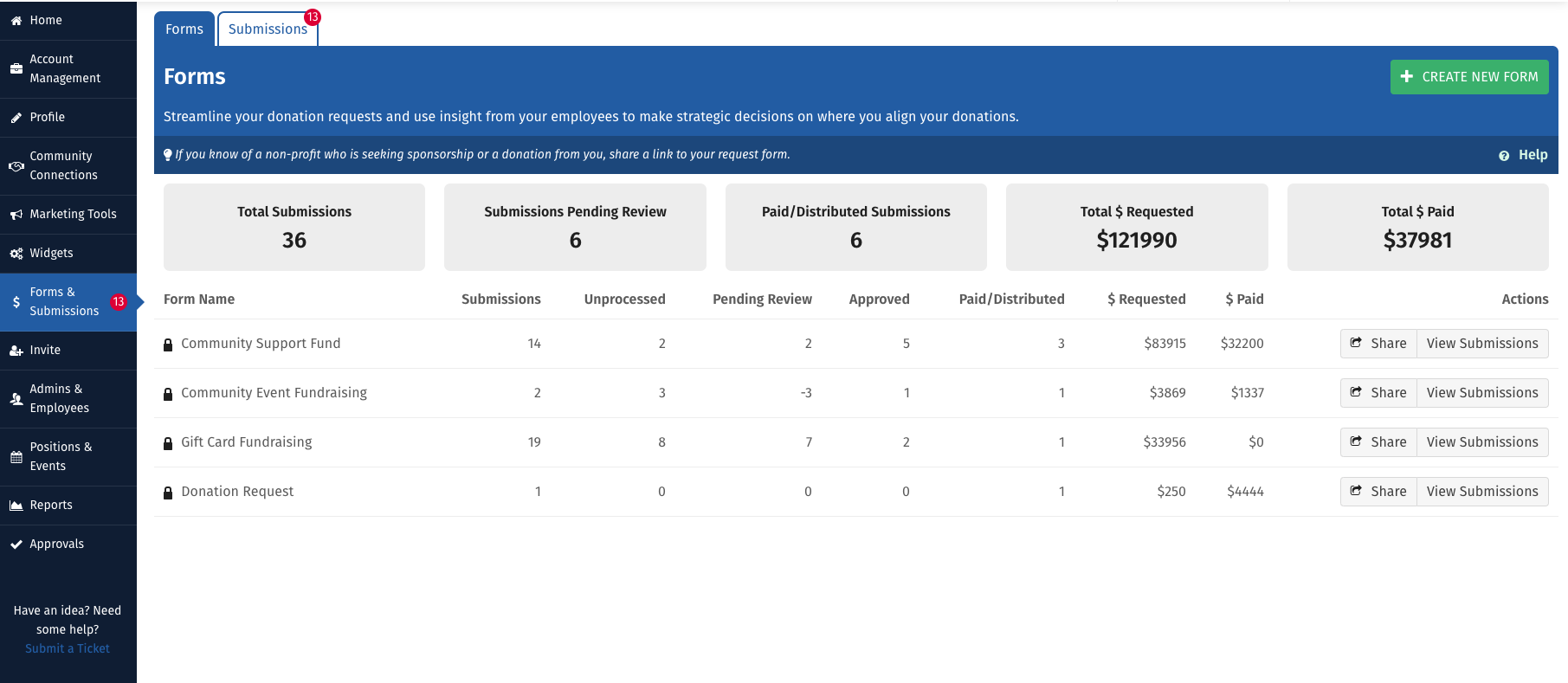 Filling Out a Submission
In order for a person to fill out an online application, they must have or create a Do Some Good account. Creating an account can be as easy as one click sign-up, but allows for a large number of benefits:
ensures security and credibility to the completed form, weeding out any spam

creates a connection between the applicant and the co-op

allows for automation of some of the data entry

makes it easy to communicate with the applicant after the form has been submitted

allow for more data and tracking

allows the Do Some Good platform to nudge and encourage the applicant to be a brand ambassador for the co-op (e.g. sharing stories, writing a testimonial)
After filling out a submission, the applicant is given a link to view their submission and its current state of review. The applicant will only be able to view their submission if they are logged into their account. Any verifiable fields that are edited by one of your team will be displayed to the applicant (along with their original entry) in this view.
Uploading Files
Uploading files is fully supported on Do Some Good submissions. Whether it is a picture to be used in a story, supporting documentation for an application or even private information like a police background check, rest assured that Do Some Good has a secure file management system for your submissions. All of our files are encrypted end to end, are only visible to the administrators of the organization you submit to and are always stored in a data warehouse in Canada.
The Do Some Good file upload system has a 25MB file size limit and supports almost all types of pictures, documents, spreadsheets and presentations.
Managing Submissions
All submissions are displayed on the Submissions tab, the submissions can be filtered, sorted to suit your workflow. Key information about the date, applicant and current state is available for each submission at a glance.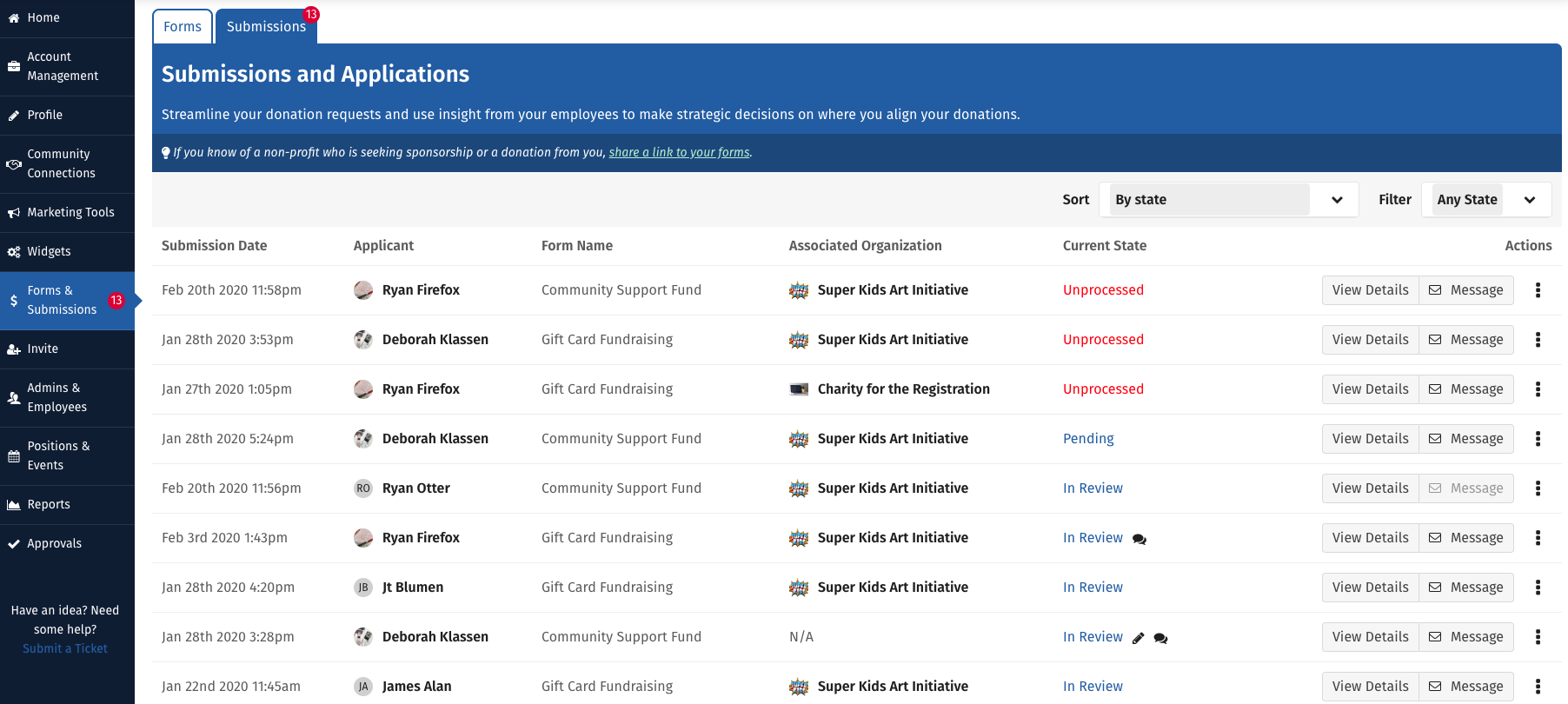 Submission States
Every form has a submission state that can be edited by an administrator by clicking on the current state on the Submission tab. The states and their intended uses are described below, your team is free to use the states however best suits your workflow. You can choose to use all of the states or skip states that do not apply for you:
Unprocessed: Every new submission starts in this state, it has not begun the review process.
In Review: The team has started to look at the submission but no decision has been made yet. This stage may include communications with the applicant, internal discussions or external validation.
Approved: The submission has been approved, if there are any verifiable fields, the administrator will confirm them before moving into this state. By default the applicant will receive a notification that the submission was approved.
Paid and Distributed: The payment, sponsorship or in-kind support was delivered to the applicant. If there are any verifiable fields, the administrator will confirm them before moving into this state. By default the applicant will receive a notification about the new state.
Declined: The submission was declined, by default the applicant will receive a notification about the new state.
Archived: The submission was invalid, a mistake or inappropriate in some way. Setting the state to archived will remove the submission data from any dashboards and also from most reports. This state is NOT for long term storage of older submissions.
The chat icon next to the state indicates a note has been added to the submission details by an administrator. A pencil icon indicates that a verifiable field has been updated by an administrator.
Submission Actions
In addition to changing the state, a number of tools are available to you to interact with the submission as well as the applicant:
View Details: View the submission details
Message: Send an internal Do Some Good message to the applicant. If the applicant has kept the default notification settings, they will also receive and email with your message.
Edit Submission Values (menu item): For forms with verifiable fields, an administrator can change the values on the submission.
Add Connection (menu item): If the submission has an associated organization that has a profile on the Do Some Good platform, you can make a connection between your business and the organization.
Request a Testimonial (menu item): If the applicant is an administrator of an organization on the Do Some Good platform, you can request a testimonial them for your business.
Submission Details
The submission details page will show administrators everything they need to know about a single submission. In addition to details about the submission date, applicant and organization, the details page includes information that can't be found elsewhere in the submission list:
Total Amounts: A list of all of the monetary request fields and indications if any of the fields have been updated by an administrator.
Submitted Form: This area is collapsed by default but can be expanded to show the entire form as submitted by the applicant. This section also includes (highlighted in blue) any changes or updates made to verifiable fields by administrators.
Notes: Free form notes that are only visible to the administrators on your team. This could include anything your team wants to record about the decision making process, reminders, additional information or anything else you need to make a sound decision.
Activity Feed: A list of all of the interactions with the submission. This includes but is not limited to the original submission, edits made to data, automated messages that are sent, state changes and edits to notes. In each case the name of the administrator who initiated the action is recorded.
Verifiable Fields
Key fields in the form can be marked as verifiable, in the default donation request form, the request dollar amount is the only verifiable field.
At any time, an administrator can choose to edit any verifiable fields from the submission list or the submission details page. In addition, if an administrator is moving a submission into the 'Approved' or 'Paid and Distributed' states, the verifiable fields will be displayed so they can be confirmed.
Whenever an edit is made to the submission by an administrator the change is logged in the activity feed. By default, the applicant is notified about the change and is given a link to view their submission and the changes that were made. An administrator can decide not to send communications by unchecking the box (see screenshot below).

Tally Fields
Tally fields are designed primarily for Donation and Grant request type of submissions. This allows a business or foundation to keep track of how much money or in kind time/goods they are giving away in each of their programs.
Any monetary field can be flagged as a 'Tally' field. The sum of all tally values on a given form is reported in various locations on the Forms page. The original requested amount and approved amount columns for each form, as well as the overall amounts requested and approved in the dashboard at the top of the page.
Story Fields
The biggest reason to contribute to a cause is to make impact. Communicating the impact is often lost in the process of issuing grants and sponsorships. The Do Some Good system allows you to create forms that turn submission responses into a story with the push of a button. Your stories are immediately shared to the Do Some Good platform and any Widgets you have deployed, but you can also share out to your social networks to broaden the reach.
Some easy ways to create stories from donation request submissions are:
Add a question on what the impact of your support will have on their organization and your community. Ask for a picture that represents their organization.
Ask a question about what else the organization might need to help with its mission. Even if you don't give them a donation, you can still help spread the word about their needs.
Create a 'Grant Follow Up' questionnaire, ask the organization how they used the money, how their event turned out, or how many people were impacted, ask for pictures that demonstrate the impact.
Reporting
Reports relating to submissions, payments, organizations supported etc are available on the Reporting page in your management area. Select an appropriate report from the dropdown list and press the 'Generate' button.