Do Some Good's easy-to-use Donation Requests tool helps you streamline communications with anyone requesting donations from your business.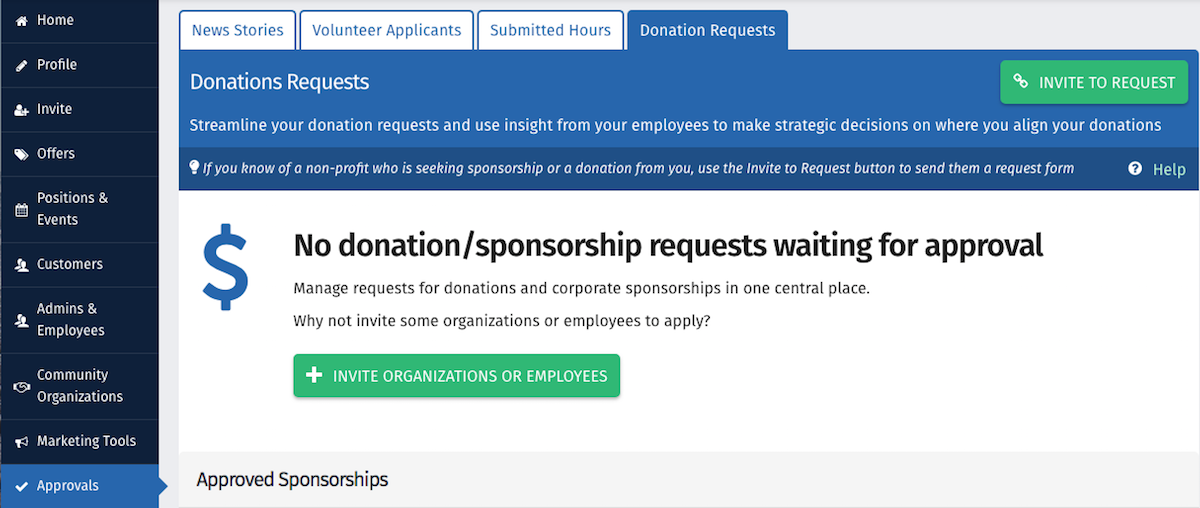 What is it?
This feature helps you streamline requests for donations from employees or charitable organizations, and allows you to align your donations with causes that matter to your employees and your company.  
How does it work?
If you know of a non-profit or charity wanting to request donations or sponsorship from your business, or an employee wanting to request a donation for a charity or non-profit, simply:
go to the "Donation Requests" tab on the your "Approvals" page,
click the "Invite to Request" button, and
copy and paste the link and send it along to the person requesting the donation.
Customer Examples
Our Good Companie, Avalon Event Rentals Inc. has integrated the use of this donation request form into their website: https://www.avalonrents.com/about/avalon-in-the-community/
Donation Request Form
Users will need to fill out the following information:
name the organization that the donation supports, either by selecting if from the dropdown menu (if it has a profile on Do Some Good) or adding some basic details about the organization,
$ amount requested for the donation/sponsorship,
why the donation is needed, 
what impact will occur as a result of the donation,
how many people will be impacted (both directly and indirectly),
how the requester will measure the impact and outcomes,
what Causes the donation will support, and
how the requester will recognize your business for the donation (e.g. through media).
Managing Requests

You will be able to view the details filled out on the Donation Request Form. You can also:
see the individual who submitted the request,
Reach per Dollar, calculated by dividing the total number of people impacted (both directly and indirectly) by the donation amount,
Alignment of the donation request with Causes that are important to your employees (as indicated on their profiles). If you click "Show Details", you can also see which specific skills are aligned with your employees,
Message the person that submitted the donation request,
Deny any requests that do not align with your company's or employees' interests. You may wish to message the person to let them know the reason their request was denied,
Approve donation requests. 
NOTE: This feature may not currently be part of your package. If it's not and you're interested in learning more or upgrading, please contact us at hello@dosomegood.ca