Inviting your employees to join the Do Some Good platform is a great way to boost your brand and reputation as a company that cares. 
Your employees are your greatest ambassadors and can help share stories of the impact your business has on communities.
Quick Links:
Before You Invite Employees
Before you invite your employees to join Do Some Good, we recommend you give some thought to what your goals are for using Do Some Good and how your employees fit into that plan. Getting clear on this from the outset will greatly increase your success rate.
Also, what are your expectations of employees? What do you want them to do?
Do you simply want to provide them with a tool to connect with their community and find local volunteer opportunities?
Do you want them to post stories when at company events and volunteer days?
We recommend focusing on ONE ask of employees at the beginning to keep things simple and drive engagement.
Employee Communication Resources
We have some great resources to help you communicate to your employees about the Do Some Good platform. Pull messaging and ideas from these resources, or attach them right to your employee communication - whatever works best!
A few other things to consider when introducing employees to Do Some Good:
Have some senior leaders sign up first. Have them fill out their personal profiles (photo, volunteer experience, etc), so these can act as examples for other employees.



Have employee

champions.

If your company is large, it might be a good idea to invite employee champions (e.g. in each branch or department) to come on first and then empower them to help bring on others. Here's a

Sample Letter to Invite Employee Champions

(SaskEnergy).
Ask that employees tag your company in their story posts. When your employees post about and tag your company, your admins receive a notification and you can approve that employee story to appear on your profile and website / intranet (if you have widgets embedded).


How to Invite Employees
Note: Prior to inviting employees, we encourage you to scan the Best Practices section as it provides important guidance on what to do before inviting employees.


To invite employees to join Do Some Good, head to the "Team" page in your left-hand navigation and click on the "Invite Employees" tab.



There are two main ways you can invite employees:
Via a ready-made email Do Some Good has created, and optionally choose to include your own custom message OR



You can copy the employee invite link and paste it into your own communication tool (email you've prepared, intranet site, company onboarding materials, etc.)

Note: The employee invite link expires after 1 week for security reasons. If you would like a longer expiry date (even a year or more), just email the Do Some Good team at hello@dosomegood.ca.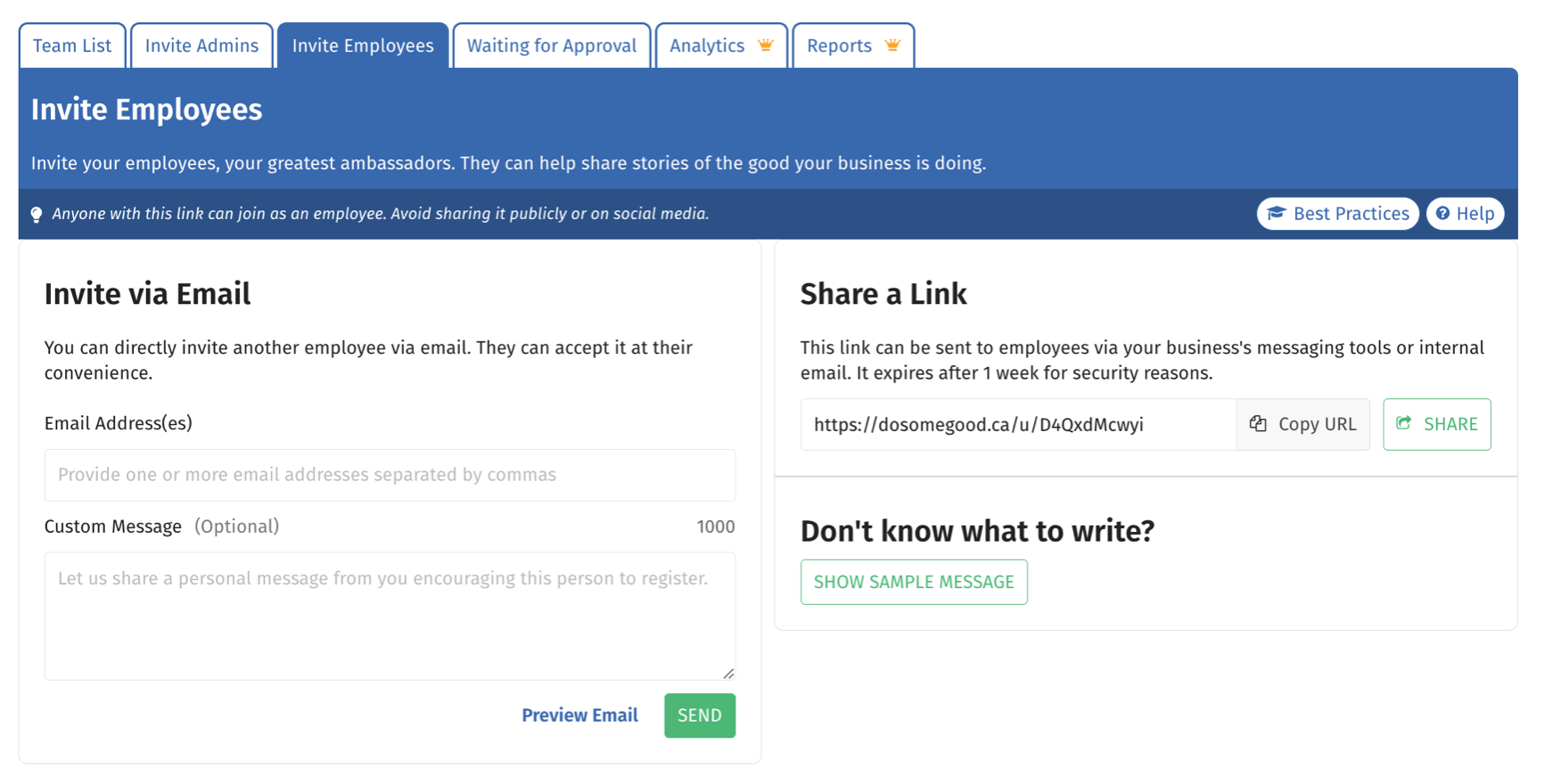 Inviting Administrators
Inviting an administrator can only be done using an email invitation, not by sharing a link. Given the sensitive nature of the information in your business profile and the level of access being granted to the new administrator, it is best if it is very deliberate and direct to maintain privacy and security. Like employees, a person does not need a Do Some Good account before they are invited, they will be walked through creating an account if they do not already have one. 
Should you wish to elevate an existing employee to become an administrator, you can simply find them in the team list and click the 'Permissions' button to elevate their status. 
Best Practices
Building Momentum with Your Staff Intranet
One great way to build momentum as you roll out Do Some Good to your employees is to embed widgets on your staff intranet to encourage participation. Employees will love to see their stories and see what others are up to, creating a culture of community at your workplace.


Spotlighting Employees
Increase employee engagement at your company by spotlighting employees for the good they do at work at in the community. With Do Some Good's Story Generator tool, you can have the spotlight stories auto-created FOR you. That's ready-made authentic content that you can share to social media, your website / intranet, and even local media sites.