We make it easy for you to streamline your workflow for forms and submissions, no matter how many administrators or reviewers you have or how simple or complex your submission processing workflow is.
Quick Links:
Ownership Settings and Notifications
When you create a form, it has no owner assigned. This means that when people fill out a form, and you receive submissions, ALL of your administrators on Do Some Good will receive in-platform notifications and emails about ALL of your forms and submissions.
If this works for you and your team - great!
Otherwise, you can use ownership to be more precise with notifications and guide your workflow,
IMPORTANT: When you assign an administrator to a submission (and assuming they have notification emails turned on), they will immediately get an email notification so they are aware of a new submission that requires their attention.
Please make sure you speak with your administrators about your own internal process and define clear roles and responsibilities for each person. Some examples might be:
whether they should add administrator notes to the submission or not
what state to move the submission to after they complete their task/role
which staff member should they assign the submission to next if any
Should they notify the submitter, if so, on which state changes and what should they say
Should they post an auto generated story about the submission
Please read our article about Managing Submissions to fully understand all of the actions that can be taken by you and other administrators to support and streamline your workflow.
Viewing the Submissions YOU are Responsible For

Whether your job is to manage an entire program or you play a specific role in a review process, it is always nice to be able to filter information so you only see what needs your personal attention. To filter your submission list so you only see things assigned to you, follow these simple steps:
1. Start by going to your company's Management Area by clicking the "Manage" button underneath your name in the top right-hand corner. Then go to the "Forms & Story Generator" page in the left-hand navigation and click the "Submissions" tab.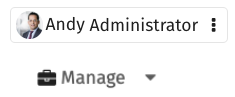 2. To view only YOUR submissions, click the "Any Owner" dropdown and choose your name to only see those submissions that are currently assigned to you.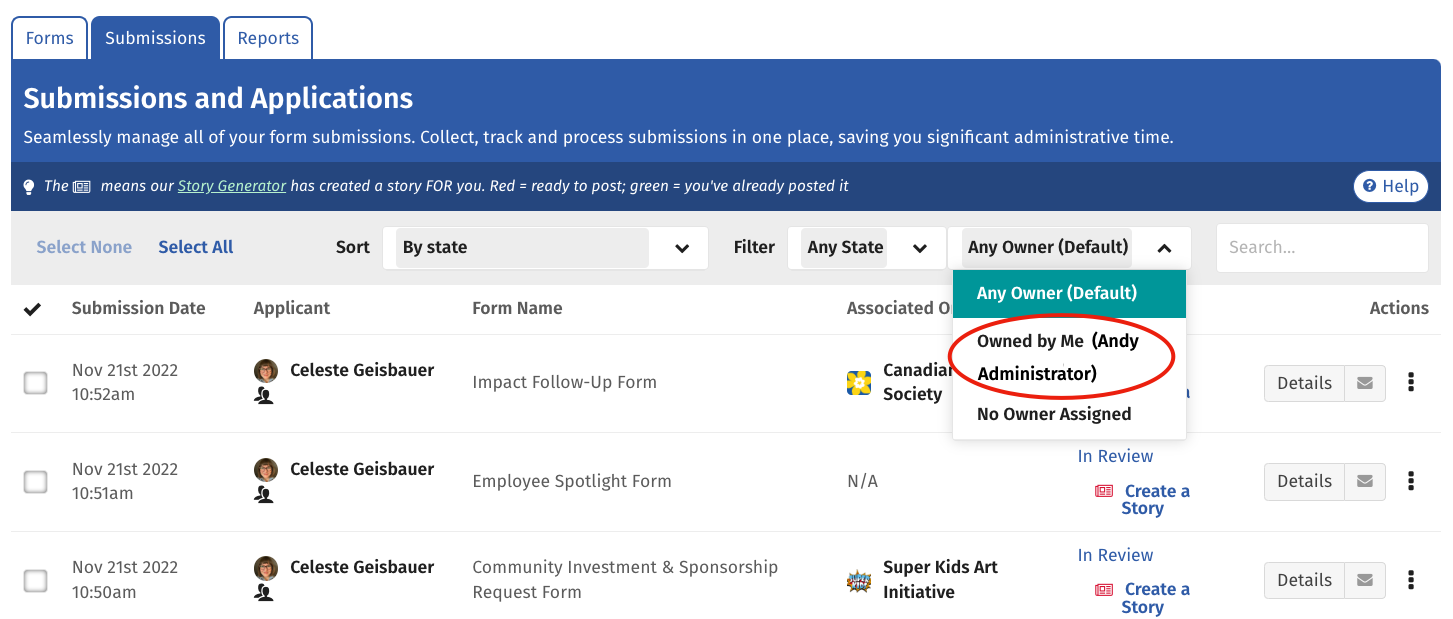 PRO TIP: You can bookmark this page and it will remember the filter and sort settings to easily come back to your personal list of submissions.
How to Assign Ownership of a Form
To assign ownership to a FORM:
Click on the "Manage" button next to your form.
You'll land on your Form Details page. Scroll to the bottom to the Transfer Ownership area.
Click "Set Owner" and select which admin should receive all communications for that form. Only your administrators will appear in the list of potential new owners. If you need to invite more administrators, you can by following these instructions.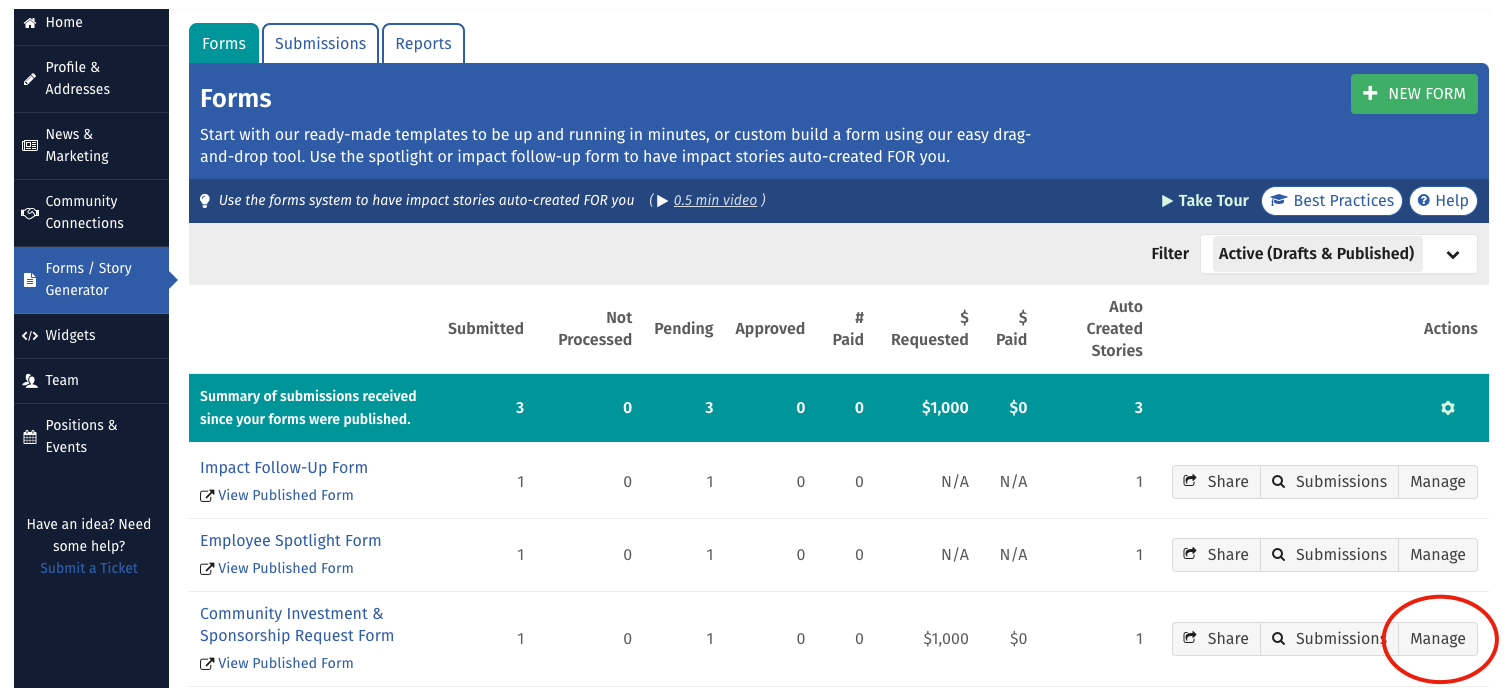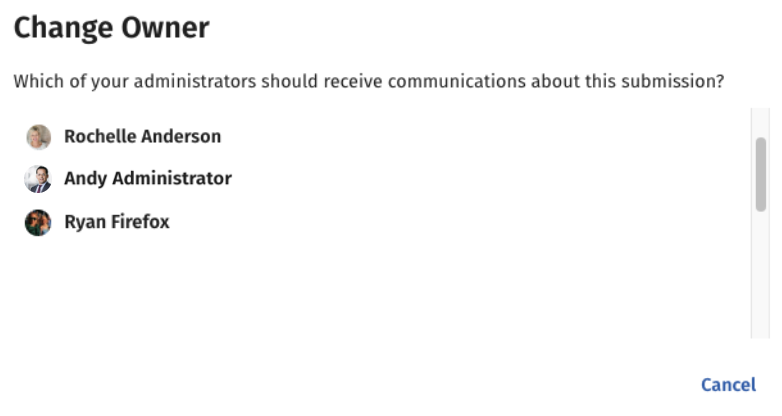 NOTE: When you have a submission assigned to you by another administrator, you will receive an email. You can click the "View / Manage Submission" button in your email to go directly to the new submission that requires your attention.
How to Assign Ownership of Submissions
Whether you are a Lead Administrator responsible for triaging all incoming submissions or if you do a specific task for the submission, the way you assign the new owner is always the same. The easiest way to assign a new submission owner is to choose a new owner when you select a new submission state. At the bottom of the state change dialog is a dropdown list of all of the administrators with access to the submission and you can choose any one to be the new owner.
If you need to change the state of a submission when you are NOT changing the state of a submission follow these steps:
1. Visit the submissions page and click the Details button next to the submission you want to assign to someone else.

2. You will land on your Submission Details page. Scroll to the bottom to the Transfer Ownership area.



3. Click "Set Owner" and assign an administrator to that submission. Only your administrators will appear in the list of potential new owners. If you need to invite more administrators, you can by following these instructions.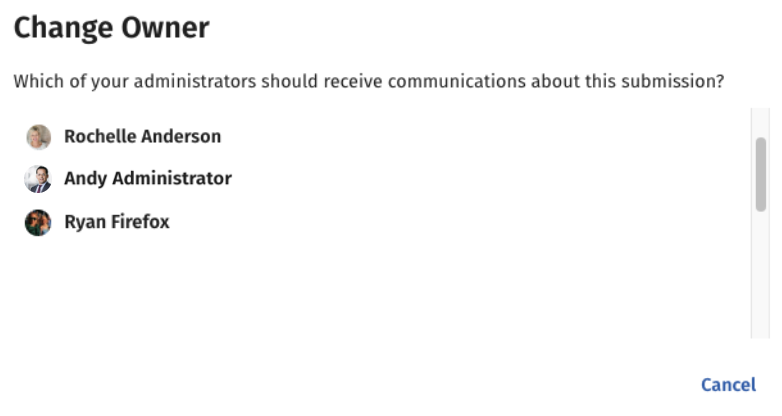 Make Sure Your Notifications Are Turned On
If you choose to use form and submission ownership to manage your review workflow, you will want to make sure people get notified when it is their turn to act. To verify your notification settings, click on your name in the top right hand corner and go to "Settings & Privacy". Ensure all appropriate notification settings are checked. Notifications about forms and submissions are considered 'System Notifications'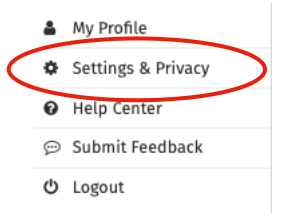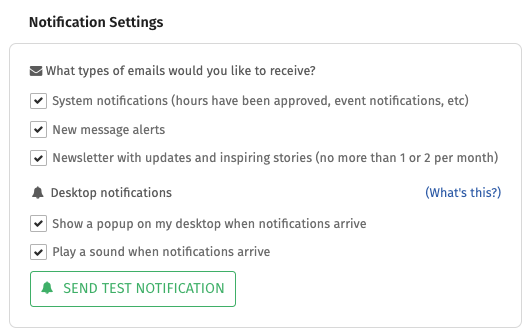 Inviting Administrators
If you want to assign ownership of a form/submission to anyone, that person will need to be a Do Some Good administrator before they will appear in the list of potential form/submission owners. In your Management area, simply go to the "Team" page and to the "Invite Admins" tab to send invites.


IMPORTANT: Every administrator you invite will have access to ALL of your Do Some Good features and data. Ensure you only invite trusted staff to be administrators.
Workflow Examples
The Do Some Good platform is very versatile but the most important thing is always to have your own program well defined and each member of your team understanding their responsibilities as we outline in the first section of this article. Once you have a well defined program, the Do Some Good platform can streamline all of your submission collection, internal and external communications, state changes, audit logging and reporting.
Regardless of team size or how many steps you have in your review process Do Some Good can be used to your advantage. Here are some examples of ways to use Form and Submission ownership to your best advantage:
Small Team
If you have a small team where everyone is empowered to make decisions for any form, you don't have to use form or submission ownership at all. All administrators will be notified of all new submissions and anyone can take initiative to make decisions.
Multiple Programs With Different Managers
If you have multiple different programs, each using their own form and different people are responsible for running them, that is an ideal case for using 'Form Owners'. As an example, the volunteer coordinator could be the owner of the 'Volunteer Application' form and the person responsible for social media and outreach could be the owner of the 'Volunteer Spotlight' and 'Donor Spotlight' forms. That way, the new submissions are immediately assigned to the person responsible and other administrators do not get irrelevant notifications.
Program With Multiple Potential Reviewers
If you have program using a single form, but any individual submission could be the responsibility of a number of different people based on some of the submitted criteria. That is an ideal time to use both a 'Form Owner' and multiple 'Submission Owners'. For example, a 'Volunteer Application' may come in for a particular location and that needs to be assigned to the volunteer coordinator for the appropriate location/role the person is applying to. A single person would be the form owner and they would be responsible triaging the incoming submissions and looking at the one or two key data points to decide who should perform the review. The form owner can quickly and easily assign new submissions to the correct person and only that team member gets the notification.
Program With Multiple People Responsible At Different Stages
Some programs require multiple administrators involved to add their individual expertise before a final decision is made. In the case of a Volunteer Application, you may have one person evaluate skills and qualifications, someone else perform and interview and a third person handle waivers and training. If a submission has to pass through many people to be processed, using 'Submission Owners' will allow you to direct the submission to the next person and automatically notify them that the submission is ready for their attention.